As a college student who blindly signed up for everything at freshman orientation in a quest for free pens, I inadvertently joined the Samahang Filipino group at my school. (Fun fact: I am not Filipina.) I ended up finding my own path in college that didn't really involve any cultural organizations, but I fondly remember being enthusiastically (albeit confusedly) welcomed into the Filipino group. My point, I suppose, is that I give a hearty thumbs up to Pinoy Pride, particularly when it comes to the culture's tasty food.

Tita's Kitchenette in National City has been around for years, but, recently, a sister restaurant opened just down the road. T2 Filipino Fusion has a similar buffet setup as the original—but this location takes credit cards! Plus, the "fusion" aspect comes in with unique menu items blending traditional Filipino flavors in not-so-expected ways. Keep your eyes peeled for Filipino Carbonara, the creamy, eggy, pasta dish with longganisa (Filipino sausage).

If you've spent any amount of time living in San Diego you've probably had lumpia at somebody's Super Bowl party or perhaps at a Bar Mitzvah buffet. But there's so much more going on in Filipino cuisine, and it's starting to reach a wider audience craving the latest flavor craze. From rich and slow-cooked adobos to crispy, fried concoctions, Filipino food sits firmly in the "comfort food" category.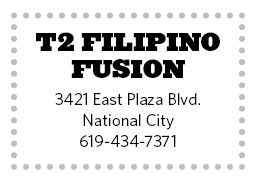 I never pass up pancit, and neither should you, particularly if you like your noodles salty, cooked to death and seasoned with broth, vegetables and your choice of meat. This is comfort food that will give any uppity take on mac 'n' cheese a run for its money. It's simple carbs at their finest.

The sizzling bistek was also an addictive and tasty surprise. When selecting hunks of beef from a buffet, one doesn't generally expect the best-quality meat. I fell in love with the bistek (that's beef steak, people) because every bite was tender yet substantial. The meat is cooked and served with huge, earthy slices of onion. Its tenderness and can't-get-enough flavor come from being cooked in soy sauce and calamansi, or Filipino lime juice. Served with steamed rice or my beloved pancit, the salty and sweet coating is hard to resist. And it may have been jammed full of artificial crab meat, but the mondo-size fried crab patty that came as a side dish with my beef was quite yummy.

Honestly, as I went through the line at T2, I wasn't sure if I was ordering some sort of combo plate or what, so I just kept pointing.  And when all was said and done, I damaged a large bowl of bistek, a huge pile of pancit, a big fried patty of crab and a delicate bowl of sour soup for exactly $8.88.

Asking questions about the various delicacies to choose from wasn't particularly helpful, as the soft-spoken ladies only had one volume to their voices. No matter how many times I said, "I'm sorry, can you repeat that?" or did the universal hand-cupping-the-ear signal, I got the same friendly, mumbled, quiet response. I enjoyed the adventure of not necessarily knowing what all I was about to eat, but my natural curiosity did feel a bit stymied by the volume barrier.

T2 Filipino Fusion is an absolute bargain with a slightly reserved-yet-friendly atmosphere. For less than nine bucks, you can stuff your face with food that may be a completely new adventure for you. Either way, speak up and enjoy your meal.




Write to
jennym@sdcitybeat.com
and
editor@sdcitybeat.com
. Follow Jenny on Twitter
@jennymontyinsd.