S.P.A.M. (Holiq & Mannyfesto)
Less Is More
It's pretty tragic how good this should be and how unlistenable it really is from just one flaw. This EP has solid, sample-based, soulful beats. The two MCs cover familiar territory in creative ways, speaking about the power of music on the mystical "Spam the Travelling Band" or flexing semi-socio-political braggadocio on "Ill Legal Aliens." Unfortunately, Mannyfesto's flow is awkward, stilted and off-beat to the point of being cringe-inducing.
spam.bandcamp.com
—Quan Vu
Space Nature
Demo

The slow blues-rock saunter and gritty vocal howls of these three tunes call to mind acts like The Constantines and David Vandervelde. But the band manages a controlled explosion of vintage tube-amp crunch, strategically placing complementary guitar riffs and leaving room for a steady pulsing rhythm-section punch and uninhibited banshee-yell vocals.
myspace.com/spacenaturesd
—Shae Moseley
Strawberry Girls
White Car, Black Valise

Considering Strawberry Girls' name is taken from a line in a Siouxsie and the Banshees song, it's not surprising that the "band"—essentially the product of a solitary nightcrawler named Neil—has a fetish for lo-fi garage rock. Neil also has a fetish for impersonating Iggy Pop ("The Blvd. Parts 1 & 2") and Ric Ocasek ("Dirty Shirt Girl"), both of which sound more like parody than homage. But the Moog-driven psychedelia of "Furcoats and Wine" is a saving grace, doing away with the goofball facsimiles and offering up a bizarre excursion into something much darker and far more interesting.
myspace.com/strawberrygirls  
—Jeff Terich
Street of Little Girls
Demo
Including  a kitty cutout glued to a black construction-paper sleeve, the band's name (which may be a play off the 1984 porno Little Girls of the Streets, not that I've seen it) written in silver Sharpie—physically, this is a charming demo. It's not a bad recording, either, but the style of fiddle-and-piano, hard gypsy rock seems a little bit dated, and the dual female singers sound redundant for their minimal vocal variations.
myspace.com/streetoflittlegirls
—Dave Maass
The Sugar Crash
Gliding on Rails
With a borderline-creepy 11-minute intro that I swear contains a subliminal sample from a Trident gum radio ad, I have to admit I was worried about what the rest of this demo had in store. However, with equal parts Boards of Canada, Aphex Twin and The Avalanches infused into the remaining five tracks, The Sugar Crash brought me to a happy little electronic cloud where my sanity was no longer in question and, instead, my mind was allowed to become lost inside the blissfully tech-y bleeps, buzzes and whirs.
quasirecordings.com
—Justin Roberts
Swore
Demo

This trio is slower and sludgier than other projects its members have been involved in (Oaks, Sea Pansy and Architect Sketch), but the songs are well made and come loaded with hooks. Marc Baylis' vocals tilt the record to the metal camp. This one didn't grab me by the throat, but it's growing on me.
myspace.com/sworerock
—Jim Ruland
Thaimex
Brand New Starts

Bringing his past spoken-word skills into a recording booth and mixing them with some ambient—nearly tribal—beats, Thaimex is actually a great rapper. After a while, the beats in the background start to get a little nerve-wracking, but his voice and flow manages to pick it back up. If this guy gets some new music, he could go somewhere.
myspace.com/thaimexproductions
—Neil Baffert
They Feed at Night
Enter the Swamp
The ideal soundtrack to a zombie feeding-frenzy, Enter the Swamp is a five-track song cycle that begins with an ominous groove playing in reverse ("Sunset"), culminates with some epic goth-rock ("Her Corpse Unshrouded") and closes with spooky synths and swamp noises ("Sunrise"). The vocalist's PiL-era John Lydon impression needs work, but the scrapes coming from the guitar are downright ghoulish. In all, a deliciously hideous effort.
myspace.com/theyfeedatnight
—Peter Holslin
Michael Tiernan
L.A. Can Wait
Why is it that all the decent bands that get a little success always end up distancing themselves from San Diego (see: Dum Dum Girls, Crocodiles, Delta Spirit, etc.) and yet we have acoustic queefs like Michael Tiernan openly proclaiming that L.A. can wait? No, really, Michael, please, by all means, it can't wait. American Idol just called, they need you to do the music for an inspirational montage.
tiernantunes.com
—Seth Combs
Timz
Future History

I'm not exactly a fan of inspirational rave-rap, but this EP from Timz, an MC of Iraqi descent, is full of surprises. The infectious synth hook of "Die for Never" had me pumping my fist, the "Give Peace a Chance" sampling on "Do Something" is actually pretty badass, and I get the impression that the chilling stories in "Refugee" are very real. I actually feel pretty inspired by this one.
timzonline.com
—Peter Holslin
Todo Mundo
Organic Fire
Gnarly flamenco guitar riffs? Check. Colombian freestyle rap? It's in here, too. Giving "world beat" a coolness enema and fusing a bevy of Latin and Afro-Caribbean influences, Todo Mundo dazzles with a soulful and sexy, hip-shaking style all their own (with enough saline solution to spare).
todomundomusic.com
—Enrique Limón
Tommy Smirnoff
The New Job

Bob Dylan has the ultimate free pass. Vocals that would otherwise be considered the mutterings of a urine-scented derelict are treated with transcendental reverence. Tommy Smirnoff is not afforded that same luxurious latitude. While slightly more coherent than the former Robert Zimmerman, Smirnoff has the same propensity for off-key meanderings without the salience to back them up. The labored cadence of the first song ("A Mile in My Shoes") is likely intentional, though it's absorbed quite literally. But getting through the rest of The New Job feels more like the Bataan Death March than it probably should.
—Nathan Dinsdale
Trap Gold
Bedroom Recordings
The combined male and female vocals have enough moody nuance to make up for not being terribly aggressive. It's like you're listening to them from the other end of a hallway. The hooks are somewhat catchy, and the guitars and synth drive things along, but when they sing about "howlin' and growlin'" without doing much of either, it feels a little unconvincing.
myspace.com/trapgold
—Will Parson
Taming the Fox
Taming the Fox
Justin Froese's radio-ready voice soars perfectly over this five-song alt-rock gem. Sometimes bluesy, sometimes driving, sometimes romantic, this five piece showcases a stunning musical vocabulary, as well as a fat pocketful of talent and an apparent shared love for Jeff Buckley.
myspace.com/tamingthefox
—Justin Roberts
Teenage Love Machine
This is Your Teenage Love Machine
This demo has the odd quality of sounding as if it's being transmitted via short-wave radio frequency from some distant solar system. It's ambient electronic noise meets Sebadoh-esque lo-fi. It's disorienting and headache-inducing at points, but the kids still come back for more—a typical teenage love machine, for sure.
—Dryw Keltz
Thea Tochihara
Demo
My girlfriend walks into the room and remarks that Thea Tochihara's demo sounds like Fiona Apple, which, she says, is a bad thing because she likes Fiona Apple. I never really got into Apple, so I think the similarity is a good thing. But that's just the first two tracks; the third reminds me of "Down to the River to Pray" from the O Brother, Where Art Thou? soundtrack. Tochihara has a lot of talent, but she may need to develop her style a tad more to distinguish her from the piano-playing singer-songwriter masses.
myspace.com/theatochihara
—Dave Maass
---
VEGETARIAN WEREWOLF
Impressions of Man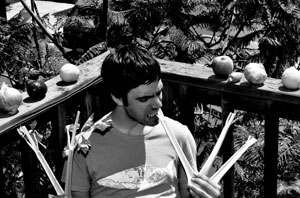 John Paul Labno doesn't stop working. When the Grand Ole Party vet isn't serving up lattes at Gelato Vero or playing in The Hot Moon with girlfriend Sasha Pfau, he's writing material for his relatively new solo project, Vegetarian Werewolf. In less than a year, he's already managed to release two albums: The Blood Count Step, an experimental one-off of spooky dub, and Impressions of Man, his first proper full-length, which he recently put out for free on Bandcamp. Written and recorded in his house with a keyboard and whatever else he found sitting around, Impressions of Man is a pop record with an existential twist. When he adopts his alter-ego, Labno thinks of himself as an outsider looking in, examining the curiosities of human life. So, while he still has an ear for pop songcraft, his perspective is a little different—for example, he'll write a love song about computers and humans ("Man and Machine"). Of course, you can still hear hints of newwave ("Spectre Knight") and even lounge ("Stick Around, Pal"), but it sounds like it came from a parallel world where the land is blue and water is green. And that's what makes this album so poignant: Sometimes the weird can be normal, the normal weird, but a great song is still a great song no matter how you look at it.
vegetarianwerewolf.bandcamp.com
.
—Peter Holslin
---
Three Chord Justice
Undercover Justice
Don't be fooled by the name: The ladies and gents who make up Three Chord Justice are familiar with at least four chords. The skilled country outfit plows through a CD's worth of covers on Undercover Justice. Fans of traditional country (not that commercial crap) will surely dig the tasty lap steel that Tom Wolverton lays all over this disc. They ain't reinventing the wheel, just rolling it into a new era.
myspace.com/threechordjustice
—Dryw Keltz
Trashcan Fires
First Do No Harm
Trashcan Fires, a duo comprising Genevieve and James Zzyzyx, play mellow, atmospheric dream-pop in the vein of Beach House or The xx. In other words, they make sex soundtracks for pale white kids. And it's not half-bad, either, save for the unnecessary cover of Riskay's "Smell Yo Dick." The ironic white-girl hip-hop cover was cute the first time, and only the first time. myspace.com/trashcanfires
—Jeff Terich
Trouble in the Wind
Gone and Done It
From the first listen, this North County folk quartet's EP has secured a place as contender in my best of 2011 list (though, technically, it was released Dec. 20). The group doesn't force its country instrumentation—including accordion, slide guitar and stand-up bass—on the listener. Rather, the band serves as a solid platform for Robby Gira's gusty vocals, which are less singing than direct, wailing blasts from a tender, tormented heart. I hate to compare, but the record's reminiscent of Bobby Bare Jr., Beat Strings and Townes Van Zandt, with a touch of Arcade Fire.
troubleinthewind.com
—Dave Maass
Unruly Bangs
Meat Market Music
Unruly Bangs' extra-sassy frontwoman, Jacquie, so frequently recalls the 'tude-heavy vocals of Exene Cervenka and Belinda Carlisle that one might question whether she's actually a Los Angeles transplant. However, Unruly Bangs don't play Sunset Strip punk rock so much as blues-inflected indie-pop sprinkled with odd vocal refrains like, "I wanna turn you into shrubbery." That is, until final track, "New Body," launches into outer space with Teutonic 1970s-style synth waves. OK then! Highly, highly confusing, but Unruly Bangs have the potential to tap into something impressive were they afforded the luxuries of better recording technology and focus.
myspace.com/unrulybangs
—Jeff Terich
Various artists
A Dreaming California
This compilation cassette tape from Hop Skip Jump Records, a DIY label based in San Francisco, offers a sampling of more than half a dozen solid underground San Diego acts, plus a few San Francisco bands. It spans a pretty wide spectrum—spaced-out post-rock (Primitive Noyes), heady electro (Neat Beats), quirky indie-rock (Paper Forest)—but it's all pretty laid-back and inviting. It goes well with reading.
hopskipjumprecords.com
—Peter Holslin
Todd Day Wait and the Golden Hills Blues Band
Demo / EP

This little EP roars out of the gate with the overdriven, psych-tinged jump boogie of "It's the Same Old Thing." It was smart to really slather the grit on this warm, analog-sounding recording. Raunchy distorted organ and woozy wah-wah guitars build a solid foundation but leave just enough room for Wait's powerful bluesman vocals to cut through the molasses. These tunes get a little sloppy at times, but, honestly, it would be kind of disappointing if they didn't. I'd love to be at a party where these guys are playing.
myspace.com/todddaywait39spigpen
—Shae Moseley
The western Set
The Dark, Bad Places the Black Dog Calls Home
A three-song CD of good old-fashioned cowboy music with all the fixins—pedal steel, wistful melodies, guy-gal vocal harmonies, tears-in-your-beer lyrics. "I drink my whiskey like it's beer / and I drink beer like it's water." Damn right.
myspace.com/thewesternset
—Peter Holslin
Normandie Wilson
The Flower Box

For the most part, The Flower Box is filled with sweet, charming, semi-awkward, '60s-inspired pop that brings to mind a female version of Ben Folds (if he listened to more Motown and Astrud Gilberto). For all the layers of handclaps, horns and twinkling keyboards, nothing feels overworked—rather, the sparse arrangements sound so fizzy and frothy that they threaten to float away at any moment and take your heart with them. But every so often, the odd understated instrumental composition pops up to ground it all and show Wilson's talents in an entirely new light. It's these moments that set The Flower Box apart and really make it sparkle.
normandiewilson.com
—Sasha Orman
Scott Wilson and the Contradictions
So Far Away From Me

"So Far Away From Me," the only track on this CD, could have been a crossover power-pop / metal hit in the late '80s. Santee's Scott Wilson and the Contradictions deliver a tasty, traditional, FM-radio-friendly rock song with a sweet, chugging verse progression. Sure, it's a tad on the cheesy side, but how many great songs flirt with that disaster?
metalogicmusic.com
—Dryw Keltz
Writer
Miss Mermaid
If you like heavy distortion, up-stroke strumming and mermaids, Writer's got you covered with this explosive single. As always, it's amazing the two brothers are able to pull off such a huge sound, even bigger than the semi-experimental B-side featuring members of Tape Deck Mountain.
writertheband.com
—Dave Maass
Woolly Mammal
Woolly Mammal demo
Across four buoyant alt-pop songs—all of which are clearly being played with a smile—Woolly Mammal manage to leave you with tapping fingers and the distinct feeling that each of the band's members wants eagerly to be your friend. Strip the word "twee" of any derogatory meaning and you'd be left with the definition of Woolly Mammal's sunny, upbeat sound.
woollymammal.com
—Justin Roberts
XIV
Theta

Going off the band name and title, I was expecting metal. What I got instead was intricate, bass-heavy, jazz-inspired trip-hop in the vein of Portishead or Sneaker Pimps. While it's a little uneven (to be expected when you're contending with 14 tracks), the overall effect is haunting and hella sexy.
myspace.com/xivmusic
—Sasha Orman
Zany-Zane
Street Album

Zany-Zane has much to be, um, zany about. Having survived seven years of homelessness, a prescription-drug addiction and a 26-month stint in prison, the self-described "Da Gully Wonda" has produced an excellent hip-hop album that's a raw and raunchy, dirt-poor alternative to blinged-out gangster rap. Street Album is synthesizer-driven and often spacey, with dark and depraved lyrics that flow like piss down a storm drain. It's driven by mental illness, but Zany-Zane isn't a Wesley Willis-style novelty, nor is Street Album his cheesy salvation. 
myspace.com/zanyzane619
—Dave Maass
---
TORI ROZE AND THE HOT MESS
From the Hip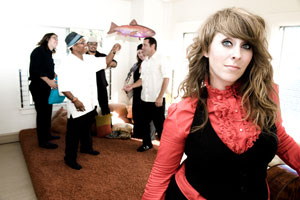 Hearing Tori Roze's sultry voice for the first time is like learning that Santa Claus isn't real: It absolutely breaks your heart. Roze seduces you with her Erykah Badu-esque flair, and just when you think she can't be any smoother, she claws her way into your ears with her rocking roars. While her band is clearly most comfortable playing blues-rock, they show their versatility in "Shanghai Sue." With its steady walking bass line and ominous horns, the track transports you straight into a 1940s detective flick. Interestingly enough, the backup vocals are provided by Lee Clark, Roze's mom, a fine singer in her own right who augments "Tick Tock" with rhythmic glottal stops and tongue clicks.
Knowing that Mom is around when Roze bares her soul with lines about "injecting love into one's veins," the emotional pull of this record is that much stronger.
myspace.com/toriroze
—Sean Michael Delizo
---
Zapf Dingbats
Zapf Dingbats
Listen to this album and you'll feel as if you're trapped inside an episode of Antiques Roadshow. Allow their old-timey mandolins, acoustic guitars and harmonicas to deliver you to an alternate reality in which you have just presented your great-grandmother's sewing machine to a certified 1920s sewing machine expert. Relish in their peppy bluegrass, as the sewing machine aficionado breaks the news that great granny's most prized possession is still only worth six bucks.
zapfdingbat.com
—Dryw Keltz
Zillion Happy Volts
Demo
The name comes from the 1920 cult film The Cabinet of Dr. Caligari, but the band sounds like Ministry on methadone. Plodding drums, silly effects, vocals distorted beyond recognition. There's only one track on the CD, "Imaginary Friends," but it's one track too many.
—Jim Ruland
#SDDemos on Twitter