PUSHIN ROPE
Pushin Rope
Being
an "outlaw country" band from the rough-and-tumble thoroughfares of San
Diego can be a tricky thing. Trust me, I'd be the quickest one to shout
"poseur" if it's just a bunch of bearded hipsters who've recently
discovered Townes Van Zandt. But this is a stout collection of morbid,
badass country that incorporates the best bits of Billy Joe Shaver,
Charlie Daniels (dig that fiddle playing on "Blood in the Pines") and
even Nick Cave. myspace.com/Ipushrope.
—Seth Combs

PUSSYTROT, THE CAT
Evil Fuzz Music
Not
nearly as bad—or quite as much fun—as you might anticipate from the
name. This is a "bedroom recording" that literally might have been
recorded in some dude's bedroom, judging by the overall production
quality and the fact that the band's contact info was written on a
napkin. That aside, a surprising amount of the material (a quirky
amalgamation of lo-fi indie rock) shows creative promise. With more
coherence and studio time, this could turn into something worth
listening to. myspace.com/pussytrotthecat
—Nathan Dinsdale
THE QUEEN'S GUARD
The Queen's Guard
The
QG provides faithful and restrained service to atmospheric rock, but
the end result is delivered with all the excitement and variation of a
lonely sentry's shift at Buckingham Palace on a gloomy February
afternoon. It's painstakingly subdued—even a bit forlorn— presumably for
a reason, though that sense of purpose is as vague and elusive as
London fog. The musicianship appears to be there, but I'm looking for a
bit more bangers 'n' mash and all you're giving me is soggy fish and
chips. myspace.com/thequeensguardband
—Nathan Dinsdale
REAL J. WALLACE
The Laundry Room
The
slightly better rapper from Brother Nature hops on top of instrumentals
from some of his favorite songs, a common move heard on rap mixtapes.
As the majority of these songs come from underground sensation Blu, it's
mostly a jazzy, sample-based affair with a familiar mix of braggadocio,
nostalgia, introspection and vague revolution. But, as with Brother
Nature, the rapping needs more work, both in a technical sense and a
creative one. myspace.com/realjwallace
—Quan Vu
The Redstarts
Demo
If all you have going for you is that your garage-rock band sounds like you recorded your demo in an actual garage, then it may be time to explore this cool new program called, coincidentally, GarageBand. However, I hear good things on these four tracks reminiscent of early Black Lips, and I fully expect to see these guys playing at Tower Bar soon enough.
theredstarts.band
camp.com.
—Seth Combs
Johnny Reese
3 Song Demo


If I were in my 40s, recently divorced and needing to feel cool again, I would probably go to a bar in P.B. And I could only hope that this guy would be playing that night. I'd get drunk off vodka cocktails and start to feel better about myself while dancing to the inoffensive but altogether trying-too-hard alt-rock jams. Then I'd puke all over myself.
—Carissa Casares
Re-Ree
Demo


With songs like "2 Hard 2 Luv Hos" and "(I Wanna) Poopy in your Pussy," I think it's safe to assume Re-Ree isn't making music to be taken seriously. Still, I found myself laughing out loud to their mix of rap, folk, metal and just about every other genre, even if all of it sounds like the ramblings of a mental case.
—Seth Combs
Shawn Rohlf & The Buskers
Tiny Xs


Mojo Nixon could single-handedly kick this band's ass in a bar fight—and you might say that Shawn Rohlf would really be asking for it with his corny vocals. But Tiny Xs has some bright moments: They really bust out on the rollicking "Tales She'll Tell," and the instrumental "Boxcar" showcases some fine pedal-steel work. Bonus points for the rootsy cover of The Dead Milkmen's "Punk Rock Girl."
7thdaybuskers.com
—Peter Holslin
Laura Roppe
I'm Still Here


I want to root for Laura Roppé and not just because I'm Still Here is a mostly upbeat defiance to the breast cancer that wreaked havoc on her life in recent years. Her vocals are buoyant, and many of her lyrics (particularly on the playful "George Clooney") have wit and heft. Yet the album doesn't quite click. Her musical identity seems muddled between singer / songwriter, blues muse, jazz chanteuse and twanging country singer, perhaps in part the result of featuring 16 guest instrumentalists. But when she gets down to brass tacks (like on the love letter "Woobie"), she comes close to striking gold.
lauraroppe.com
—Nathan Dinsdale
Roxy Blue and the Handful
What's the Password?
Dear Roxy Blue: I love your timeless voice. You remind me of Amy Winehouse, without all the sedatives. That said, songs like "RX Game" and "Girl Like Me" ruin your album's consistency. Stay away from the experimental '90s beats and stick to the autobiographical tales of a broken heart that you pull off so well.
myspace.com/roxybluemusic
—Sean Michael Delizo
Ceasar Sanchez
Iced Tea and Hennessy
The rhymes on Iced Tea and Hennessy are so cliché that I have trouble believing that Ceasar Sanchez is actually the self-consciously extravagant gangster he raps about. (However, I'm pretty sure he does, in fact, smoke a ton of weed: One of the two CD-Rs he dropped off at the office was blank.) Whatever the case, there's some seriously infectious hooks on this debut mixtape, including a number of old-school funk breaks and a vocal part lifted from the La Roux hit "In for the Kill."
bigboom.bandcamp.com
—Peter Holslin
Sandman
Pleasure N Pain

Wannabe players deliver off-brand rhymes covering cliché rap topics (hustling, drinking Patron, smoking "kush," etc.) over generic beats and synths. With the exception of a couple bright moments, this two-disc set makes for a wholly forgettable two hours.
flipsydeproductions.com
—Peter Holslin
A Scribe Amidst The Lions
The Last Sting Trilogy, Volume 1: Money and the Mouth
I commend Scribe for releasing this four-song EP on vinyl, but if the emorific name and Coheed and Cambria-esque album title didn't already give it away, this is music for eye-lined troglodytes who just graduated from shopping at Hot Topic. Should go over well at Epicentre, but I'm looking forward to Volume 2 about as much as I anticipated Attack of the Clones.
MS.com/ascribeamidstthelions
.
—Seth Combs
The Secret Seven
TuYour Back to the Sea
This album was bearable until the final song, "I'll Be Your Punching Bag," specifically the line "And what's so funny about peace and the number of the beeeeeeeeeeast?" The track is about seeing Elvis Costello perform a week after the songwriter was ridiculed for being dropped off at an Iron Maiden concert by his mom. A leap into the Elmo minus the "l" zone, if ya know what I mean.
secretsevenmusic.com
—Dryw Keltz
Britta Lee Shain
Between the River and the Road
Backed by the slow-tempo tunes of a country-westeband, Shain often restricts her lyrics to overt, lustful whispers on tracks like "Lay Your Body Down" and the less overt "Pacific Coast Highway." She will make you want to ease out of your turquoise jewelry and leathercraft and hold your partner close. Send this CD to your country-loving parents so they can do what you don't want to think they do any more.
brittaleeshain.com
—Will Parson
The Sixties
Songs of Our Love (& Hate)
If you're a fan of boy/girl harmonies, you'll appreciate The Sixties. Their calm and honest lyrics are easy to relate to, telling the story of what sounds like a pretty destructive relationship. With songs titled "Drunk on a Wire" and "The Drugs Don't Work" and lyrics like, "Sure your love was great / But you fucked it up," the band fits into a beloved realm of music embraced by contemplative hipsters and drunken 20-somethings alike. Ideal for fans of Tilly and the Wall and Best Coast.
3944.bandcamp.com
—Kaitlin Perry
Slow Graffiti
Emergency EP

Electronica that sounds kind of like what might happen if my iPod, my Blackberry and Johnny 5 from Short Circuit gang-raped my printer during one of its ink cartridge meltdowns. There is the usual laptop noodling complete with squeaks, beeps, static, rattle and hum all deferring to a relentlessly pulsating beat. As dance music, it works—assuming you're high on something other than life. As music music, you'd have to be the kind of person who gets an erection when you walk into Radio Shack. The two tracks on Emergency aren't bad—in so much as a sober person can assess experimental club music—but I'm sure as hell glad there aren't three.
soundcloud.com/slowgraffiti
—Nathan Dinsdale
The Smart Brothers
Make It Last

Technically, the Smart Brothers sound like good musicians. But this combination of Americana-pop, weirdly '50s-style "ooh-ah-ooh" vocal harmonies and Jay Smart's nasally tenor is just a tad too grating for these ears to want to, um, "make it last."
thesmartbrothers.com
—Justin Roberts
Social Club
Demo
While the first two tracks on this three-song sampler veer into Maroon 5 territory, it's the more pop-oriented, beat-heavy final track that seems the best fit for these guys. If the goal is to sound like radio-ready modern rock, mission accomplished!
FB/socialclubjams
—Dryw Keltz
Carlos Soriano
WTF Am I Doing?
Soriano is a former corporate drone who ditched the cubicle to pursue music and, um, professional poker. I dig that about you, Carlos. But while the title track ruminates on the stagnant existence that led Soriano to throw caution—if not his 401(k)—to the wind, it could also serve as a brutal self-assessment of his music. Hopefully, these acoustic tracks (recorded on an iPhone, with all the production value that suggests) offer him some joy and catharsis. But for his landlord's sake, let's pray that Soriano is exceptional at Texas Hold 'Em, because these singer / songwriter soliloquies are 300-of-a-kind.
—Nathan Dinsdale
---
RIVER CITY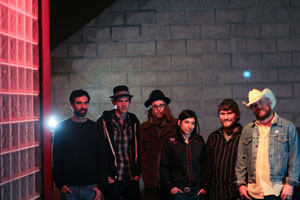 Credits: Photo by Samaria Daniel
Into the Quiet
River City's self-described "sonic folk" is a modern sound replete with echoing voices, buzzing guitars and ominous banjos. The ensemble uses its instruments to chilling effect on Into the Quiet, a six-track EP, in which intensely visceral moments are explored and tension-filled refrains are dished out. The hiccup in vocalist Jon Kruger's delivery is reminiscent of Hank Williams', and he uses it to accent vivid imagery that's timeless yet surprisingly fresh. In "Joyous Dogs in a Fiery Kennel," he urges: "Hold on, till your knuckles turn white and the skin's long gone and the fiery furnace catches cold again." On "Bring Me Home," the tides "pull and push the sewage of this city life," and then on "Blood and Bones" the desert sands are doing the pushing and pulling on entwined lovers. In raw and powerful terms, the band captures a paradoxical feeling: the longing to stay together while simultaneously staying removed from the cold, hard world.
myspace.com/rivercitytheband
—Will Parson
---
Soul Ablaze
Unmasked
This disc made me tear up a little. So-so vocals, Kenny G horns and a lack of gumption turn some good reggae intentions into low-key elevator rock for the 40-plus set. I could see the three tunes on this disc really working for an afternoon beach wedding, but Soul Ablaze would have to tone down the baby-making rhetoric. Vocalist Verdell Smith sings, "Can you imagine all the things I'll do to you?" I can imagine, but it's not pretty.
myspace.com/soulablazemusic
—Caley Cook
#SDDemos on Twitter