THE
CHALLENGER DEEP
iiii/ii

I'm pretty sure I wrote about this band back in
2007, and I'm pretty sure they broke up when the front man moved to New
York. And I'm pretty sure the remaining members went on to form
Architect Sketch. So, what's the story with the new two-song demo? I
don't know, but I like it. And if you like Pitchfork, Drive Like Jehu or
Hot Snakes, you will, too. myspace.com/thechallengerdeep
—Jim Ruland
CIGARETTES
IN THE SUN
Demo

What Joe Satriani or Steve Vai might have sounded like
if they were from San Diego and, you know, had zero talent.
myspace.com/Ace2650
—Seth Combs
CONCEPTUS

Demos

Jangly folk-rock takes center stage for Conceptus, with
nice-boy-nextdoor hooks to top it off. All 13 tracks are the product of
Chris Holmes, who produced everything at home. "Erica's Trip" nicely
alternates between menacing guitar drives and short, sunny licks. "Which
Way" echoes with Brit-pop reverb. Aside from the band's name, which
sounds to me like what you'd call a fetus at conception, there's a solid
dose of Pavement, Kinks and early R.E.M. here. myspace.com/conceptus
—Caley Cook
COUCH
LOCK
Improvised Jams to Shake Your Booty To

"Couch lock" means you've
smoked so much weed, you get stuck to your couch. With a name like that,
it's safe to assume that these guys get their inspiration from some
seriously sticky Skywalker OG. Although the album is primarily driven by
guitar riffs, bassist Boogie's gnarly bass lines occasionally shine
through on tracks like "Duck Shake" and "Creeping Tom." Kick back, relax
and enjoy the ride to nowhere.
—Sean Michael Delizo
---
ARCHITECT SKETCH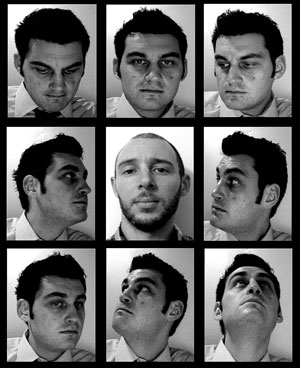 The Great Dilemma

Formed in 2007, Architect Sketch play epic instrumentals that nail the late- '80s post-punk sound. With just bass and drums (and some clever looping), this two-man outfit engineers songs that sound like a lost Dischord Records recording. Way too clean and cool for "noise rock" and "experimental" labels, the songs are dialed in with almost formal precision, yet were born out of improv sessions with local guitarists. The bass player, Andy Kondrat, lives in Chicago, where he's earning a doctorate degree in philosophy, making drummer Greg Gerardi the sole San Diegan (for now). Nevertheless, a second EP, titled The Great Dilemma, is in the works, and the lead-off track has been licensed for use by ESPN. Watch for Architect Sketch to break new ground with a full-length album and West Coast tour this summer. architectsketch.bandcamp.com
—Jim Ruland

---

COURT YARD ROOTS
Cali Code Collision
Aimless rap-reggae-rock jams topped off with clumsy, groan-inducing rhymes. "He's got many bitches coming to his house / Running in and out / Running all around." Seriously?
At least these guys know how to put down a solid reggae groove, but
that doesn't count for much. reverbnation.com/courtyardroots
—Peter Holslin

COZY cornERS
The Seven on 7/11 EP
The
paper that came attached to this demo boasts that Cozy corners recorded
this EP during one nine-hour "marathon recording session."
The
result is a fuzzy pastiche of '90s garage rock that, while showing some
glimmers of catchy promise, would ultimately slide by unnoticed on any
given episode of 120 Minutes. Take your time, guys. With more editing and effort, you could really have something here. myspace.com/cozycorners
—Sasha Orman

CRY FOR US BLACK SWANS
A Thousand Years
You'd
be hard-pressed to find a more sincere and somnolent voice as Jon
Piotrowski, the guy behind this rather unfortunately timed moniker. Get
over the Natalie Portman thoughts the name evokes. This is an amazing
debut filled with ballads that'll lull you to sleep ("Fire Attracts
Bats") and spaced-out carnival pop that sounds like Elton John at his
most experimental ("Chemicals").
myspace.com/drpopsicle
.
—Seth Combs
JOSH DAMIGO & THE MIDNIGHT POUND
Live at Lestat's
He
lives in L.A. now, but he still has a song called "L.A. is Not My Home"
to back up his San Diego troubadour cred. As much as I'd love to say
that Damigo still sucks balls, the addition of The Midnight Pound has
helped his otherwise pussy-lipped, open-mic generics. I guess that's a
start. Name-drop away, Josh, because, like it or not, you're officially
an Angeleno from this day forward. myspace.com/joshdamigo.
—Seth Combs
DAY OF ANOMIE
Day of Anomie Demo Vocalist
Raul Delatorre would definitely crack the top three in a Michael Stipe
sing-a-like contest. In an album showcasing a wah-pedal and a
modern-rock twist on Spanish guitar, Day of Anomie show they have their
sound down pat—teetering on the point of complacency. Nothing a few bold songwriting risks won't fix. myspace.com/dayofanomie
—Sammi Skolmoski
DEAD ENGINES
Crash 'n burn

The boys of Dead Engines are anything but new to the music scene. They
draw their unique sound from a variety of genres: Neo-rockabilly, punk
and classic 1960s rock 'n' roll are just a few of the sounds they chop
up and mix into a giant melting pot. Their sound is about American as a
slice of apple pie on the 4th of July with a sparkler on top.
myspace.com/514302991
—Sean Michael Delizo
DEZZY HOLLOW
I Am Dezzy H.
Oceanside
isn't the first place that comes to mind when picturing a burgeoning
rap scene, but Dezzy Hollow is out to change that with his junior
release. Referencing "bitchass ho's," "them haters" and working for that
"extra cheese," the CD offers standout tracks like "Bumpin' My Shit
Down the Block" and "The Creation of Cuzzy Mac." If a Gangsta's Paradise
truly exists, like Coolio predicted so long ago, Dezzy would no doubt
be the doorman.
—Enrique Limon
DOT
Handle Without Care
It's
hard to describe DOT, as they don't fit one genre, evident in their
switch from bluesy alternative rock to a Cake-like, spoken-rapesque
screamo thing. I understand that DOT is trying to be experimental and
really loud and wild, but the band's music needs a bit more definition
to really flow. Such incongruence could be the result of the band's
hiatus and subsequent new lineup, but in order for their musical talent
to be put to good use, they need to find their niche. Or maybe I just
don't get it. myspace.com/dotdotdot
—Kaitlin Perry

DOWNSPELL
7 Dead, 6 Wounded…
This
San Diego-by-way-of-Alaska metal / grindcore sextet is attempting a
tactical assault on your eardrums. Actually, they've got a militarized
approach to much of what they do (check out their bio on MS), which is
appropriate, because alongside Morbid Angel and Cannibal Corpse, I can't
think of a better soundtrack to blowing shit up. downspellarmy.com
—Scott McDonald
ELECTRIC
CRUSH
Dropouts in a Drug Haze

Hey, singer of Electric Crush, your
vocals are so mumbled and distorted you sound like a scary sea monster
whose voice is blaring through shitty speakers. Then again, this was
recorded on a four-track 10 years ago and originally released as a
cassette tape by The Old In Out's Rory Truesdale while he was taking
lots of LSD. I guess it all makes sense now.
—Carissa Casares
ELECTRIC DYNAMITE
Demo
With
only two tracks to sample, it's hard to tell, but it sounds like these
guys asked themselves what it might sound like if Brandon Boyd fronted
Metallica in high school, and then they played exactly like that. Dudes
are earnest, but it comes off sounding more like one of those
tissuewrapped poppers than the big stick they're shooting for. electricdynamite.com
—Scott McDonald

ENDOXI
Earthbound
Earthbound
is easily one of the most ambitious local discs to ever pass through
the demo-review grinder. Endoxi mastermind Chris Wilson, who also
produced the record, covers a lot of musical ground on this outing.
Pristinely recorded and performed, it seems a surefire hit for fans of
complex, harder commercial rock such as Muse. Hopefully, next time
they'll cut down the sax and deliver more prog akin to album opener
"Into the World." It's pretty easy to imagine these guys having a video
played on whichever VH-1 station actually still plays videos.
myspace.com/endoxi
—Dryw Keltz

THE EPIC SILENCE
Demo
Consider
this: Every Santana recording you've ever heard—every aimlessly
structured song, every arbitrary burst of guitar noodling—is the man
performing at his best. Now, can you imagine what his off days must
sound like? Swap out Rob Thomas for a teenage boy droning disjointed
lyrics like the second coming of Grace Slick and you'll have a pretty
good idea of The Epic Silence.
—Sasha Orman
THE FLOWERTHIEF
Without a Safety Net
Flowerthief
frontman Christian Motos has a crystal-clear voice that's perfect for
jangly power pop ( la Paul McCartney and Ben Folds). The '60s vibe laid
out on most of these songs begs for a little more vintage echo to set
the mood, and at times Motos wears his influences on his sleeve (see the
Strokesian "Favourite Pill"), but overall this is a really solid set of
melodic and catchy pop tunes. myspace.com/theflowerthief
—Shae Moseley
FOLDING MR. LINCOLN
Live
There's
no risk of offending your grandma with this skilled country / folk
ensemble, and wholesome types will enjoy the uncomplicated sweetness
delivered by vocalists Harry and Nancy Mestyanek. The traditional song
"The Cuckoo" gives fiddle player Alicia Previn and lead guitarist
Charlie Loach an opportunity to shine through. "A Few More Friends Like
You" might come off as sappy since it's about a dog, and I don't think
any real trucker worth his dirty mud flaps would listen to a sentimental
truck-driving song like "Northbound 35" that mentions mustang horses
and champagne glasses in the same breath. foldingmisterlincoln.com
—Will Parson
FORBIDDEN IMAGE
Demo
The
drums are drummy and the bass is bassy in a relentless and instantly
recognizable "oonce-oonce-oonce" sort of way, so steady that it took me a
good 30 seconds to realize that the one song on the demo had looped
back to the beginning. Definitely not my thing, but I have no doubt that
they have a ready and willing audience.
—Sasha Orman
FOREIGN FILM
EP
Foreign
Film is the definition of sunny San Diego pop-rock, as evidenced by
comments on their iTunes page ("This album is great to ride your bike
to!"). The trio's debut EP is a fast-paced yet easygoing mix of what I
might describe as "bounce in the passenger seat" music for young folk.
Imagine what would come about if Weezer, The Strokes, The Walkmen and
Rooney formed a super-group, Dead Weather-style. listn.to/foreignfilm
—Kaitlin Perry
CHAD FRAKES
Chad Frakes
One
man, his guitar and heavily processed vocals makes for an interesting
acoustic outing. Though Frakes seems more influenced by Radiohead than
traditional singer / songwriters, this effort is true to the spirit of many a
past troubadour—primarily because each of these three songs basks in the
bleak. It has a bit of a Nick Drake touch to it in that sense. This is
the type of music you'd throw on a turntable during a rainy day in
Portland, but not exactly what you wanna blast at the beach on a sunny
day in San Diego. myspace.com/chadfrakes
—Dryw Keltz

---
BLACK HONDO
Demo EP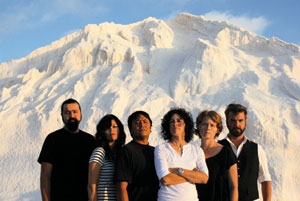 Combine super-fuzzy, lofi production, a female singer who carries the vocal ferocity of PJ Harvey and the ability by each of the band's other four members to throw down a well-trained, psychedelic-garage-rock sound, and you've got one utterly impressive EP. From the foot-stomping, thigh-slapping beats of "Take You Down" to the grungy, melancholic desperation of "Movin' On," the EP showcases some serious talent—especially from singer Lucina Gonzalez, who can belt out gallons of emotion in one pithy verse. On the two-minute, accordion-laced punk-rocker "Mexican Rock," Gonzalez's Spanish lyrics and the band's seamless, frenetic energy produce an end result that isn't just extraspecialgood—it's undeniablysuperfuckingamazing. blackhondo.com
—Justin Roberts

---
GAZE SHOE
Sleeping Above 3rd Ave.
This
release by Kyle Baudour, the multi-instrumentalist behind Gaze Shoe, is
a mystical, almost eerie listen full of drone and reverb. Perfect for
people who like dramatic films with emotional, instrumental soundtracks.
gazeshoe.bandcamp.com
—Kaitlin Perry

GHOSTLINE
Ghostline EP
Reinforcing
the sage wisdom that it's best not to judge a band's demo by its
cover—or lack thereof— Ghostline's three-song EP arrived with little
more than a title, track names and website written in magic marker on a
generic CD-R. And yet, the band's urgent and ultra-heavy psychedelic
rock was a pleasant surprise, exploding with all the heft of Black
Mountain or The Black Angels on opener "Fly Away," speeding into
scratchy post punk on
"Run" and descending into atmospheric mope on "Calling (I Hear You)."
Christopher Plaia's melodramatic bellow doesn't quite fit the songs, but
the band's got chops all the same. ghostline.bandcamp.com
—Jeff Terich
GHOST TOWN DEPUTIES
Widows Peak
If
they sound like Social Distortion, it might be because they have early
Johnny Cash as a common ancestor. The best songs are fast and loud, with
hints of slide guitar. And when they lean toward the punk end, it
effectively disguises the fact that the lead singer isn't exactly a
country crooner. Play "Goddamn the Miles" and "Gas, Food & Lodging"
while you're driving down the highway with the window down. myspace.com/ghosttowndeputies
—Will Parson

GENIUS OF SOUL
A Project for the New! American Century
Despite the rather misleading name, this "project" would please anyone who loves Guru's Jazzmatazz or
the mushroom-jazz that emanated from coffeehouses in the late '90s.
It's not completely ingenious and can get a little redundant at 12
tracks, but it's still a solid mix of downtempo electro, jazz and hip-hop. geniusofsoul.com.
—Seth Combs

HENRY GONZALEZ
Demo
Yet
another example of soloacoustic-guitar-guy-heartbreak balladry. More
Eagles than Jack Johnson (for which I'm at least a little bit thankful),
demos like Henry Gonzalez's are more common than herpes backstage at a
John Mayer concert. If there's one thing that sets Gonzalez's songs
apart, it's their inexplicably long duration. Three minutes each of this
stuff would be pleasant enough, but six minutes is just a test of the
listener's endurance.
—Jeff Terich
GREAT LIKE CAKE
Stallion Italian
Melodic indie-punk featuring members of Blue Sky Law, The Challenger Deep and Architect Sketch. Ferocious
bass lines. Vocals get a bit lost, but who cares? I especially like the
track "Hot Strokes" with its druggy-positive message "Right now nothing seems impossible." This record rules! greatlikecake/bandcamp.com
—Jim Ruland
GOOD OL' FRIENDS
Live
Sure, the "Big Rock Candy Mountain"-style folk on this six-track CD—recorded
in "Phil's living room," notes say—doesn't come close to Pete Seeger's
subversive songcraft. But I have to admit, this acoustic trio shreds.
—Peter Holslin

ROBIN HENKEL
(Untitled demo)
Henkel
sent us a two-song story of a musician suffering from debilitating
Muzak-philic tendencies. He wants so badly to be a jazz or blues artist,
but somehow he can't escape the Muzak hell where he currently resides.
With sampled vocals and Seinfeld-intro-esque slap bass lines, he
issues us a final product so numbing that it allows the listener to
completely forget the journey that just took place. Come to think of it,
it's probably better that way. robinhenkel.com
—Justin Roberts

HIGH TIDE
The Rooted
Homelessness.
Nuclear weapons. Glenn Beck books. Middle-classwhite-boy reggae bands
from the beach. The world doesn't need more of any of these things. But
if the fact that Sublime is no longer making records really gets you
down, then this well-polished troupe of sativa-scented minstrels is for
you. sdhightide.com
—Scott McDonald
RICK HINES
Demo
Rick
Hines is an artist, writer and musician who makes music in his home
studio. He's been cranking out recordings since the '80s, and you gotta
give him props for his perseverance. I like the guitars. Keyboards not
so much. Lots of lo-fi atmosphere, but a bit disjointed in places. The
cover of Rush's "New World Man" is the bright spot on the record.
ricks-studio.com
—Jim Ruland
HOCKEY MOMS
Would You Like to Play a Game?
This
CD came with the rather cryptic message, "A person, a place and a thing
they all share will draw them together like a kite, wind and air." Uh,
OK. These guys have some clear influences (Pavement, Camper Van
Beethoven, Captain Beefheart), but most of the 12 songs, like the
enclosed message, just sound like some butt-hole who forgot to take his
meds. Anyone remember shitgaze? Didn't think so.
myspace.com/thehockeymoms.
—Seth Combs

HOTEL ST. GEORGE
Amusements
From the first track of this demo, "Like a Tiny Grasshopper," we find vocalist Matt Binder spacing out alongside the spirits of
David Bowie and Iggy Pop, not necessarily embodying their charismatic
strut, but embracing their melancholy energy. These are ominous love
songs for the apocalypse. Guitars, synth, drums and vocals are pig-piled
on top of each other, thrashing around for extra space. "I'd like to kill you," Binder sneers over and over on "Past is Not Your Future." He makes death sound mysteriously appealing. myspace.com/hotelstgeorge
—Caley Cook

---
BLACK OAK HYMNAL
My Central Valley Blood Brother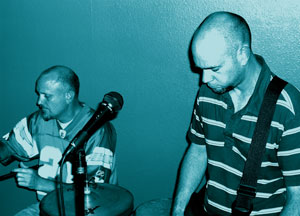 Imagine a collision of Jim Morrison, Nick Cave, Son Volt and The Sadies and you have Black Oak Hymnal. This is some dark, sparse Americana that shows you just how haunting an acoustic jam can get. The dirt-cheap production only ups the chill factor of this demo, which showcases the impressive songwriting and performing talents of guitarist Grafton Silos, who plays here with drummer Butch Johandson. The most important aspect of this kind of music is that it needs to be authentic— and the songs on My Central Valley Blood Brother bleed realism. One can only imagine how a full band could take these songs to a whole other level. Silos has knocked out the impressive acoustic debut; now it's time for him to track down his Crazy Horse.
myspace.com/blackoakhymnal
—Dryw Keltz
---

NATHAN HUBBARD
Drive (for JS)
Using
tea kettles, radio transmissions, feedback from a vase and a recording
of some construction workers grinding the freeway late at night,
Hubbard—a member of the storied Trummerflora Collective who plays drums
in Rafter's band—creates a 19-minute opus of interwoven drone tones.
There's a sucking sound like a vacuum cleaner from another side of a
wall, piercing pitches that could get a dog barking, ominous bottom-end
rumbling and more, all of it coming together to evoke a feeling of
quiet, gnawing dread. David Lynch should use this in his next movie.
castorandpolluxmusic.com
—Peter Holslin

NATHAN HUBBARD
Aegis II
Hubbard
couldn't reasonably have expected a good review of this almost
unlistenable 3-inch CD. It's just 18 minutes of pure noise! But it's
interesting how he molds noise like clay: "Pinky" sounds like a dialup
modem gone mad while "Glitch" and "Random" are sculptured works of
distortion and feedback. The average listener would no doubt hate this,
or just not get it, but fans of Merzbow and Wolf Eyes would dig it.
castorandpolluxmusic.com
—Peter Holslin
HUMMINBYRD
Do Your Thing
Cut-rate
electro-pop that's more "Jizz in My Pants" than "What's My Name?" The
female singer's lifeless delivery is made all the worse by the cheap
prefab synths and beats. I kind of thought she was joking, actually.
humminbyrd.com
—Peter Holslin

HUNGER FACTION
EP
"Being a drummer can suck," Andrew Bracken (aka Hunger Faction) wrote by way of introducing his EP to CityBeat. "It
can get frustrating to feel like a complimentary [sic] piece of the
musical puzzle." Well, then, release the Bracken! The result
theoretically spotlights the wonder of percussion instruments, but
mostly just shows that drummers can be self-indulgent narcissists, too.
If the name "Zildjian" means anything to you, you might be mildly
interested in listening to these four experimental tracks. If not,
you'll probably just wish you could get the last 15 minutes of your life
back. myspace.com/hungerfaction
—Nathan Dinsdale

ID
Raincheck
I
want what iD the Poet's smoking. In his official album statement, he
explains that part of his new record was recorded in a hotel room
"during the 2009 presidential conventions." That must've been the year
Zoidberg from Futurama ate all the super-delegates. Still, Raincheck is
an impressive solo debut from the local MC and Genius of Soul frontman.
Over 14 tracks, iD spins intelligent and meaningful rhymes over
gratifyingly nerdy samples (Doctor Who on Track 7, FTW!), in the same vein as Aesop Rock, Slug and Sage Francis. Is that racist? OK, Saul Williams, too. idthepoet.com
—Dave Maass

INDIVIDUAL DESTRUCTION SEQUENCE
Demo
Angry,
female-fronted, grunge-esque rock band that harkens back to the glory
days of L7, The Gits and Seven Year Bitch. Vocalist Maverick Monroe gets
my personal vote for best 2011 demo-review lead-singer name. But these
two tracks are surprisingly devoid of references to F-14 Tomcats and
European interference in early-19th-century Central American affairs.
myspace.com/idsrocks
—Dryw Keltz


IN MOTION TRIO 2
The Barefoot Race
I
picked this CD out of the pile for one reason and one reason alone: The
cover depicts a stoned-looking anthropomorphic banana rocking a Crips
bandana and grasping a spray can in one of its long, boney hands. Push
play and out oozes a surprisingly melodic orgy of jazzy, Blue
Noteapproved beats; it's a clear example of why you shouldn't judge a
book by its cover—or in this case, a plantain by its peel.
myspace.com/inmotiontrio
—Enrique Limon

CONWAY JAMES & THE 3RD AVE. ORPHANS
Blood Orgy
With a name like Blood Orgy, I
thought for sure I was going to hear some anus-tightening metal, but
alas, it was actually some quite lovely altcountry. The five songs could
have used some expert post-production to level out the sounds, but the
shogazey atmospherics on "Holy Soul" and "The Devil's Whiskey" show that
this is a band with a unique take on an old genre. 3944.bandcamp.com
—Seth Combs

JAMUEL SAXON
Time is Money EP
It's
no surprise that Jamuel Saxon's music, which would make excellent
earbud fuel during a stoned bike ride to Bar Pink, is rapidly gaining
traction with the local movers and shakers on the 30th Street scene.
Latch on quickly and get in with the initial wave of good vibes before
the majority of their fans go Judas on yet another one of San Diego's
most intriguing buzz bands. myspace.com/jamuelsaxon
—Dryw Keltz

JOY
Psychic Blues EP
Rock
music was originally designated as "heavy" because of the sheer density
of a band's sound, not necessarily because of its volume. This band
happens to have both in spades and delivers its psychedelic blues jams
with a sense of urgency. This is bombastic British blues that tips its
hat to The MC5's reckless abandon but also knows when to
dial things back just long enough to conjure some later swirling,
reverb-laced Anglo-blues acts like The Stone Roses.
myspace.com/joymusicsd
—Shae Moseley

THE KABBS
Xxxxxxx
The
KABBs offer up beach-rock music with punk-rock vocals. It's not my kind
of thing—but I can listen to it easily, which makes me feel like there
could be quite a few people out there who would enjoy this.
thekabbs.com

—Neil Baffert
KATIE LEIGH & THE INFANTRY
Katie Leigh & The Infantry
There's
something about the sound of a mandolin under tight vocal harmonies
that brings out my secret inner country-folk fan. It also makes me wish
for a rocking chair on a porch with a bottle of whiskey on a hot
Kentucky summer day. And I've never even been to Kentucky. What are you
doing to me, Katie Leigh? Whatever it is, I want more.
myspace.com/katieleighmusic
—Justin Roberts
KNIGHTS OF APOLLO
Demo
I'm
shocked that a statue of Bradley Nowell hasn't been erected in O.B. If I
hear one more Sublimely half-assed, rock-rap-reggae hybrid band out of
that area, I'm gonna start picketing in front of Winstons like Fred
Phelps. The band promises to "leave you with a lasting positive
impression of the diversity in life," but songs like "My Voice" and the
Linkin Park-ish "Masters of Illusion" make me want to beat up a homeless
hippie. myspace.com/knightsofapollomusic.
—Seth Combs
LIGHTS ON
Here Comes the Ocean
I
really dig the color of this record. Yes, the color. Lights On sent us
vinyl, and it's an awesome chartreuse color, to boot. As for the music,
it's post-punk pop at its best— melodic, unruly, danceable and polished
all at once. I'm stoked these guys are a San Diego band, and I hope they
don't soon leave us for L.A. or New York. lightsonband.com
—Carissa Casares


ALICIA LOCKET
Fruition
There's no doubt that Ms. Locket has a lovely voice and easy-breezy style, but Fruition as
a whole has about as much edge as a toddler's Fisher-Price tub toy.
With factoryissue lyrical themes of love and life delivered at a glacial
pace, it's hard for me to imagine this appealing to many beyond the
Borders coffeehouse set. alicialocketmusic.com
—Scott McDonald

LOVE HENRY
Nothing Else Fills
The
morbidly dark folk crafted by Felicia Fis for her project Love Henry
lives up to its namesake (a Dylan tune about the murderous actions of an
unrequited lover). In fact, Fis tells a similar tale on "Knoxville
Girl's Revenge," a lovely story about a girl who cuts her friend's
throat "for a thrill" and hides his body at the bottom of a well (things
can only get brighter from there). Swells of lonely violin and
understated, monotone vocals feel at home on these four shadowy
strummers. myspace.com/thegunnstreetgirl
—Shae Moseley
THE LYON CROWNS
The Lyon Crowns
The
Lyon Crowns are like a bottle of red wine that only gets better with
time. These childhood friends have been performing together since 2008
and have had ample time to perfect their sound. On their new album,
Jorge Luna bellows the verses with a voice reminiscent of Dead or Alive,
but with Morrissey's vibrato and depth. Although the Lyon Crowns show
much promise and produce some solid tracks, this hard-hitting,
Interpol-esque album finds its flaw in the cheesiness of "Forever."
myspace.com/thelyoncrowns
—Sean Michael Delizo
MAD TRAFFIC
Unreported
To
say a band could easily be played on mainstream radio is, in these
pages, usually either a backhanded compliment or a direct insult. But
with a stack of mostly cacophonous Demo Review dreck on my desk, I won't
begrudge the mass palatability of Mad Traffic's pop rock. Unreported is
polished without being insincere, and while there's a familiar
underlying template, there's also enough genuine talent and
creativity—notably in multi-instrumentalist Blaise Garza's horn work—to
make it an "Extraspecialgood" selection, if not for the fact that Rob
Thomas and Daughtry keep coming to mind. myspace.com/madtrafficband
—Nathan Dinsdale
MARKMYWORDS
Fall From Grace EP
It's
called suspension of disbelief. Forget that you're listening to a North
County honky spitting rhymes about "Ill Street Dreams." Or that you
have to achieve grace before you can fall from it. Mark Simmers has some
flow. And the guitar sample on "Wage War"—almost certainly chopped from
Grand Ole Party's "Look Out Young Son"—achieves intriguing results.
There is, after all, a reason why Simmers earned some ink with his
previous incarnation (Nature of the Beast). But credible rhymes and
creative instrumentals can't quite make up for all the hiphop filler
that ultimately, predictably, weigh down this 13-track "EP."
myspace.com/mwnotb
—Nathan Dinsdale

MARTIAN HORSES
Demo
This
10-member post-rock, chamber-pop ensemble crafts three lovely
compositions that combine the epic soundscape painting of Sigur Rós with
the hopeful delivery of Cloud Cult while maintaining a flavor all its
own. Glockenspiels twinkle, strings soar, percussive flourishes abound
and tasteful vocal passages all find their place and sound more than
novel on these folksy orchestral collages. It would be great to hear
what this group could do with a full-length album-sized canvas.
myspace.com/martianhorses
—Shae Moseley
---
EUKARYST
Club Banger!!!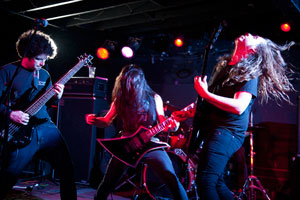 The word "epic" is thrown around a lot in metal, but the shit-kicking boot really fits with this instrumental outfit. Satiating your primal craving for tasty licks and whomping bass lines, this three-track demo is a pulverizing display of tight musicianship that will have you pounding the air to the band's blast beats. The guitars have one hell of a tone: The technical solos swim fluidly above chugging guitar riffs heaving with distortion. It sounds like Pelican, but with more speed and flair. The band gets extra points for recording this in stereo, and, on "Gorenado," sending dueling guitar parts through your mortal brain. For all their cohesiveness, you can't help but think that these guys must play, eat, walk and sleep to a metronome. If they're half as tight and twice as loud live, as the demo suggests, then San Diego has been granted a glorious gift by the devil himself. myspace.com/eukaryst
—Sammi Skolmoski

---
TERRY MATSUOKA
Demo
It's as light and fluffy as Jack Johnson eating a marshmallow sandwich on a unicorn-shaped cloud.
But unlike Mr. Hawaii's soft-peddled poetry, Matsuoka's lyrics (see "Go to the bathroom, then I pay for gas, I gotta pay 50 cents just to wipe my ass") aren't likely to moisten the hot pants of sorority-pledging college freshmen any time soon. facebook.com/terrymatsuokamusic
—Scott McDonald
---
MICROPHONE MIKE
Coming Up Green
This
is less like hip-hop and more like '80s-influenced dance music
featuring an ironic rapper persona. With songs like "Ass Cash or Grass"
and "Tua Hoe Into a Housewife," Microphone Mike clearly aims to
parody vices typically associated with hip-hop. But after the fourth
explicitly misogynistic song (out of seven total), the lines blur till
you can't tell if he's still critiquing those vices or using his persona
to get away with taking part in them. At least the dance tunes are
catchy. microphonemike.com
—Quan Vu

MIDNIGHT RIVALS
Nitty Gritty
Midnight
Rivals boasts a pedigree that few (if any) bands in the Demo Review can
match: The band's members formed from the ashes of iconic San Diego
indie rockers like Lucy's Fur Coat, Rocket from the Crypt and Louis XIV.
In this case, that's a bad thing. Right or wrong, this collective
project gets judged at the same level as the bands from which they came.
And what might qualify as a notably raucous album from a group of
unknown upstarts instead translates into fun but uneven sloppy seconds
from a band whose sum is less than its parts. myspace.com/midnightrivals
—Nathan Dinsdale
THE MOON & THE SUN
Songs for My Angel EP
Experimental
folk-pop ditties rife with catchy riffs and rosy nostalgia. "Portrait
of a Sunrise" must be the dreamy interpretation of listening to a 45 of
Bob Dylan's "Mr. Tambourine Man"—with the record player set at 33.
However, this recording is begging for much, much crisper vocals.
Something tells me I'm missing out on clever lyrics, and straining to
decipher them distracts from the overall musicianship. Fair warning: You
will bop along like a goon to the infectious melodies.
3944.bandcamp.com
—Sammi Skolmoski

LENNY MORRIS
Lenny Morris Music
If
rock bands are Rhode Island, then acoustic-guitar-based singer /
songwriters are China and India combined—and Morris just doesn't do much
to stand apart in that massive throng. To make things worse, he titled
his CD Music and throws a far more than acceptable amount of
"do-do-do's" into the mix. Morris sure seems like he believes in what
he's doing, and you gotta respect that, but if he doesn't tweak the
formula a bit, more and more people are going to get their lattes to go.
lennymorrismusic.com
—Scott McDonald

M AND M BLUES
Demo
The
blues never sounded so distorted and chunky. What sounds like two
guitars recorded in a tin can buzzes along without feeling obligated to
go anywhere in particular. It can get tiresome before the confluence of
heavily distorted guitar that is the last of three tracks. What starts
off as discordant strumming turns into one guitar keeping time while the
other sounds like it's melting. myspace.com/mandmblues
—Will Parson

MORTAR
Mortar
Not
much more than a treble-y, tinny-sounding electric guitar beating angry
chords over a stereotypical hard-rock bass line and a highly
caffeinated drummer who might need to take a vacation from his ride
cymbal. Their MySpace page defines their sound as "proggressive [sic]
sludge," but I think a simple "sludge" would suffice.
myspace.com/mortarsd
—Justin Roberts

MRS. MAGICIAN
The Spells
One really fun surf track, one mediocre cover of Rosie & The Originals' "Angel Baby." mrsmagician.com
—Dave Maass
MTBE
Requiem
God-awful prefab house music that fails to meet even the low standards of a trashy mega-club.
—Peter Holslin
NAPOLEON COMPLEX
Happy Accidents
Rocking guitar riffs, explosive percussion, heart-wrenchingly amazing vocals and—what's that I hear?
Horns? Yes, please! My only hope is that their live show is as good as this demo. myspace.com/thenapoleoncomplex
—Justin Roberts
BARBARA NESBITT
The Bees
Nesbitt
comes with an asterisk. She's a Georgia native who spent a formative
tenure in Virginia, found her way to San Diego for a few years and now
ostensibly splits her time between here, Austin, coastal Virginia and
the road. But like another blonde transplant with a sultry voice (whose
name starts with a "J" and rhymes with "Yule"), Nesbitt is a talent
worth claiming. The Bees lacks the inimitable distinction that broke Ms. Kilcher
out of coffeehouse purgatory, but Nesbitt's mix of folk and country is
nonetheless a definitive step above the open-mic masses.
myspace.com/barbaranesbitt
—Nathan Dinsdale
THE NEW ASSEMBLY
Clouds and Waves
Mellow,
electronic-driven indie-pop that reminds me a whole lot of Death Cab
for Cutie. In fact, it's very easy to imagine this EP coming out on
Barsuk Records. These guys may just be the perfect watch with your arms
folded. If you like your indie bands on the serious side, this foursong
EP is right up your alley. the newassembly.com
—Dryw Keltz
---
INSPIRED FLIGHT
We All Want To Fly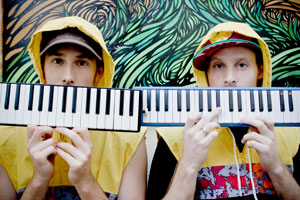 It's surprising that this duo was able to secure features from notable hip-hop artists like Scarub and Eligh of Living Legends and Wu-Tang Clan's Inspectah Deck. Even more surprising is how wellcrafted the album is: As this experimental trip-hop duo seamlessly blends elements of any number of genres—reggae, Brit-pop, downtempo—they recall innovators like Thievery Corporation and Portishead. But genre-mash talk is easy. What helps glue these disparate sounds together is the strong songwriting of singer-guitarist Chavez (aka local mainstay Gabe Lehner). We All Want to Fly is not an album celebrating greatness, as the title suggests. Rather, it's an intimate look at personal life and the ways in which we strive or struggle to "fly." Setting these small victories and losses to such lush experimentation is just beautiful. inspiredflightmusic.com
—Quan Vu

---
NEW MEXICO
Have You Met My Friend?
To quote Mr. burns: "Slow down there, maestro—there's a new Mexico?"
Rising like a Phoenix (Arizona) from the ashes of Apes of Wrath,
members Robert Kent, Jake Bankhead and Dustin Elliott pack a wallop in
this debut EP, which was recorded at El Cajon's Earthling Studios. Over
garage-rock riffs, they sing about experiencing "motion sickness of the
heart" and turning chicks into "bean heads," sublimely managing to be
Lisa Simpsonsensible and Groundskeeper Willie badass all in one.
newmexicoband.bandcamp.com
—Enrique Limon

NINJA LOVE
Shishkebab
Seven-song
sampler from a band that juggles a stoner-metal edge with some
seriously off-kilter lyrics (see "Rabbit Killer" and "Ugly Woman Dog").
You could say they're kinda like Queens of the Stone Age with a sense of
humor, but a better description may be an updated version of Blue
Oyster Cult. When hard rock and weird lyrics collide, the results are
always entertaining. myspace.com/youloveninjalove
—Dryw Keltz

THE NUMBERMAN
The Short Bread EP
This
CD contains one six-minute track titled "Présentation de quelques uns
des plus beaux morceaux de la collection." The title partly gives it
away. It's a collection of random sounds and noises, possibly trying to
resemble Girl Talk. However, near the two-minute mark it fades into a
random rap. It's just not all there. prkandthen mbrmn.bandcamp.com
—Neil Baffert

DEZZY HOLLOW
No Chorus
"My name is Dezzy H / Fresher than your average / I just killed these verses off and now I am a savage." Does
killing a verse make you a savage? The many "haters" that Dezzy
references in his songs might disagree. Plus, why would you wanna kill a
verse when your trademark is no chorus? No verse, no chorus. Look for
Dezzy's next project, "One Big Ass Bridge."
—Dryw Keltz

JESSE NOVA
Demo/Promo
Jesse
Nova's a little bit country, a little bit hair rock. I wouldn't be
surprised to find him dueting with Kid Rock or Zac Brown on any given
summer day. He's got the rock-solid voice with just enough swagger to
pull it off. Some Toad the Wet Sprocket-inspired harmonies make their
way into the three tracks on this mini demo, especially on "Summer
Blue." And, for a former drummer, Nova can tickle one hell of a guitar
lick. myspace.com/jessenova2000
—Caley Cook

OH AIR NIGHT
Demo
The CD's opening track sounds like a discarded Muse demo, and the other two tracks don't really improve from there. "I can feel her body filled with so much passion," wails
the overtly earnest frontman while visions of nipple piercings and
tight black leather pants dance through my head. Even Glenn Beck would
hate this shit. myspace.com/oernight.
—Seth Combs

OWL EYES O
Rly?
Earnest,
moody and guitar jangle a-plenty, Owl Eyes play their late- '80s brand
of college rock with straight faces and just a touch of cow-punk grit.
Think Lone Justice, or a slightly more energetic Cowboy Junkies. Not
bad, but nothing particularly memorable either. owleyesmusic.com
—Jeff Terich


RUDY PALOS
Sound Studies Vol. 1
Head-nodding
beats, chill jazz and funk samples, spaced-out synths— what more could
you ask for? The super-relaxed Ten19 adds an added element of
laid-backness to the laidback downtempo / hip-hop groove of
"Surrounded." Definitely looking forward to what Rudy Palos comes up
with on Vol. 2. probe-4.com
—Peter Holslin

PAPER FOREST
All Your Genius Is EP
When
it comes to a group of guys getting together to smoke weed and
mishandle instruments, I've heard worse. For one thing, Paper Forest is
remarkably succinct. The EP's three tracks collectively run just over
seven minutes (many of us have endured ganja-induced bongo-drum solos
that lasted far, far longer). There's even a slight Beach Boys
effervescence to the songs, including one ("Alphabet") the lyrics of
which mostly consist of the perky refrain "Everyone is talking shit about everyone." It's
not genius and probably sounds better in a 2 a.m. haze, but it's a
disheveled work that at least shows potential for progress.
paperforest.bandcamp.com
—Nathan Dinsdale

BIANCA PARAS
Begin Again
An album complete with emaciated drum-machine percussion, cringeworthy backing vocals and awkward tempo changes, Begin Again makes me think of a mall recording studio called "YOU Can Be a STAR— TODAY!!!" I'm sorry to have to be the one to tell you this, Bianca, but the $39.95 you seem to have spent at YOU Can Be a STAR is never coming back to you. And whoever came up with the name for that studio—well, they were lying. biancaparas.com
—Justin Roberts

PARKER & THE NUMBERMAN
The lorna Doone DVD
Touted
on their MySpace page as "Acousmatic / Tape music / Minimalist / Rap,"
this hip-hop group provides us with a full multimedia experience on this
DVD. A collection of grainy concert footage, news clips and handheld
videos interspersed with a sexy handful of samples, hooks and spoken
word, this wasn't so much a demo as it was a documentary—and one that
raised more questions than it answered. Consider our interest piqued!
myspace.com/parkerthenumberman
—Justin Roberts
---
ROOM E
Lanterns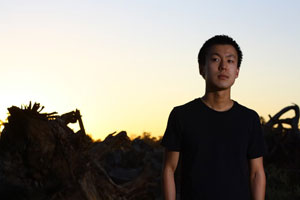 A chill, mesmerizing blend of down-tempo hip-hop beats, off-kilter samples, ganja-clouded bass-lines and occasional touches of banjo or vibraphone, Room E's lanterns pulls off the paradoxical feat of being immaculately stoned and sexy. This mysterious cat conducts cinematic electro-noir scores that range from the elegant ("Banjo") to the ominous ("Brickface"), interweaving synthetic and organic sounds into each track. The dark atmosphere is thick throughout these 14 tracks, yet it's also a very playful set of songs, one that takes the listener on some kind of cosmic journey (preferably with some psychedelic lighting, as Room E stated on his Twitter feed). Like San Diego's answer to Flying Lotus, or DJ Shadow's little brother, Room E is doing his genre a great service, taking instrumental hip-hop out of the yoga studio and back into the opium den. roome.bandcamp.com
—Jeff Terich
---
DAVID PATRONE W/ MIKAN ZLATKOVICH
ChristmasTidal
Christmas music is invariably corny. In fact, I'd go so far as to say that it's not Christmas music if it doesn't make you gag. So, is ChristmasTidal Christmas
music? Well, the vocals are schmaltzy, the piano's jolly, there's a
pinch of Latin flavor and even a track called "Midnight Jam (in
Bethleham)." Yep, it's Christmas music, alright. davidpatrone.com
—Peter Holslin

PHEN SWAN
Hidden Vibrations
A
pleasant mix of Dntel and Panda Bear, Phen Swan incorporates samples of
interesting, everyday occurrences—like a crowd cheering at his cousin
Andrew's swim meet—into melodic loops. Take a look at Swan's tumblr
(phenswan.tumblr.com) and you'll understand how his brain creates such
an intriguing array of sample combos; you'll enjoy listening that much
more. Each copy of Hidden Vibrations is personalized with an
extra track and a unique drawing insert, so each listener can have his
or her own personal experience. phenswan.bandcamp.com
—Kaitlin Perry

PHOTOVOLTAIK
Demo
These
completely enjoyable, throwback synth-heads deftly channel Yaz, Howard
Jones and Depeche Mode without getting too mired in the schtick-iness of
it all. The geeks also get bonus points for not trying to throw in some
screamo bullshit or something else "now" and for building all of the
analog synths themselves. Where's my Swatch, penny loafers and Generra
sweatshirt when I need them? reverbnation.com/photovoltaik
—Scott McDonald

POSITI/VE
Mechanical Gnomes
Theres
a strong downtempo Daft Punk influence coursing through the beats of
this EP, wrapped up inside razor-sharp electronic riffs and a haunting
background. An apparent disciple of the Ed Banger pedagogy (read:
Justice, MSTRKRFT, etc.), POSITI/ve's Conor McQueen will have to work
hard to make sure he's blazing his own musical path and not duplicating
the footsteps of his predecessors. But Mechanical Gnomes is an excellent first move in that direction. myspace.com/mcqueencs
—Justin Roberts

#SDDemos on Twitter