Ever since we started doing the Local Music Issue in 2004,
CityBeat's
Great Demo Review has worked like a musical game of Russian roulette. The formula is simple: We put out a call for CDs and our team of music nerds reviews everything that comes in. Occasionally, what we hear is great. Usually, it's so-so. Often, it's terrible. Whatever the case, we give you our
honest
opinion—no matter how ugly or mean that opinion is. Back in 2005, Seth Combs even urged one band to "eat a dick."
Well, strangely enough, many of us weren't so mean this year. Maybe the music was better. Maybe Combs is growing soft (hmm, no, I don't think so). I don't know why; that's just how it happened. But while some of you might be disappointed that we won't be telling any musicians to go eat a dick in this issue, you can be reassured that we're still being honest. (And, hey, there are still some zingers, too.)
The fact is, of the 170-plus demos, EPs and full-lengths we got this year—the vast majority from artists we'd never heard of before—a surprising number of them were good. There was mesmerizing electro-psych (The Big Thank You), beautiful country-folk (Trouble in the Wind), even some excellent hip-hop from an MC who used to be homeless and addicted to prescription drugs (Zany-Zane). And those weren't even the 10 artists we deemed "EXTRASPECIALGOOD."
Whether you're pissed that we trashed your band, or that we didn't trash your band enough, we'd still love to hear from you. Come air your grievances at the Local Music Issue party at Bar Pink on Wednesday, March 2.
—Peter Holslin


ACT NATURAL
Demo
Act Natural sounds like a
U2 tribute band that decided to write original material. If that
doesn't sound lame to you, then be sure to check out "Kingdome," a
top-40-style rocker replete with a swooping chorus and guitar parts that
could be arranged for strings. But even fans of Keane (you know, the
Coldplay knockoff) will lose interest halfway through "Deadman," the
second track on this CD, a dreary ballad that drags on for
six-and-a-half minutes. reverbnation.com/acnaturalband
—Peter Holslin


ADAMS AND EVES
Dear Professor
An unmastered copy of Dear Professor came
to our office in a tiny yellow handbag stuffed with hand-decorated
bookmarks: Yeah, this band is that adorable. The album overflows with
romance and whimsy, thanks in no small part to singer-guitarist Adam
Powell's allegorical lyrics and the band's lush arrangements (xylophone,
banjo, accordion, horns, etc.).
But songs about distance
("One Thousand and Eleven Miles Away"), growth ("Underwater Savior Part
Two") and faith ("Mystery") show emotional depth beyond fairytale
romance. Play this when you propose to your cardigan-wearing, Neutral
Milk Hotel-loving significant other. myspace.com/adamsandeves
—Peter Holslin


AFTERSCHOOLSPECIAL
It's All In Your Head
Rap-rock should have
died with Kid Rock's li'l hype man, but if it's here to stay (groan) we
can at least be grateful for Jaimie Block-Smith's low, bellowing female
vocals. It's hard to upstage the "greats" like Linkin Park and Limp
Bizkit, but there will always be androgynous teenage faux-cutters, and,
therefore, there will always be people who will really enjoy this band.
afterschoolspecialmusic.com
—Sammi Skolmoski


DURELL ANTHONY
The Man EP
With so many indie lo-fi
bands ripping off '90s R&B these days, it's nice to know that some
people are still doing the real thing. Durell Anthony has a decent voice
and offers up some yearning vocal parts, but there's nothing sexy about
a really bad synth piano or clichéd lyrics. "Words can't explain how badly I feel for you." Yeah, man, like ladies haven't heard that one a million times before. myspace.com/durellanthony
—Peter Holslin


ARAUZ
Demo CD (4 songs
"instrumentales")

Octavio Rodriguez Arauz says in his hand-written liner
notes that he has only three years of music experience, but he's
actually a fairly decent guitar soloist. But the rest of his music? It's
like listening to Carlos Santana and Yanni make love inside the most
horrifying mushroom trip known to man. Canned beats, abrupt volume
changes and a cacophony of Casio instruments from the early '80s all
give the distinct feeling like I never want to do psychedelics ever
again.
—Justin Roberts


AMATEUR POOL PARTY
Where did the Romans Go?
Where did the Romans Go? is
a 13track CD that would ruin an acid trip at a carnival. The album is
full of directionless guitar riffs with excessive wah-wah and
repetitive, meaningless lyrics. Amateur Pool Party claim they're a
comedy jam band—I guess I just don't get the joke.
myspace.com/amateurpoolparty
—Sean Michael Delizo


THE AMBASSADOR
New Roots Sampler 

Virginia transplant Stephen Gabriel Lewis is following up his 2009 The Ambassador Presents… EP with a full-length, New Roots. This
sampler features five of the album's songs, and they're full of reggae
goodness. These tracks are just itching to be played while folks young
and old ignite, inhale and exhale their "medicine." When the smoke
clears, The Ambassador will ensure all is good.
myspace.com/theambassadormusic
—Dryw Keltz

AND THE DEAD JACKSONS
CityBeat EP
And just when you
thought …And You Will Know Us by the Trail of Dead was the only band to
drive people nuts by using a conjunction at the beginning of their name,
these guys come along. And they sound like a mix of The Dandy Warhols
and some Elephant Six bedroom experiment. And the lead singer can sound a
whole lot like Michael Hutchinson from INXS. And I know that's weird.
And the end.
—Dryw Keltz
AUDIOS
The Outbreak
The day-in-the-life narratives spouted by Audios on his self-produced mixtape The Outbreak are
modernday working-man's blues. The collection is heavy on tasty samples
and head-bobbing beats, but at times it pursues stylistic eclecticism
to a fault. The hearty R&B and funk samples ("Candle Lit," "A-dub")
work best, and strong guest spots by the likes of M-Double-A-L and Swamp
Dog ("November") tend to bring it back home. myspace.com/yourmotherlovesmyspace
—Shae Moseley
BC
Keys to the Suite

You can tell a lot of
work was put into this full-length album. However, it still sounds like
average guys trying to rap about money, girls and fame—nothing exciting
here. Is it bad? No. It's just nothing we haven't heard before.
itsallbc.com
—Neil Baffert
BIGBATE PRODUCTIONS
Demo


The synths and drums on this instrumental hip-hop demo sound prefab,
and the beats are awkward, but the heaving bass lines show promise. A
software upgrade and some lessons from J Dilla will go a long way toward
revamping these busted-ass beats. myspace.com/bigbateproductions
—Peter Holslin
THE BIG THANK YOU
Audio
Sapien Medicine Show

This is the weirdest CD I reviewed this year—by a
long shot. With its fuzzed-out guitars, squiggling electronics and
psych-rock drums, it sounds like a collaboration between avant-pop band
The Residents and weirdo DJ The Gaslamp Killer. And you might call the
style of the band's handmade CD case (a project for a printmaking class
at SDSU) "Victorian psychedelic." The thing is, this is also one of the
best CDs I got this year. It's laid-back, full of surprises and ends
with a super-cool, eight-and-a-half-minute electro-psych jam that's
perfect for almost any occasion. reverbnation.com/thebigthankyou
—Peter Holslin


BLOODSTONE THE STREET PREACHER AND RED ROSE
I Know
Sounding like something
from a G- Funk-era Death Row Records mixtape, this husband-and-wife rap
duo seems destined for YouTube cult status. Not groundbreaking by any
means, but I found myself wanting to hear more than just one track.
myspace.com/buprecordsent.
—Seth Combs


BLOW ME DOWN
2010 EP
Though a bit harsh for
early-morning ears, there are elements of this undeniably hard-rocking
EP that leave me wanting to thrash around inside a writhing, sweaty,
beersoaked audience and wake up the following day with a hangover, a
handful of scrapes and bruises and the feeling that, whatever I ended up
doing last night, it was really, really fun. myspace.com/blowmedownband
—Justin Roberts
BREAKHOUSE
Life in the Multiverse
"Breakhouse" is an
unfortunate name for this band. On one hand, it reminds me of Firehouse
(gross) and on the other, I'm disappointed it's not a jungle-drum-n-bass
outfit. Instead, this is a
heavy-hitting rock band with an album aimed at that loyal contingent of
music lovers who are devoted to Mike Patton and Les Claypool. It's not
quite as inspired, but it's a good start. myspace.com/breakhousemusic
—Dave Maass
---
ALE MANIA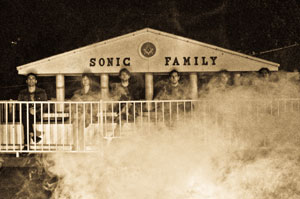 A, Who Sings That Beat?

A little more than a year ago, just about every indie fag worth his bespectacled salt (including myself) was creaming his pants over local garage heroes Beaters and their torrid single, "Fishage." The core duo of that group (Jeremy Rojas and Andrew Montoya) made a huge buzz with their previous band, The Sess, before splintering off into Beaters and Ale Mania around 2009. But while Beaters' "Fishage" made the rounds on the blogosphere faster than news of Thom Yorke's latest bowel movement, the Montoya-fronted Ale Mania's "Rampage," released around the same time, went ignored. The promise I saw in that bass-heavy blast of garage pop extends into Ale Mania's first full-length LP. The one-two experimental punch of "Submersed Space" and "United States of Abamonation" sounds like Cryptograms-era Deerhunter, while "LustFulFistFul" and "Tetherfree" manage to finally marry new-wave and no-wave, creating a highly danceable, almost goth-rock treat. A, Who Sings That Beat?'s greatest strength, however, is how well the group balances experimentalism with pop hooks. Similar bands often try too hard to escape their influences and end up sounding so different that they lose accessibility. It's been a long road for Ale Mania, but the result is a group of mature and gifted musicians who've finally created what we all knew they had in them: a masterpiece. myspace.com/wearealemania.
—Seth Combs

---
BROTHER NATURE
Niggas Nikes Newports
Brother
Nature is a duo of MCs nostalgic for the supposed "Golden Age of
Hip-Hop," among other things. They take heavy sonic influence from A
Tribe Called Quest's lighthearted, jazz-influenced beats, but their
rapping comes more from the school of Big Daddy Kane braggadocio. Which
could be great, if not for the fact that both rappers have really weak
deliveries and Drake-ish punch lines. It all comes off kinda corny.
brothernature.bandcamp.com
—Quan Vu

NICK BROWNLEE
Nick Brownlee Demo
The lyrics are painfully trite, especially when Brownlee sings "la-lala-la-dee-dah" when
he runs out of rhyming words. The kid can execute a guitar solo,
though. And that he does, for four songs whose structures are too
similar to hold any standard-length attention span through more than one
or two.
—Sammi Skolmoski


BRUIN
Seasons of Us
This
thrilling chillwave carnival ride is cool enough to make even the most
discerning post-hipster tap his AMVETS-bought top-siders. It's the
perfect CD to pop in for a car ride to Mom's, or play while making sweet
love to your bearded woman. Step right up! bruin.bandcamp.com
—Enrique Limón
CHRISTY
BRUNEAU
Somewhere in the Middle

Christy Bruneau has an alluring voice,
and her band's got chops, but this folk-rock just doesn't stick with me.
It's not great, but it's not terrible—it's just right there in the
middle. christybruneau.com
—Peter Holslin
CABULOAN
Resonance Through Trajectory System
It's unfair to judge a CD by its title, but with a name like Resonance Through Trajectory System, it
was probably safe to assume that this wasn't going to be a collection
of bubblegum twee pop. Luckily, these songs weren't nearly as unpleasant
to decipher as their titles. The Calc II-level math-rock equations here
are executed with precision and made accessible for the lay person
through the use of engaging, melodic synth and guitar lines.
The
coolest tune here is "Sunev Abi Hceehc" (save the unnecessary mid-song
drum-solo wankery), which sounds like some kind of warped, intergalactic
game-show theme song. myspace.com/ cabuloan
—Shae Moseley
CARL & THE MARKS
Let's Get Hammered and Sickled, Baby
Lo-fi,
indie-punk groove tunes complete with wailing guitars, ambivalent
vocals and Communist puns. Probably what the Pixies sounded like when
they were young and drunk. Fuzzy and fun. 3944.bandcamp.com
—Sammi Skolmoski
LISA CAMPBELL
Winds of Change
I
realize living in San Diego has a way of distorting time. Still,
submitting an album released in 2002 is pushing it. Campbell circa the
final season of Dharma & Greg is a pretty solid country-folk rocker with strong pipes. And, despite the wretched title, Winds of Change is
a commendable debut album. Problem is, these days she could be warbling
Auto-Tune versions of lemur mating calls for all I know. Doubtful,
given that she still plays live shows at everything from hotel bars to
farmers markets. But you can only draw so much water from a nineyear-old
album before it runs dry. lisacampbellmusic.com
—Nathan Dinsdale
#SDDemos on Twitter