What were actually doing is trying to save the city from itself, Assemblymember Lorena Gonzalez told CityBeat last Friday before a press conference to announce new legislation.
Flanked by regional labor leaders, Gonzalez told a small crowd that her bill, AB 504, would require the San Diego City Council to approve land-use decisions made by Civic San Diego—the city-funded nonprofit created after Gov. Jerry Brown ended the practice of redevelopment.
Without such oversight, delegating decision-making authority to the nonprofit could violate state law, Gonzalez said. Its not just illegal; its bad policy. It lacks transparency and accountability.
Subject to council approval would be Civic San Diegos authority to permit and plan development projects Downtown, a unique situation statewide thats relished by the local business community.
Kris Michell, president of the Downtown San Diego Partnership, an influential nonprofit representing business interests, released a statement immediately following the announcement that called the bill devastating and predicted that it would scare off developers who want to invest in our urban communities.
Mayor Kevin Faulconers office responded to Gonzalezs proposal with similar zeal. This legislation is another example of state interference in local control and will cripple Civic San Diego in its work to invest in neighborhoods, said Charles Chamberlayne, a spokesperson for the mayor, in an email.
Its unclear where the City Council as a whole stands on the issue. While Councilmember Marti Emeralds office said she supports the idea, Councilmember Todd Glorias office told CityBeat he opposes it.
However, explaining the bill to lawmakers in Sacramento should be fairly easy, Gonzalez said. Specifically, the legislation would require municipal zoning, planning and permitting activity by a private individual or nonprofit organization to get final approval by a local governments governing board.
It doesnt seem very controversial outside of San Diego that you would have the legislative body review these types of activities, she said. Itll be tougher to explain that we ever allowed this.
Amid resistance from the Mayors office and the business community, Gonzalezs announcement is the latest demand from an increasingly vociferous crowd calling for increased oversight of Civic San Diego.
After the dissolution of redevelopment in 2011, Civic San Diego—formerly known as the Centre City Development Corporation (CCDC)—successfully applied for federal new-market tax credits in a complex financial scheme to help sustain the agency as an economic-development arm of the city.
Concerns started more than a year ago when Civic San Diego officials announced plans to use the tax credits for a $100- million investment fund to spur development in Encanto and City Heights. When the agency then argued it needed to expand its permitting and planning authority from Downtown into those neighborhoods, folks started to get uncomfortable.

If youre going to leave one entity in charge of making sure that complex needs of complex communities all over San Diego are met, it should be an organization thats accountable to the public first, not to maintaining its funding stream, said Joe LaCava, chair of the Community Planners Committee, which serves as an umbrella over dozens of neighborhood planning groups.
Last September, Emerald and other members of the City Council directed Civic San Diego to reach out to neighborhoods and draft a so-called community-benefits policy to guide development. However, after a series of six public meetings hosted by Civic San Diego, many activists accused the agency of ignoring their concerns, criticizing the process as overly broad and lacking specifics on how to enforce such a policy.
Last week, a coalition of around 25 advocacy groups called the Community Budget Alliance (CBA) sent a letter to the City Council calling for all publicly funded land deals brokered by Civic San Diego to include enforceable minimum standards, including requirements for construction wages, local hiring, affordable housing and public input.
If youre going to be using public resources, it really should make sense to you that you should be responsible to the public, and they [Civic San Diego] seem to be freaking out about that, said Samer Naji, coalition member and organizer for the Center on Policy Initiatives.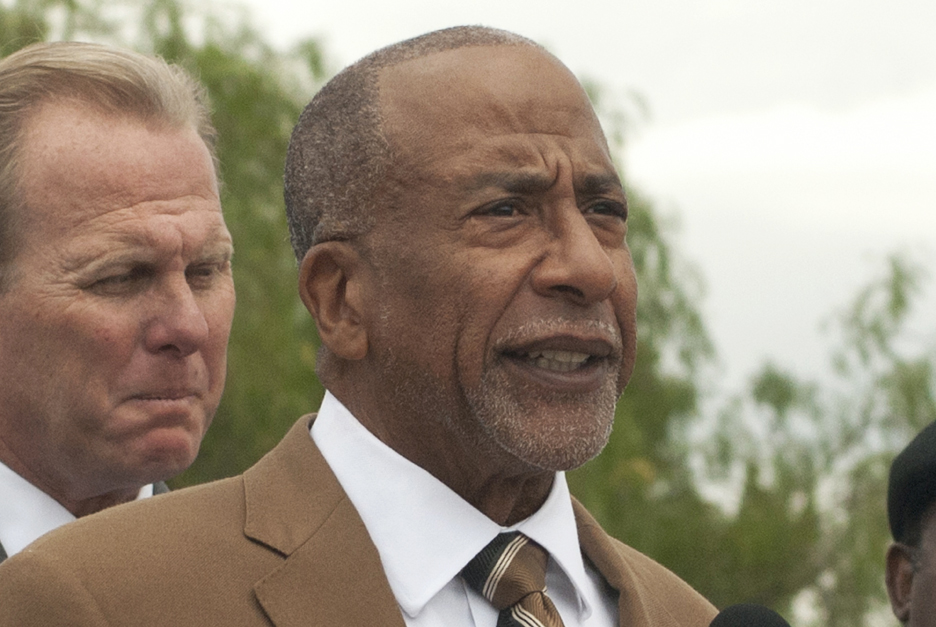 Photo by Joshua Emerson Smith
Civic San Diego President Reese Jarrett declined to comment for this story. However, in a recent interview, he told CityBeat that the Community Budget Alliance was in the minority and that most community members didnt want an enforceable community-benefits policy.
Thats the feedback were getting from neighborhoods, he said. They dont want us to impose a community-benefits policy on their neighborhood. They want to be able to look project by project and be able to have input on what kind of benefits that projects going to bring to their neighborhood.
The community-benefits policy will serve as a general outline for specific agreements, he said. Every project will not necessarily have a community-benefits agreement. We are looking at projects on a case-by-case basis. It depends on the sourcing of funding that goes into the project.
When it comes to maintaining this more flexible approach, Jarrett has support not only from the Mayors office and the business community, but from some community leaders in Encanto, as well.
I dont want one method thats going to try to fit in the Encanto area, Downtown and City Heights, said Ken Marlborough, who chairs the Encanto Community Planning Group. I dont believe in that. I believe that each community has different needs, different desires. I want the community to be the one to sit down and hammer out what their priorities are.
At the same time, others in the community remain on the fence about how to craft a community-benefits policy.
Until we see something that we can really stick with, we dont really have a whole lot of opinion on this, other than were committed to providing community benefits, but were also committed to providing balanced development, said Stephen Maduli-Williams, vice president for economic development for the Jacobs Center for Neighborhood Innovation.
In order to solicit input on development, Civic San Diego also set up a website at civicsd.mindmixer.com. Members of the public have submitted more than 300 ideas on how development can improve the quality of life in their neighborhoods.
In a recent report, Civic San Diego released a compilation of these comments. Its not clear yet how this information will be interpreted, but recurring themes include well-paying jobs, open space and affordable housing.
However, the question of whether to create an enforceable community-benefits policy hasnt been part of that outreach process, said Ken Grimes, executive director of the City Heights Community Development Corporation.
If they asked the question on there about living wage: Should people in City Heights or Encanto [working on a Civic San Diego project] receive a living wage? who would say no? he said. I mean, apart from perhaps some wealthy people.
I think theyve been asking the wrong questions, he added. Theyve been asking people far and wide what exactly it is theyd like to see in their communities, and of course people come up with a very wide range of things.
Thats where some advocates may see Gonzalezs bill as a backstop. Even if Civic San Diego avoids regulation under an enforceable community-benefits policy, the City Council, if given final approval over projects, could demand specific concessions from developers.
If were going into communities and permitting projects, we need to make sure theres community benefits, Gonzalez said. And its almost too easy to delegate this to a nonelected, nonaccountable, nontransparent board who makes these decisions.
Officials with Civic San Diego are scheduled to appear before the councils Public Safety and Livable Neighborhoods Committee at 2 p.m. Wednesday, March 18, at City Hall.

Write to joshuas@sdcitybeat.com or follow him on twitter at @jemersmith.