Play it again, Sam(uel)
Irish playwright George Bernard Shaw once said, "We don't stop playing because we grow old; we grow old because we stop playing." On Tuesday, March 17, playtime resumes at the 36th Annual St. Patrick's Day Open Reading of Poetry. Shaw and the other granddaddies of Irish letters, such as James Joyce, Samuel Beckett and Edmund Burke, will be read, recited and sung in the key of G— for Guinness. 
Host Dennis Wills, owner of D.G. Wills Books in La Jolla (7461 Girard Ave.), where the reading will take place, expects a large turnout—it's open to the public—but he includes a few conditions. 
"People read from everything, but it has to be Irish," he says. "People are not allowed to read their own poetry. It can be longwinded and boring." 
Wills says it's taken him 36 years to keep the event brisk. Readers are allotted only a few minutes each. The evening begins at 7 p.m. with Wills playing recordings of Joyce reading Finnegan's Wake and continues with a one-hour set of readers. Generally, the format has stayed the same over the years, sometimes going off course with a tribute to a deceased friend. 
"We are not as young as we used to be," Wills says. "Thirty years ago it was a little rowdier."
But the Jameson definitely will be flowing.  And it's sure to come in handy in the third set, when readers, "for those who are brave enough," Wills says, will take turns reciting X-rated letters by Joyce written to his wife. 
"It's icing on the cake for those who are still hanging around," he says. 
Wills admits he has an internal debate every year about whether to keep the event going. He said if he were to shut it down, people would be unhappy. 
"I don't know when to stop it. Should I stop when I'm dead?" Wills laughs. "I'm stuck with it."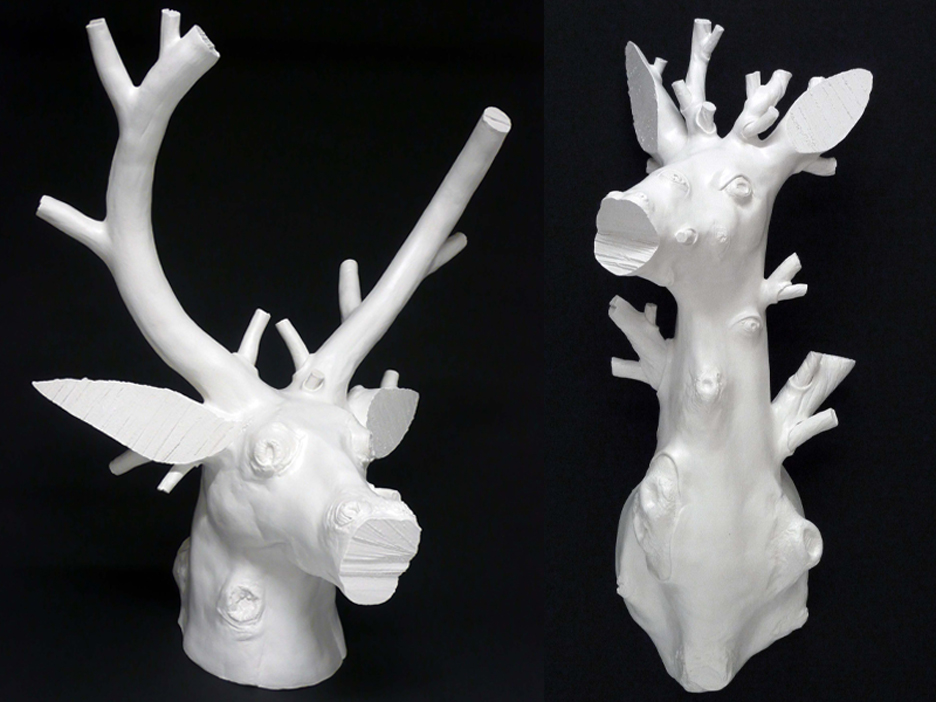 Three in one
We need a catchy name for those times when Joseph Bellows Gallery, R.B. Stevenson Gallery and Quint Contemporary Art hold openings on the same night. The galleries have been doing it since 2012, so isn't it about time? How about La Jolla Art Night? Yup, let's go with that. From 6 to 8 p.m. Saturday, March 14, Quint (7547 Girard Ave.) will show Lightening, an exhibition featuring sculptures by Roman de Salvo, the local artist known for his work that transforms ordinary materials into extraordinary art. Meanwhile, at Joseph Bellows (7661 Girard Ave.), Bevan Davies' black-and-white architectural photos of New York will be on view, and the always-awesome, animal-trophy-inspired sculptures by local Jeff Irwin will be on view next door at R.B. Stevenson.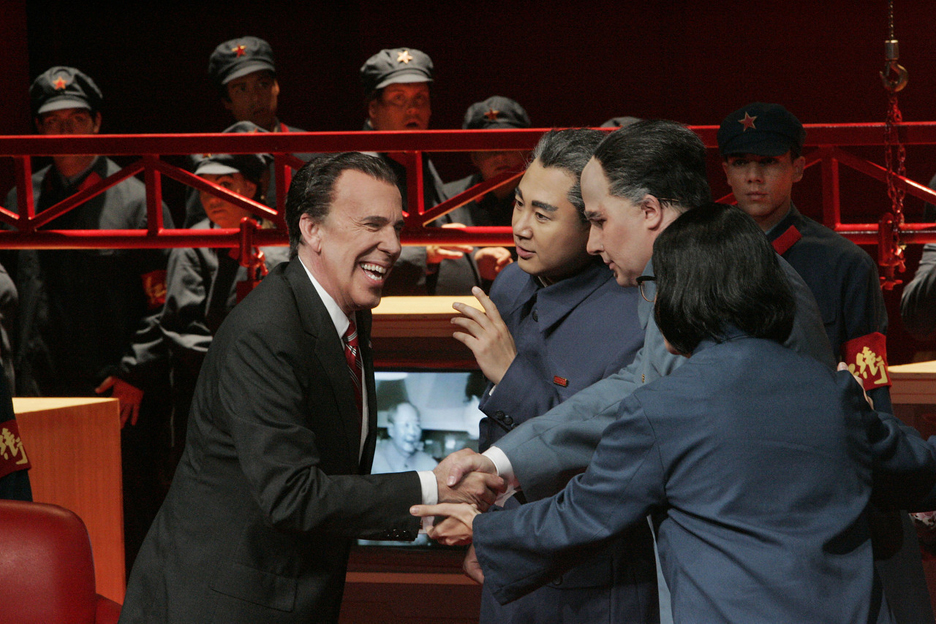 Photo by Ken Howard / Opera Theatre of St. Louis
Political puffery 
It's 1972. President Richard Nixon gets off a plan in the People's Republic of China. He slowly descends onto the tarmac. He shakes hands with top officials of the communist country. And then, he breaks out in song. Some call it the "the week that changed the world." Composer John Adams calls it Nixon in China, a recognized modern masterpiece that lays out the whole scene, opera-style—diplomatic niceties set to music and deep bellowing. Relive or experience for the first time the normalizing of relations with China when the San Diego Opera stages the show on Saturday, March 14, and then again on March 17, 20 and 22, at the Civic Theatre, Downtown (233 A St.). Tickets start at $45. Check sdopera.com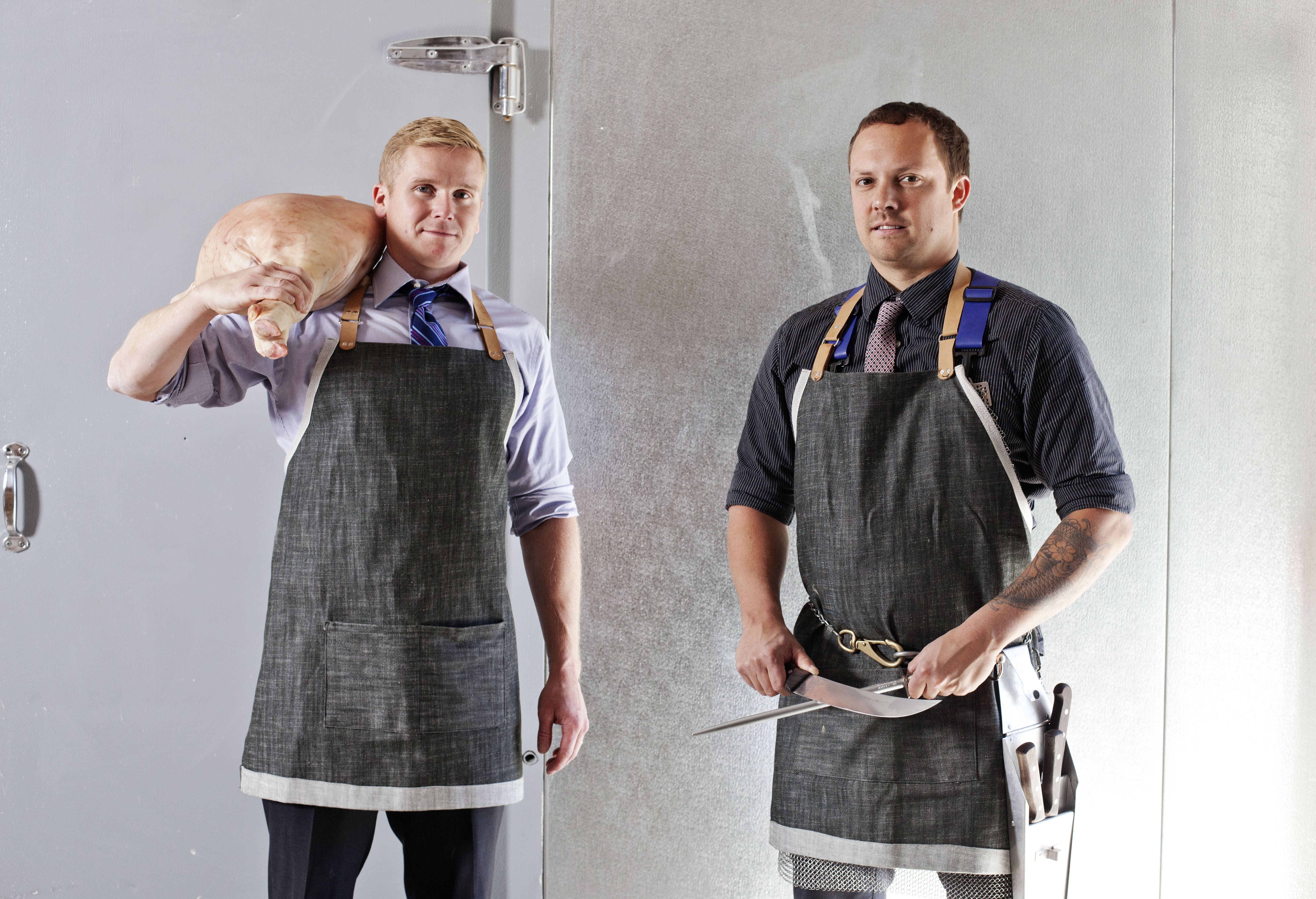 Photo by John Dole
The whole hog
We love it when a plan comes together. A year and a half ago, James Holtslag and Trey Nichols launched a Kickstarter campaign with the hopes of raising enough money to open The Heart & Trotter, San Diego's first "whole animal" butcher shop. "Whole animal" means that all of the locally sourced meat the shop sells will be used to its fullest potential: H & T's meat cases will be full of basic cuts, of course, but also sausages, ingredients for soup stock, pates—you name it. They'll even sell the occasional dog food—because every bit o' meat here is sacred. The North Park shop (2855 El Cajon Blvd.), which officially opened March 7, will celebrate with a pig roast beginning at 3 p.m. Saturday, March 14. Stop by, enjoy a pork taco and check out the offerings.

Strange brews
If regular ol' hops and barley are seeming a little ho-hum, then from 6 to 8 p.m. Thursday, March 12, is your chance to try some bold-flavored brews, at Museum of Man's Exotic Ingredients Beer Tasting. Ghost chiles, cilantro, vanilla bean, curry and kaffir lime are just a few of the flavors that will be highlighted in beers from local breweries Aztec, Stone, Coronado and Ballast Point. Tarantino Gourmet Sausages and Heavenly Cupcakes will provide some nosh to pair with the beers. The event's being held in conjunction with the exhibition BEERology, which has featured a number of interesting after-hours tastings. Tickets are $20 to $30 and admission is limited to those 21 and older.


Photo courtesy of Serafin Paredes
¡Son jaliscience!
The sound of mariachi music in San Diego isn't terribly uncommon, particularly in Old Town, but rare is the opportunity to enjoy a full-day festival of mariachi bands, including a competition for student mariachi bands vying for a $1,000 prize. Happening 
Saturday, March 14
, from 11 a.m. to 7 p.m., the 
National City Mariachi Festival and Competition
 will feature a variety of mariachi groups, plus ballet folklorico performances and live music from Aro di Santi and American Idol contestant Yvette Gonzalez. There will be food, arts and crafts, games and pony rides, too. Mariachi Fest takes place at Pepper Park (3299 Tidelands Ave., National City). It's free and open to all ages.


Courtesy of SDSU School of Art + Design


Deep thoughts on food


San Diego State University faculty and students, including Aren Skalman, Claudia Cano, Cristal Chen, Arzu Ozkal, Eva Struble and Richard Keely, have food-inspired work hanging in
A Thousand Plates
, a juried exhibition at the SDSU Downtown Gallery (725 West Broadway) through March 26. The show uses the topic of food to explore cultural traditions, modern food production and its effects on the environment, marketing and more. The exhibition's name is a shout-out to
A Thousand Plateaus: Capitalism and Schizophrenia
, a philosophical text that took its authors seven years to write, so expect some depth and complexity to this show. To help lighten things up a bit, two SDSU professors will be baking and serving pie at the reception, which is happening from 5 to 8 p.m.
Thursday, March 12
.
Does your event deserve to be featured here? Email Kinsee Morlan.