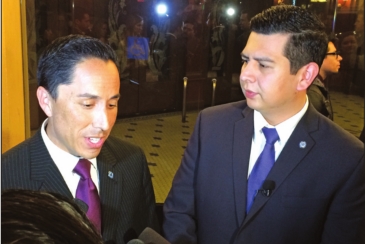 It surely sounds like Todd Gloria's running for mayor. And it looks like he's got a running mate of sorts in David Alvarez. This is good to see, whether or not you're likely to support Mayor Kevin Faulconer for a second term in 2016.
San Diego City Councilmembers Gloria and Alvarez planned for at least a week in advance to provide some kind of response to Faulconer's State of the City speech last Wednesday night at the Balboa Theatre. A few minutes after the speech ended and the packed theater emptied out, Gloria and Alvarez met members of the press outside on Fourth Avenue and pointedly criticized the mayor's words—or lack of words. During the following couple of days, the duo did television appearances together on San Diego 6 (The CW) and KUSI, and Gloria went solo on Fox 5 (twice), NBC 7 and KUSI (a second time) and provided a statement to 10 News. Alvarez, meanwhile, did Despierta San Diego (Univision) and KOGO alone.
Gloria, it seems, is ratcheting up the aggressiveness that he showed last year while pushing for an increase in the local minimum wage. He's always been a genuinely nice person, and that friendliness and courtesy have typically been extended even to his political opponents, tested only, in our memory, by short-time Mayor Bob Filner. This week, he (and Alvarez) came at Faulconer hard, questioning the mayor's willingness and capacity to be a leader.
Gloria begins by reminding viewers that he—in 2014—once gave a State of the City speech and then lamenting that Faulconer missed an opportunity to lead boldly. He attacks the mayor on two main policy issues: rebuilding the city's derelict infrastructure and figuring out how to keep the Chargers in San Diego, ridiculing Faulconer's plan to create a football-stadium task force as an ineffectual tactic that another mayor—Dick Murphy—tried more than 10 years ago.
"I think San Diegans are really hungering for: This is where it's going to go, this is how we're going to pay for it and this is when you can vote on it," he told Fox 5. "We didn't have any of those details last night, and I don't think that's too much to ask for in the State of the City address."
Politicians love to relate public policy to home finance, and Gloria did that in the same interview, saying that Faulconer makes irresponsible decisions: "We have a $3-billion infrastructure problem in this city, and the mayor last night committed roughly $100 million over the next five years, and that's essentially the equivalent of making the minimum payment on your credit card. And any of your viewers know that that is a recipe for fiscal disaster, as well as a really good way of never, ever making any progress on an issue."
A former public-relations executive, Faulconer's not the type who'll make explosive mistakes—he's the anti-Filner. He's safe. He's carefully crafted. He's vanilla. That's how he's potentially vulnerable; then again, it also might be exactly what San Diego wants. In any event, Gloria and Alvarez seem to be laying the groundwork for a sustained attack on Faulconer's cautiousness.
We love that Alvarez has Gloria's back. He was the lone Democratic council member to remain loyal to Gloria even after his ouster as council president was assured. It's likely that the council Republicans' installation of Sherri Lightner as president is what's pushed Gloria and Alvarez to go big. Whatever the case, they should make a formidable team.
Lightner, meanwhile, seems uninterested in providing a healthy counterbalance to Faulconer's executive branch. That's her prerogative. But it's why we're glad that Gloria and Alvarez are doing what they're doing. We can argue the finer points of the policies at issue. As long as they choose their battles wisely, make smart arguments and don't go completely off the rails—à la the Republicans in Congress vis-à-vis Barack Obama—it's great for the public to listen to a debate. If you're a Faulconer supporter, the silver lining of the criticism is that it could push the mayor to be bolder and shore up his defenses on the cautiousness battlefront.
As we've said before, Gloria's possibly the only candidate who can give Faulconer a run for his money in 2016. At the very least, it's important for voters to have a choice.

What do you think? Write to editor@sdcitybeat.com