I'm guilty. My boys are only 4 and 6, but I've still managed to rack up an impressive list of parenting fails. Using the iPhone to placate? Check. Rock 'n' roll-fueled wind-ups before bedtime? You bet. Providing meals with abysmal nutritional content? Embarrassingly, yes.
And while I'm constantly working to improve the alchemy of my day-to-day dad-ness, I've been a downright champ in the entertainment department. From parks, picnics and playgrounds to museums, movies and mini-golf, I feel as though we've covered it all. But partying like a crew of Home Alone-era Macaulay Culkins takes cash. So when it comes to San Diego's most kid-friendly attractions, I've become quite a connoisseur of the annual pass.
There are many reasons why investing in a yearlong commitment to one attraction makes sense, but none stronger than economy and flexibility. Saving money is awesome. But add the luxury of repeat visits (especially on glorious, non-crowded off-days), plus the ability to utter the words "We can always come back next week," and the annual pass becomes invaluable. Here are a few of my favorites:
San Diego Zoo and San Diego Zoo Safari Park: With all of their income going toward conservation efforts, this one is a no-brainer. It's about $250 for a family of four, with the option to become Diamond Club members for an extra $45. And the additional cost is worth it, if only for the free parking and Africa Tram at Safari Park, free Skyfari rides at the zoo and the multiple discounts at both. These guys also have more upgrades than a modern hotel, so if you want to have breakfast with the koalas or a sleepover with roaring lions in the background, they've got you covered. 
Most of the year, the parks close at 5 p.m., so my family has perfected the art of the quick-hit: Arrive at 3 p.m., find a great parking spot, enjoy a couple of outdoor hours with the animals and still be home in time for dinner. Safari Park's "tunnel" playground near the Lemur Walk and a sunset Skyfari to the polar bears at the zoo are our favorites, but we've had these passes for years now and still haven't seen everything. And since the parks are on the to-do list of most visiting friends and family members, it's nice to be able to offer them a discount on admission while tagging along for free.
Legoland: Unfortunately, at least for my family, there are no quick trips to the land of plastic interlocking bricks. Legos have achieved a near-religious status in our household, so we make the most of each pilgrimage to Carlsbad's Mecca of toy parks. It's a massively popular destination, and investing in a Merlin pass is the only way to go. For $189 per person, you get a year's access to all three of the on-site attractions: Legoland, Sea Life Aquarium and Legoland Water Park. Also included are discounts on food and retail, free parking, guest passes and more. Considering that a one-day ticket to Legoland alone is about $80, you're already way ahead by your third visit. 
They've added an upgrade to the Merlin pass this year—for an extra $80 per ticket, you don't get summer weekend blackout dates at the water park, and you can attend the Halloween-themed Brick-or-Treat nights in October. My Merlin came with that included, but I can't see why you'd need it. And while $750 for a family of four isn't cheap, it's on par with a two-day trek for the same family to Disneyland. If your kids love Legos as much as mine do, this one is a must. Not to mention, they do cool things like a "kids eat free" promotion during the summer and an elaborate Star Wars-themed weekend in March.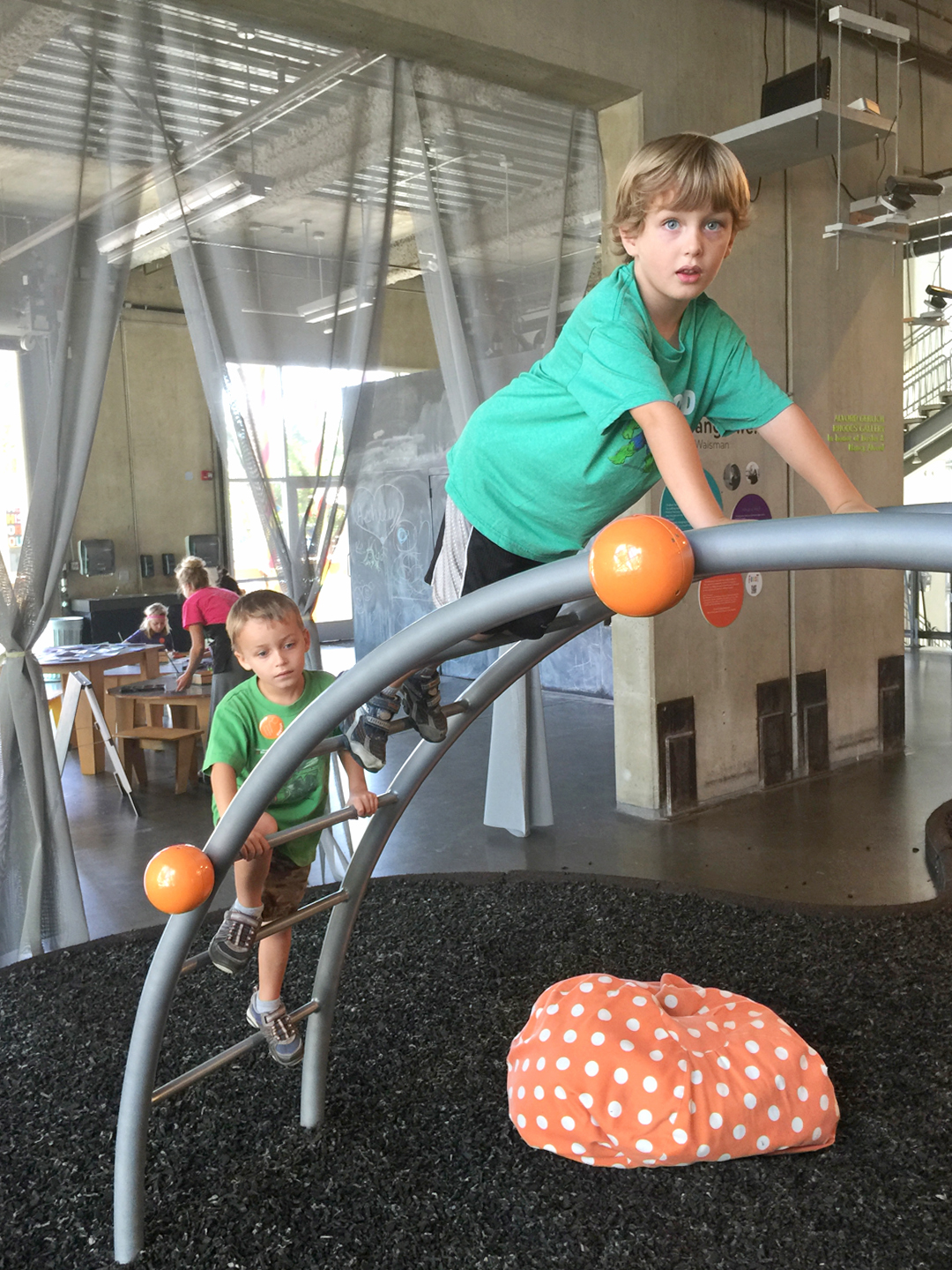 Photo by Scott McDonald
New Children's Museum: This is, by far, one of the best deals in town. A mere $90 gets two adults and up to six children admission to the museum for a year. You also receive two guest passes, members-only time every Sunday from 10 a.m. to noon, invitations to members-only events (like reading time with the Grinch) and discounts on parking and food. Throw an extra $40 at it and you double both guest passes and the number of adult entries. Regular admission is $12, so unless you're a tourist, the passes are the only way to go. 
What we like best about the museum is how totally hands-on it is. Just the other day, my boys and I had a full-blown mini-concert in the "music kitchen," complete with a pots-and-pans drum kit, bass, vocal mic and Theremin. Not your bag? Want to work with a real artist, climb on ropes, sculpt some clay, feed a few chickens or paint a tractor? No problem. There's really something for every kind of child here. And in the fall, the museum will unveil "Eureka!"—a celebration of California timed with the Balboa Park Centennial.
Balboa Park: My family loves Balboa Park's Resident Free Tuesdays. Problem is, each venue gets only one a month, and there are never more than five on any given Tuesday. Well, in 2013 they came up with a far better option. It's called the Annual Explorer, and it's outstanding. For $199, two adults and up to four children can take a full year to truly explore one of the city's greatest treasures. The pass is good for free admission to all 17 organizations in the park, including the San Diego Museum of Art, the Reuben H. Fleet Science Center and the San Diego Natural History Museum. Special exhibitions like the San Diego Museum of Man's Instruments of Torture requires separate admission, but your kids can always learn about torture later on when they get married. 
Really, though, the Annual Explorer provides a cost-effective way for children to visit a multitude of learning centers in a gorgeous environment. And, best of all, the pass, like all of these passes, allows you to do it at your own pace, without the pressure of trying to cram it all in on a single trip.
Write to editor@sdcitybeat.com.