Sarah Stieber is unapologetically Southern Californian. The young artist looks and sounds like she's from SoCal, and she's been told many times that her paintings capture the particular air and feel of the region, too: bright, colorful, optimistic and a little wild and wacky.
She's precise in describing her body of work, calling it "whimsical 'electric realism' figurative paintings that aim to shine a brilliant light on daily life."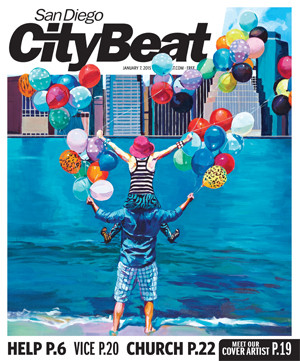 While "Lost and Found," the art featured on the cover of CityBeat this week, fits that description perfectly, it actually depicts the New York City skyline rather than a scene from Southern California. The piece is a result of a recent trip to the city. Stieber scheduled the vacation after a visit to Israel—paid for by a client who commissioned a painting—fell through.
The saying "Go with the flow" kept popping into Stieber's head. She was bummed about missing out on Israel but decided to make her time in New York even better.
"I wanted to go way past going with the flow and make it wonderful," she says. "My mantra became 'Glow with the flow.'"
While on the East Coast, Stieber created several new acrylic paintings that depict life through an especially sanguine and amplified lens. Her recent paintings and prints will be on view in an upcoming solo show at OBR Gallery (3817 Ray St. in North Park), opening during Ray at Night, which runs from 6 to 10 p.m. Saturday, Jan. 10.
Write to editor@sdcitybeat.com and follow Kinsee on Facebook or Twitter