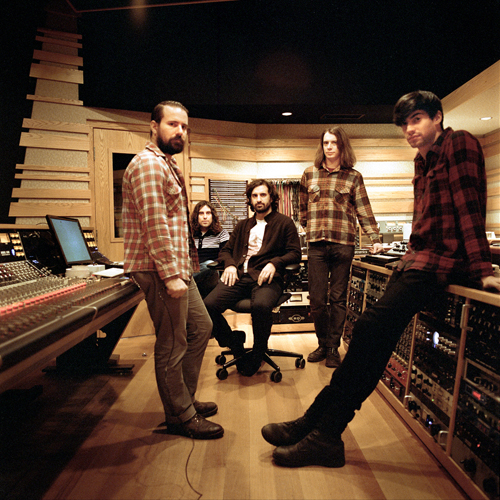 The Men aren't trying to fuck with anyone. All five members of the Brooklyn-based punk outfit claim to "take it pretty easy." It's just that they don't care what you think. The group that Nick Chiericozzi and Mark Perro first founded as a brutal noise-rock outfit has progressively, and unapologetically, changed with each new release.
Starting with 2012's Open Your Heart— their acclaimed third album—feedback began to give way to melody, distortion to twang and skull crushers to barroom rave-ups. And while the band hasn't completely abandoned its roots, the ongoing transformation was solidified last year when The Men added lap-steel wizard Kevin Faulkner and longtime recording engineer / collaborator Ben Greenberg.
The Men's new album, Tomorrow's Hits—released in March via Sacred Bones Records—is a wild synthesis of all that's come before it: keys, slide guitar, harmonica and horns over frayed-edge rock 'n' roll that ends up sounding like Stiff Little Fingers doing honky-tonk karaoke. As with all of their releases, it was tracked live—one of the few things that's been consistent with The Men in the past five years.
"Rock and roll is live music," Greenberg tells CityBeat. "I think music benefits the most from the moment, and a record can capture that element if it can be identified. To me, recording a band live is incredibly important. It's the only way we've ever worked and the only way I ever expect us to work."
He should know. He was recording the band long before he was ever asked to join. Although he's added vocal and bass duties to his work behind the console, Greenberg relishes the chance to create in such an unrestricted setting.
"I'm lucky to be in a musical situation like this," he says. "We all keep the mindset of being open to trying whatever someone else brings in. It creates this environment where everyone is getting stoked on each other's ideas and motivating one another. It's what you make of it, but really cool to have all that space."
That unchecked creativity has resulted in some non-traditional choices for a band once described as "noise-rock," "post-punk" and "hardcore." Tomorrow's Hits came on the heels of the Americana-tinged LP New Moon and the literally titled, acoustic Campfire Songs EP. But being able to jump from a pummeling onslaught of guitar to dive-bar boogie-woogie to an acoustic sing-along is what Greenberg enjoys most about The Men.
"I think there are a number of points of consistency for this band," he says. "But no one wants to make the same song again and again. Repeating yourself in the moment can be very useful and interesting, but, in the long run, it's disconcerting. My mind is always curious. I'm always looking for something new."
It would be difficult for The Men—who'll play The Casbah on Wednesday, April 23—to diversify their recorded output more than they already have, so the band has tapped their back catalog for inspiration. "Always looking for new ways to play old songs" has become a kind of band mantra, and on their current tour, the five-piece has been rearranging songs from the ferocious 2010 self-released debut, Immaculada.
Tailoring those rough compositions to the new lineup and instrumentation is something that comes with the territory for a group so consistently in a state of flux. But it's also part of what has established them as a dynamic rock band that can confidently pursue ever-changing musical whims.
"Playing just feels so natural between us," Greenberg says. "We switch instruments a lot when we're rehearsing, and it's such an open situation. It feels like everyone has a few different voices they can use, and just as many ways they can bring them to the table."

  
It wasn't planned this way, but the band's been on the one-release-per-year schedule since its inception. The lag between completion of their first album and its release date started a domino effect of annual output that, despite lineup and creative changes, the band has maintained to this day.
"Once you fall into that pattern," Greenberg says, "it's hard to break. I think natural biorhythms govern when your creativity comes and goes, but we've still been abiding by that for whatever reason. It's a funny thing, but really cool it worked out that way. We wind up getting a lot done faster than you'd think."
While nothing specific is in the works, it's likely that once the touring schedule slows down this summer, the pattern will start again and work on a 2015 release will begin. But even if it doesn't, it's probably a safer bet than what the next album or EP is going to sound like.
"There are a lot of ways to arrive at the music you make," Greenberg says. "It's different for everyone. But this feels right for us right now.
"We'll worry about tomorrow when it comes."
Write to editor@sdcitybeat.com.