Mitchell Vassiliou has gradually transformed his City Heights home into an eclectic enclave of vintage typewriters and electronic word processors.
"This is typewriter heaven," Vassiliou says, his small dog, Maggie, at his heels as he walks through stacks of old machines and heads to the back door, which opens to reveal a sprawling backyard with a canyon view. Nearly every inch of the yard is packed with so many odds and ends, it looks like he's hosting an estate sale.
"There are typewriters everywhere," he laughs heartily.
Wearing a bright-blue lab coat, the 62-year-old steps over a book laying on his back doorstep, 1,001 Timely Tips for Clutter Control, and leads through a passageway flanked by several old wheelchairs holding various machines—the wheelchairs serve as his back-saving method of transporting the typewriters from his car in the front driveway to the shed where he fixes them up.
"This is where all the magic happens," he says, walking through a small doorway that opens up to his jam-packed workshop, where even more machines are stored.
Vassiliou clicks on a single bright overhead lamp and begins pulling out a few of his most beloved typewriters—a handsome Underwood, a Corona and a Blickensderfer, all from the early 1900s. He explains that some of the typewriters, especially the older, good-looking ones, are part of his personal collection. When he comes across a machine he really respects—either online, through his many personal typewriter-supplier connections or at yard sales—he finds it hard to let it go. Others typewriters, he says, are overflow from his repair business, Abbotts Business Machines, which has a storefront in Kearny Mesa. And the majority of typewriters— the hundreds stacked in a few more sheds spread out across the yard—are for-sale.
Vassiliou's been repairing and reselling typewriters and word processors for 40 years. Like any other businesses, demand has waxed and waned.
"It used to be gangbusters—15 years ago, there were still a lot of machines," he says in his slight West Virginia accent. "I mean, the local yellow pages had 15 pages of typewriters. Now, there are just two ads in the yellow pages."
Hence the name of his business, which starts with the first two letters of the alphabet so it would appear first in the phone book. Little tricks like that have helped keep his business afloat all these years.
In the '70s, IBM came out with the Selectric, a popular electric typewriter. Vassiliou fell for the machine and became well-known for being one of the country's go-to guys for its repair. While he can't stand most electric typewriters, he says the Selectric was built well and made with a repairman in mind. He respects the machine so much that he's dedicated a section of his website to it under the tab "Million Dollar Typewriter."
"Yeah, this is the beast," he says, pointing to a Selectric sitting on a wheelchair outside. "I was in high demand back then— real high demand."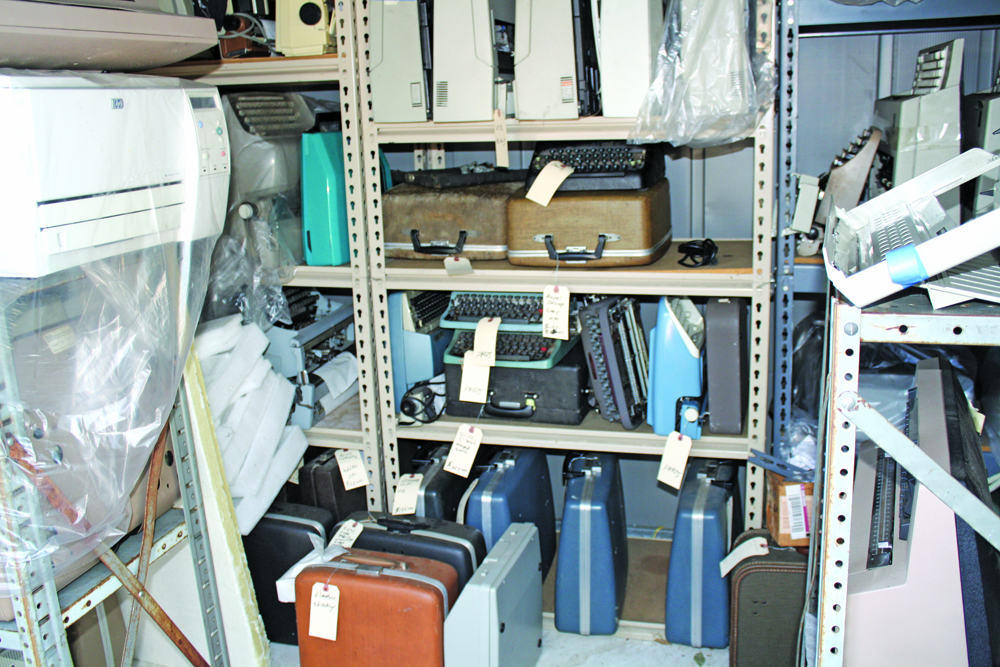 Things will never be as great as they once were, but despite the typewriter's inevitable replacement by the computer, business remains surprisingly good. Vassiliou is quick to attribute the secret of his success to nothing more than a numbers game.
"It's the benefit of being one of the last of the Mohicans," he laughs.
But customers who've either had their machines repaired by Vassiliou or purchased one of his finds say the key to his longtime success is his genuine customer service. As his five-star rating on Yelp relays, it's easy to see his intense respect for typewriters and anyone still using one.
"You can just tell he loves his job," says Jessica Iddings, who recently had Vassiliou repair her slick, art-deco-style 1935 Remington Rand 5. "He oozes passion for what he does."
Iddings uses her typewriter to write letters to her mom and types up friends' favorite lyrics or quotes, which she then frames and gives as gifts. A writer who blogs about arts and culture and a curator of art exhibitions at local bars, she was so impressed by Vassiliou that she recently posted a fawning review of his work on her blog. 
"I have never been so excited about a customer experience in my life, ever," Iddings says.
Artist and product designer Kelly Kinoshita has purchased two of Vassiliou's machines to add to her vintage-type writer collection. 
"I don't go there too often because then I would have just too many typewriters," says Konoshita, a history buff who has a portfolio filled with typewriter advertisements from the early and mid-1900s.
She stays in touch with Vassiliou by emailing him links to stories about typewriters. He contacts her when a new machine that might interest her lands at his shop.
While some of Vassiliou's customers are the hipster-type artists-and-writers crowd one might expect—like artist Sheryl Oring, who did a public performance-art piece last year with several type-writers at San Diego International Airport—he describes the rest of his base as diverse. He recently sold a machine to a naval officer who uses it for purchase orders.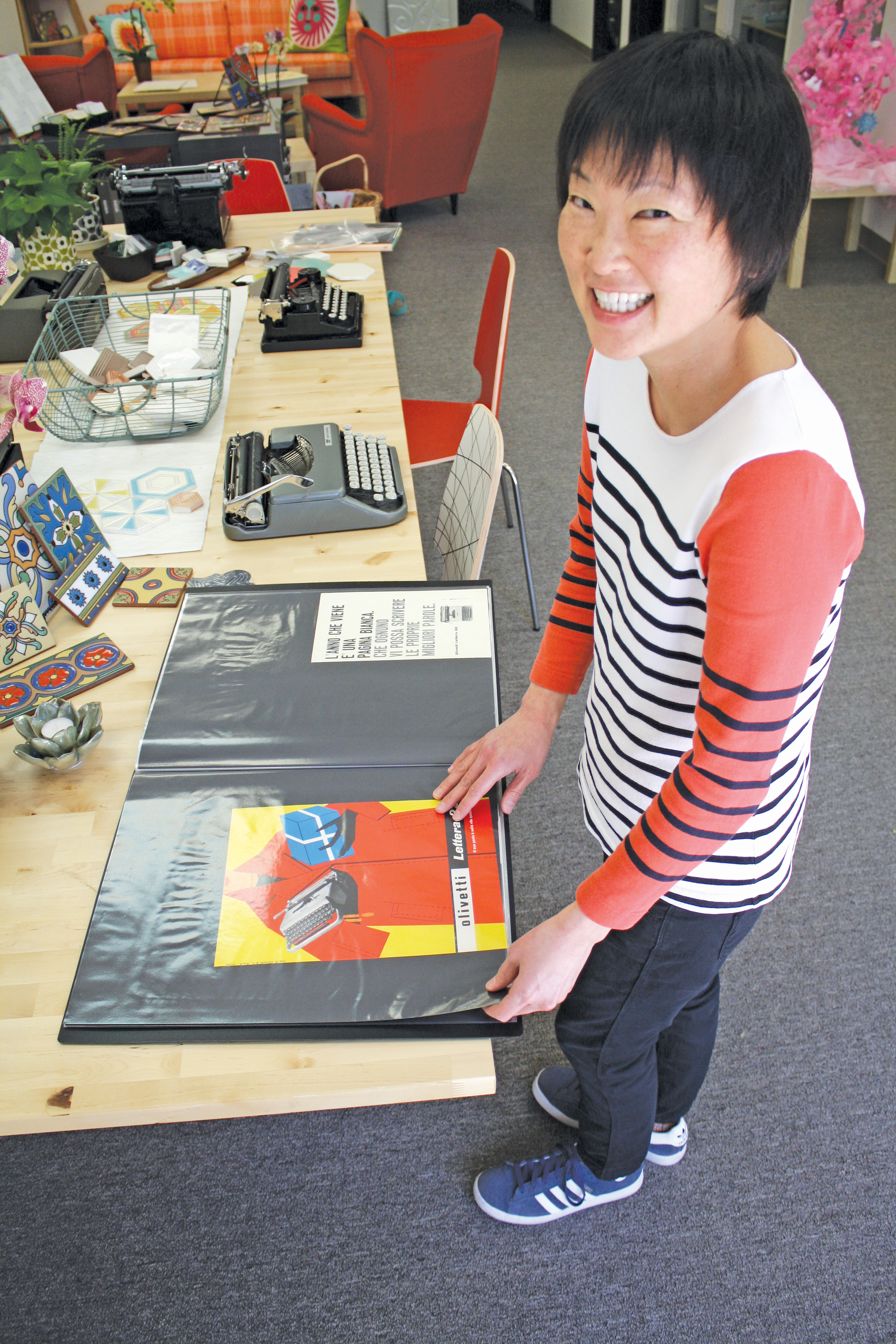 Pulling a manila folder from a shelf, Vassiliou opens it and reveals a pile of hand-written and typed thank-you letters from former customers. He picks out a card typed by an 80-year-old man.
"Thank you so much for your generosity," Vassiliou reads. "I'm a brontosaurus of the Peterson family with only a typewriter…. I still like to hear the voice and write, by hand, cards and notes. No fancy computers for me."
"I can tell you this," Vassiliou says, setting down the note. "There are 10-year-olds that want typewriters, 12-year-olds, 25, 30, writers, upcoming writers; it's all age groups now. People are just getting mesmerized with typewriters. I just can't keep up with them, which is a good problem to have."
On the coffee table in front of Vassiliou is an old electric, automatic cat bowl he recently fixed so he can feed a stray cat that hangs around his house. He's always been technically inclined—the type of guy who can fix or build anything. As a kid, he used to rummage through people's trash and pull out old fans, clocks and other discarded electronics.
"I'd study it," he says. "I didn't have any tools, but a lot of times I'd fix stuff just because I was interested."
His innate skill eventually led him to the Navy, where he assumed the rank of instrumentman. Even amid others who were good with machines, his ability stood out.
"When you're in the Navy, you had to take apart a .45[-caliber revolver]," he says with a proud smile. "You had to disassemble it and then you had to do it blindfolded…. Boy was I good at it."
Vassiliou's only son isn't keen on taking over Abbotts Business Machines. But Vassiliou's mom lived to be 96, so he figures he has a few more decades before he has to start worrying about who'll take care of his beloved machines. He says typewriters are generally so well-built, they'll be around forever. He just worries that the folks who know how to fix them will eventually fade away.
"I like keeping these machines alive," he says, sitting on his couch under a shelf boasting his collection of vintage brass lighters (he likes how easily you can bring back the luster of old brass). "I fix typewriters because I like it. It's my therapy. All of the pieces just harmonically go together."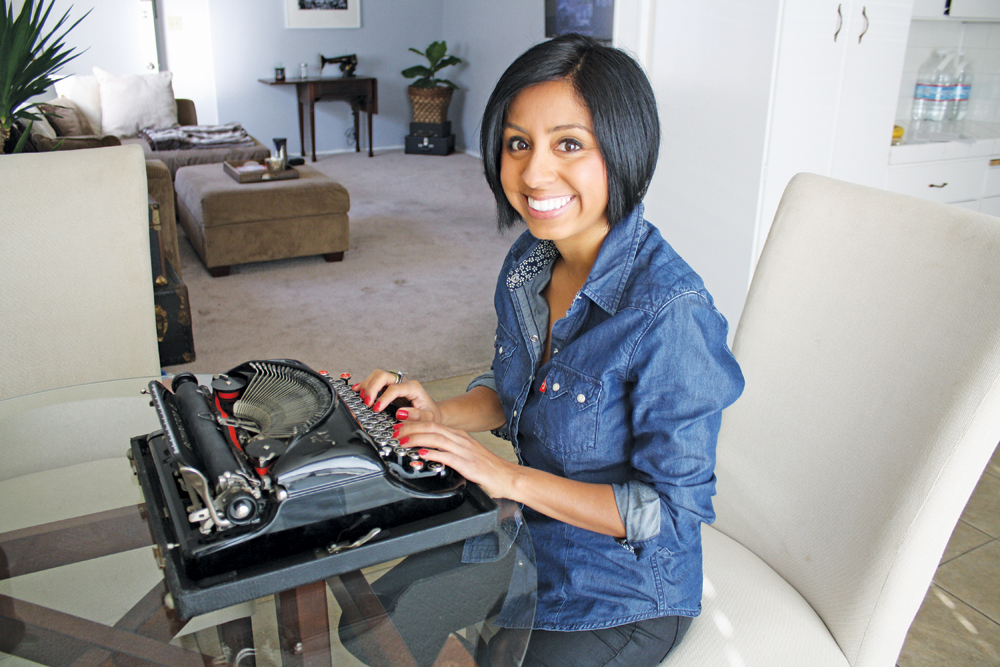 Write to editor@sdcitybeat.com and follow Kinsee on Facebook or Twitter