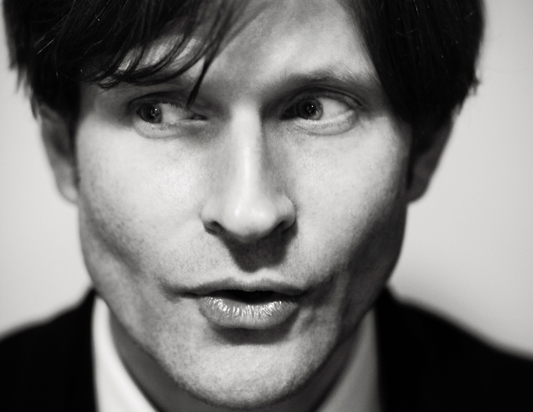 1. Crazy Crispin
Go ahead and re-watch the infamous clip of Crispin Glover's 1987 appearance on Late Night with David Letterman. Now, ask yourself if you want to sit in a small theater with this strange man.
If your answer is "Yes!" then keep reading.
Glover (George McFly in Back to the Future) was kind enough to grant CityBeat an email interview. And, just like he did recently for his epic Reddit "Ask Me Anything" Q&A and countless other supposedly exclusive interviews, he copied and pasted answers to our questions from a handy 1,700-page document he culled from past interviews. Despite the lame snub, we're (cautiously) recommending you check out the Crispin Hellion Glover Live Performance, Film Screening and Big Slide Show, which stops at La Paloma Theatre (471 S. Coast Highway 101 in Encinitas) at 7 p.m. Friday and Saturday, March 7 and 8.
Glover will show his self-produced-and-directed film It is Fine! EVERYTHING IS FINE, a "psycho-sexual tale about a man with severe cerebral palsy and a fetish for girls with long hair" on Friday and, on Saturday, What Is It?, which is described on IMDB.com as "a bewildering, unnerving, surreal, blackly comic film... that tells the inner and outer struggles of a young man facing villains and demons on multiple planes." The screenings will be followed by Glover's slideshow performance, which he describes as a "one-hour dramatic narration" of eight different illustrated art books he's made throughout the years. The evening will end with a Q&A, during which, Glover says, he's totally willing to answer the many questions people still have regarding his shtick with Letterman.
Both of Glover's films, and the performance, are pretty surreal and bizarre and not for folks who are easily offended. He's said his goal with the films—which have been panned for being overly exploitative by some and praised for their strangeness by others—was to provoke viewers by putting social taboos front-and-center. Basically, if you dig really weird shit or are a huge Glover fan, this is for you. 
"I am please [sic] that this sort of interactive vaudeville distribution has worked for the films and shows and the audience," Glover wrote in what was likely the only original sentence in his email. Tickets are $22 per night. 
*Click here to read our follow-up interview with Glover who actually didn't mean to snub CityBeat at all.
---
2. Laugh it out
Spoken nonfiction hits an audience in its primal gut. As storytelling anima's, we've evolved around campfires to share our most intimate experiences. Projects such as The Moth and, here locally, So Say We All, speak to an atavistic desire to explore the human condition. The new standup show Risk! carries on the tradition, using humor to boldly confront some of life's most painful and jarring situations. Kevin Allison—previously of MTV's The State and Flight of the Conchords—brings his storytelling project to Finest City Improv (4250 Louisiana St. in North Park) at 10 p.m. Saturday, March 8. The show will include performances by the veteran comedian, as well as some San Diegans. To check out a podcast of the show, go to risk-show.com. Admission is $20. finestcityimprov.com
---
3. Cult(ural) films
After the hangover from the red-carpet glamor and showbiz spectacle of the Academy Awards is out of your system, you might crave some cinematic sustenance, in the same way your body might seek hydration or nutrients. The Sundance Institute is providing just such a form of nourishment with the traveling Film Forward: Advancing Cultural Dialogue, which will bring a series of screenings and panels to San Diego. The program focuses on films about ethnicity, religion, tolerance and other discussion-worthy themes, like Oscar-winner 20 Feet From Stardom, which shines a light on overlooked yet culturally significant backup singers from pop-music history. Film Forward will be held Thursday, March 6, through Sunday, March 9, at various venues. Get all the details at sundance.org/filmforward. 
Does your event deserve to be in our top three? Email Kinsee Morlan.