If you've ever harbored a hopeless crush, Gary Wilson can relate. In the 1970s, growing up in the small town of Endicott, N.Y., he was once obsessed with a beautiful schoolmate named Linda. Though they never officially went steady—her attention was focused on other boys—he'd often find himself strolling by her house late at night, overcome with desire.
"I wasn't a stalker, but there was some anguish," recalls the 60-year-old musician, who now lives alone—save for his dog, Shadow, and a caged finch named Little Bird—in a dusty, one-bedroom apartment in Hillcrest. "I was in love with her."
All these years later, Wilson hasn't forgotten about Linda. Nor has he forgotten about Karen, Lisa, Cindy, Sandy or Mary—nor any of the other girls to whom he regularly pays tribute in his lo-fi lounge tunes. Whether real or fictional, these ladies occupy a soft corner of Wilson's heart.
For some guys—the awkward, sensitive, arty or weird—it's easier to worship a girl than it is to talk to her. In his music, Wilson is just that kind of guy. Since his first major album, 1977's You Think You Really Know Me, he's plied the lonely avenues of romantic fantasy, exploring youthful heartache and desire with all the vigor of a veteran weirdo provocateur. 
Wilson's live shows—he's been known to incorporate bizarre costumes, sexy mannequins and messy onstage antics involving bags of flour and other unlikely items—freak out the squares and inspire the freaks in equal measure. And his music, an infectious mix of cheeseball keyboard grooves and avant-garde noise, suggests that even the most idealized facets of American society have a seedy underbelly.  
"I think it's music for loners or outsiders," says Mindy Solis, co-owner of local label Rita Records, which last week put out a two-song 7-inch by Wilson. "He's one of the very few people I've ever met who's true to himself and has constructed this image of himself that's awesome, and [he] just goes with it without fear." 
Wilson, who's short and low-key with a faint New York accent, likes to maintain his privacy. But if he's a loner, he's one of the most popular loners around. When his album Electric Endicott came out in 2011, he celebrated by performing with The Roots on Late Night with Jimmy Fallon. Last month, he traveled to New York City to play two sold-out shows with R. Stevie Moore, a 62-year-old songwriter also known for his quirky jams.
For one of those shows, Wilson played with his band, a revolving cast of characters known as The Blind Dates. For the other, he did an improvised noise set dubbed "Gary Saw Linda Last Night Kissing John Cage," which culminated with him lying on the floor covered in duct tape, a microphone stuck to his body, the audience stunned in silence. 
"I made my way to the grand piano, ripped myself off the floor and hit two clusters on the piano, and then made my way out through the back door... All you could hear was the microphone that was taped to my body, with the duct-tape going krhklhk," Wilson recalls on a recent Friday afternoon, lounging on a couch in his trademark getup—a ratty grey wig and women's cat-eye sunglasses.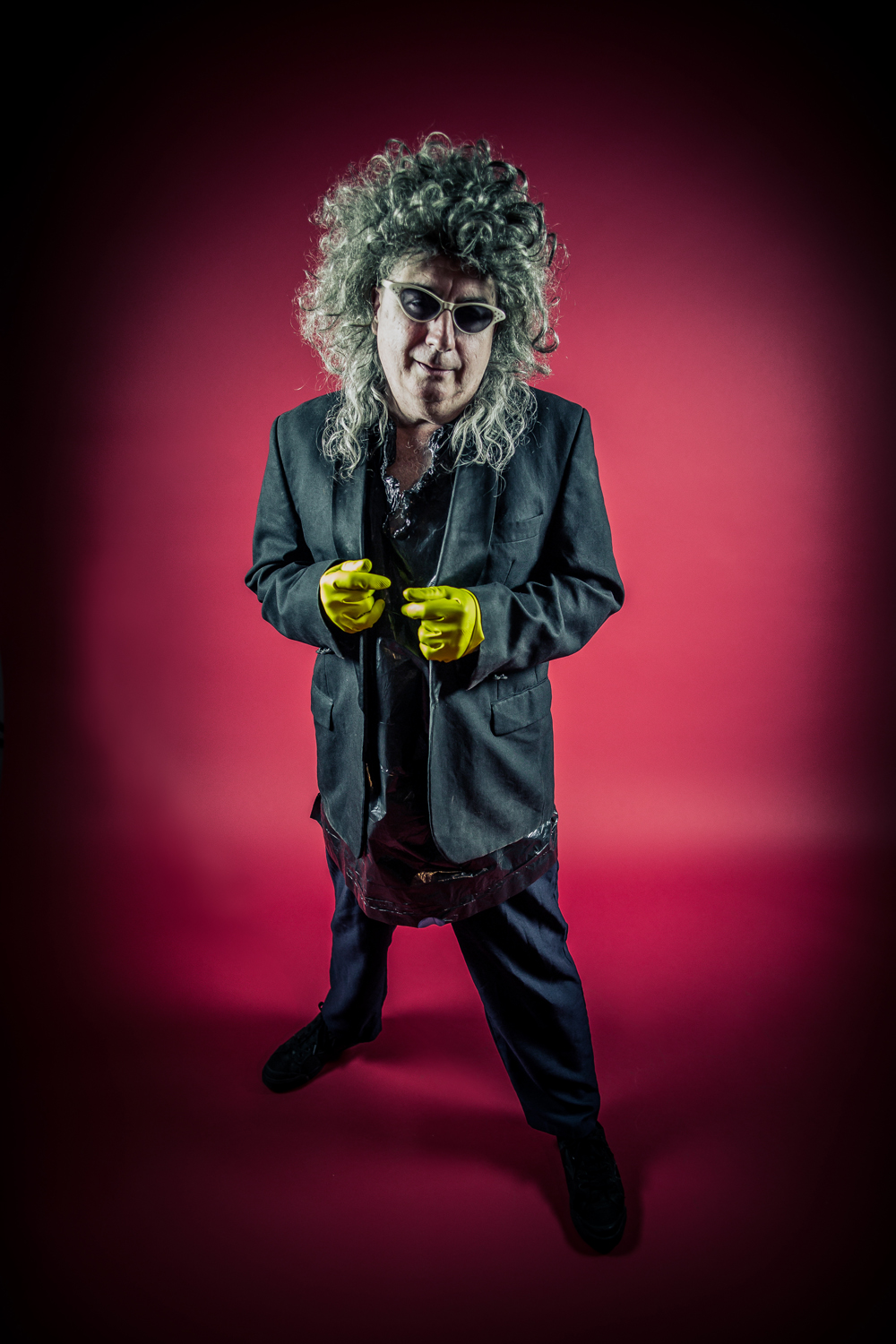 In a way, Wilson is the same musical madman he was nearly 40 years ago, when he holed up in his dad's clammy cellar to write and record
You Think You Really Know Me
. Mixing Steely Dan-tinged synth-funk with Cage-ian experimentalism, the album is playful and quirky. But there's also a layer of dark emotion: "
Sometimes I wish I was dead
," Wilson chokes out in the stunning track "Loneliness" while encircled in a fog of atonal electronics and strangled horns.
In recent years, both Beck and Roots drummer ?uestlove have given Wilson the thumbs-up. 
Back in the '70s, though, the music industry wasn't so welcoming. After finding no success trying to get a record deal in New York and Los Angeles, Wilson moved with The Blind Dates to San Diego, where their music fell on deaf ears. Even the wild guys in The Penetrators—the legendary San Diego band known for its provocative punk antics—didn't like Wilson and his crew. 
"They thought they were cooler than us," Wilson says.
Wilson kept making art and music in the '80s, but his wider career aspirations fizzled. In the '90s, he started playing keyboards as a sideman for local lounge singer Donnie Finnell (he still plays with Finnell today, stretching out his traditional side). Meanwhile, he worked low-wage jobs, eventually winding up on the night shift at the Jolar Cinema, a sex shop and peep show in City Heights, where he worked for more than a decade. 
In 2002, Wilson's weird side finally saw success when New York label Motel Records tracked him down and reissued You Think You Really Know Me. In the years since, he's released five more albums. A new one, Alone with Gary Wilson, is set to come out on Sub-Bombin Records this year. True to form, he continues serenading the usual ladies with whimsical tracks like "Chromium Clown." 
Still, for all the girls Wilson sings about today, none of them compare with the true love of his life—Bernadette Allen, an artist whose colorful, phantasmagoric, sometimes-unsettling visual style matched Wilson's aesthetics perfectly. The two met at one of Wilson's shows in 1978, and they quickly became partners in both life and art. Sadly, Allen died a few years ago. 
"We were together for 32 years," Wilson says. "I miss her dearly." 
And his original high-school crush, Linda? Wilson says they've been in touch in recent years, but it's nothing romantic. She's married now, and regardless, Wilson doesn't sing about girls because he's lonely or obsessed. Partly, he says, it's out of nostalgia for his childhood. But there's a conceptual component, too.
"I always felt a little unsatisfied, even during most of my avant-garde shows. Even when I'd go see John Cage shows sometimes in New York... I always thought, They need a teen idol in front of a John Cage show," he says. "And maybe that's what I've turned into."
The normal kids have One Direction and Taylor Swift. But the weirdoes? We've got Gary Wilson.


Write to editor@sdcitybeat.com.