On a November evening in Normal Heights, hungry pedestrians wandered off of Adams Avenue into a small parking lot, lured by a regularly scheduled gathering of gourmet food trucks. Potential customers sniffed at the giant vehicles as the nomadic chefs served up coconut curry sausages, pork belly po' boys, fancy-looking pizzas, even lobster-filled grilled-cheese sandwiches.
A blues band played its fourth or fifth song of the night as a young couple stood among the crowd under lamplight and sampled food for their wedding.
"We contacted Curiosity Catering, and they told us they were going to be here, so we thought it would be fun to come out and do a tasting," said Jamie Haugen, 28. "I love food trucks. I think they're fun. There's a lot of variety in them."
Having driven 30 minutes south from San Marcos for the event, she and her fiancé, Zack Benson, said they'd never been to a "food truck meet-up."
"I think you can find some really good food from a truck," said Benson, 31. "They seem a little bit more innovative, too. I'm not sure why. They're a little more creative with their food."
Over recent years, cities such as Portland, Los Angeles and Austin watched as gourmet food trucks became a staple of hip urban culture. However, this new breed of quick and sophisticated mobile chef has created concern in the restaurant community and, in some places, faced resistance from elected officials.
While gourmet-food-truck meet-ups in San Diego have drawn crowds for several years, under recently proposed city rules, the Normal Heights event and others like it would be illegal.
Taking input from mobile food venders and the restaurant industry, the city has submitted for review draft municipal regulations that would govern where and when food trucks can operate. While local leaders will continue to debate and revise those rules over the next four months, a number of provisions in the draft would dramatically limit access to food trucks.
Many in the mobile-food-vendor community have labeled recent actions by the city as "anticompetitive," blaming pressure from restaurant owners.
"I personally think it's to limit competition," said Jacob Bartlett, co-owner of the Mastiff Sausage Company food truck. "I say let the market decide. Let the consumers decide. I think there's enough businesses out there, and I'm not sure we're not mutually beneficial."
Earlier this year, the city nailed several food-truck operators with $500 to $1,000 fines and sent out a series of threatening letters. At the same time, the city shut down two prominent meet-ups held on private property.
In September, interim Mayor Todd Gloria told food-truck operators that it's illegal to operate on private property, such as a commercial parking lot or a brewery's driveway. However, absent any complaints, he said the city wouldn't go after mobile food vendors until the new rules are in place.
Gloria declined to comment on accusations of collusion with the restaurant industry but issued this written statement: "We're continuing to advocate for an ordinance that would change the municipal code and allow food trucks to operate legally on private property, something they currently aren't allowed to do under the municipal code," he said. "I'm as big a fan of food trucks as everybody else, and I'm confident we can find a way to solve this issue in a manner that is satisfactory to the food trucks, their customers and the neighborhoods where they operate."
Outside of Downtown, city zoning laws don't allow or prohibit the operation of food trucks, a fact that leaves a lot open to legal interpretation. In April, the question almost went to a San Diego Superior Court judge.
After the city's crackdown, the United Association of Food Trucks of San Diego California filed a lawsuit against the city, alleging the fines were an "arbitrary and abusive exercise of the city's discretion." However, then-mayor Bob Filner reined in the city's code enforcement officers, and the issue was dropped.
Today, food-truck operators and their representatives express hope that the city's new regulations can be negotiated in good faith.
"We've been working the California Restaurant Association," said Marco Polo Cortes, a consultant for the food-truck association, which represents traditional mobile food vendors, such as taco trucks. "We've found a happy medium that would allow food trucks to operate in commercial zones and mixed-use zones."
The California Restaurant Association did not respond to CityBeat's request for comment. But in October, both the foodtruck and the restaurant associations penned a joint letter to the city, stating, in part: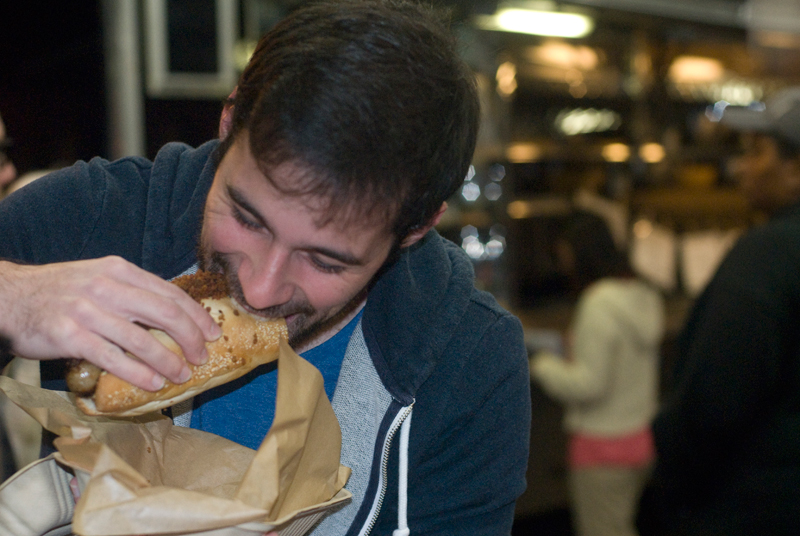 Photo by Joshua Emerson Smith
"Our association's members believe mobile food facilities are the fabric of San Diego's growing food culture. One of our primary goals as partner industries is to promote and enhance all small business opportunities for local entrepreneurs."
While the details are far from agreed upon, under guidance from the City Attorney's office, planning officials drafting the regulations have already signaled a willingness to remove or revise two of the most limiting provisions.
Perhaps the most restrictive rule would prohibit food trucks from operating within 75 feet of the entrance of a street-level eating and drinking establishment without permission from the owners. Another provision would require food-truck operators to get authorization to operate in one of the city's many business-improvement districts. The truck owners would also have to contribute to improvement-district taxes.
Both of those provisions unfairly limit competition, argues Christian Murcia, owner of Crepes Bonaparte and an active member of the gourmet-food-truck community. "We're confident that's unconstitutional," he says. "We've already challenged the city attorney on that.
"I think the draft regulations are not going to look the same way they look now, based on the feedback that we've seen," Murcia added. "Will there be specific restaurants that are upset? Yes. But the entire association? I don't know how they're going to react going forward."
According to California vehicle code, a city or county may regulate food trucks only as it applies to public safety, said Matt Geller, a lawyer with the Southern California Mobile Food Vendors Association. "A city enacting regulation to restrict competition would fall outside the limits of their authority."
The city's not ready to concede that point, but, for now, it seems reluctant to test it in court. However, that doesn't mean city leaders can't limit competition in other ways.
In response to concerns from restaurant owners, some smaller cities in Orange and Los Angeles counties have used laws to significantly limit food-truck operations, Geller said. "They're giving all the power to a group of businesses that clearly doesn't want to compete."
There are about 500 food trucks in San Diego, about 50 to 75 of which are considered gourmet. Under the proposed regulations, it's this new wave of mobile chefs who have the most to lose, specifically because several key provisions could significantly limit meet-up events, which have become a central part of the gourmet-food-truck scene.
Under the draft regulations, food trucks would not be permitted to operate in commercial parking lots, a frequent and convenient destination for meet-ups, especially in denser parts of the city where space is scarce. At the same time, for each food truck located on private property, at least 1,500 square feet of paved parking would be required.
These regulations could stifle one of the most vibrant parts of the gourmet-food-truck movement, said Murcia, who also runs Curbside Bites, a booking service that organizes meet-ups. "It's a draw to consumers that may not agree on the thing they want to eat, but they can agree that if they go to this location where you have multiple brands together, it will be able to satisfy everybody's wants for food."
Last week, the Community Planners Committee (CPC), which represents all the neighborhood planning groups, unanimously ratified support for the plan but recommended removing the prohibition on using parking lots.
"It is a new use and should be regulated," said CPC Chair Joe Lacava. "The city seems to have struck the right balance of uses. This will be a bit of a shock to the industry that has been operating without regulations. But the regulations are never cast in stone."
Under the proposal, mobile food vendors would be allowed to operate in commercial and industrial zones. Residential areas would be off limits, except for catering events with no individual sales, such as weddings. Hours of operation would be 6 a.m. to 10 p.m. Sunday through Thursday and 6 a.m. to 11 p.m. Friday and Saturday.
The regulations are scheduled to be before the Planning Commission in January, and the City Council is expected to vote on the final regulations in March.

Write to joshuas@sdcitybeat.com or follow him on twitter at @jemersmith.