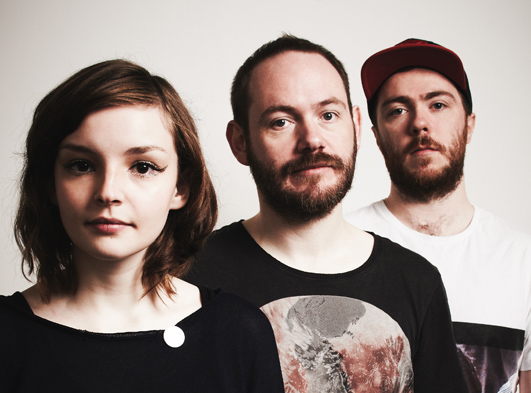 When The Velvet Underground formed in the 1960s, the band imposed a strict rule about not playing blues licks, in order to stand out from other, more traditional rock bands. Similarly, U.K. punk legends Wire drew up their own set of regulations when recording their debut album,
Pink Flag,
which included "no solos," "no decoration" and "when the words run out, it stops." And San Pedro's Minutemen followed a philosophy they dubbed "jamming econo," which reflected a simple, cost-effective and frivolity-free approach to playing and touring.
But when Glasgow's Chvrches formed in 2011, their first order was to throw out the rulebook entirely.
Before working together, Iain Cook and Martin Doherty established themselves in the Glasgow indie-rock scene—Cook as a guitarist for postrock group Aereogramme and Doherty as touring keyboardist for post-punk band The Twilight Sad. Over time, though, Cook began taking more of an interest in synth-based music and, in 2011, started recording demos with Doherty that heavily featured analog-synthesizer sounds. Yet, as he explains in a phone interview from a tour stop in Amsterdam, there were no regulations or limitations for what the project was intended to be.
"We always planned to do something fresh," Cook says. "No specific rules. With certain types of indie music, it feels like there are all these rules— like no fucking guitar solos. So many unspoken rules. And we were keen to just get rid of those."
Chvrches (pronounced "churches") finally took shape when Cook and Doherty invited Blue Sky Archives vocalist and keyboardist Lauren Mayberry to add backing vocals to their recordings. Impressed with her performance, the two musicians subsequently asked her to join the group as lead vocalist. In the year that followed, the trio began recording the tracks that would eventually become their debut album, The Bones of What You Believe, which was released in September via Glassnote Records.
A mixture of analog new-wave sounds from the '80s and modern indie-pop aesthetics, The Bones of What You Believe is 12 songs overflowing with powerful melodies and unshakable hooks. Single "Recover" first caught the attention of critics and listeners earlier this year with its cool, dystopian video and hypnotic synth arpeggios. A few months later, the urgent single "Gun" followed, with an equally massive chorus and a high-energy, dance-floor-ready tempo. And though both tracks had already built up a fair amount of mileage during the past year, Cook says, they were crucial to the album.
"There was talk of leaving off 'Gun' or 'Recover,' but we decided to keep them," he says. "I feel like it's important to have them there, as they're representative of our first year as a band."
It took Chvrches months to wrap up writing and recording some of their earliest tracks. Cook cites "The Mother We Share" as one example, which started with a draft that became molded and altered until finally circling back to something resembling how it began. Over time, however, working together has become more natural for the trio, and Cook says songwriting has turned into a much shorter process.
"It's just about getting to know and trust people, and it feels like a good writing unit," he says.
The work that Chvrches have put into their music is paying off. The Bones of What You Believe debuted at No. 12 on the Billboard album chart, with 15,000 copies sold in its first week, and "The Mother We Share" has been making inroads on alternative radio—including San Diego's 91X.
Still, growing popularity and a rapidly expanding fan base has come with its share of complications. In September, shortly after the release of The Bones of What You Believe, Mayberry wrote a column for U.K. newspaper The Guardian that both drew attention to and condemned the inappropriate sexual messages that some of the band's Facebook fans have sent her. "Is the casual objectification of women so commonplace that we should all just suck it up, roll over and accept defeat?" she wrote. "I hope not."
Cook explains that since then, they've imposed some safeguards in an effort to keep contact between fans and the band as civil as possible.
"It affects us quite a lot to try to deal with that stuff," Cook says. "We turned off direct messages on Facebook, but people can still post on our wall, so it tends to be more public. It's just symptomatic of an Internet culture, where people can be anonymous and their behavior doesn't affect the way the rest of the world perceives them."
In spite of these few isolated incidents of unwanted attention, Chvrches—who'll play House of Blues on Tuesday, Nov. 19—have otherwise had what looks like a pretty good year for band only in its second year. And while critical acclaim and commercial success are nice, for Cook, the greatest reward is seeing first-hand the kind of response and connection that audiences have to their music.
"It's the best feeling in the world to come to a city or country you've never been to and play before thousands of people who want to hear your music and know all the words," Cook says.
"It's really touching."
Email jefft@sdcitybeat.com or follow him at @1000TimesJeff