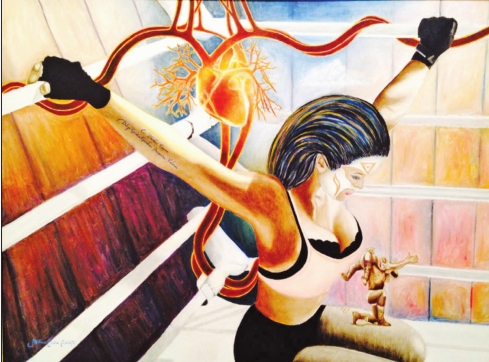 1 INSPIRED BY MASKED MEN
"I always say that the lucha mask is just as much part of our culture as zarapes, sombreros and tacos. It's just one of those things we should preserve."
So says Ruben Torres, curator and organizer of The HeART of Lucha. The second annual art exhibition, happening from 5 p.m. to midnight Saturday, Oct. 19, features pieces inspired by lucha libre, Mexico's infamous and spectacular wrestling sport that pits grown men adorned in garish costumes and masks against each other in the ring.
The sport is heavily ingrained in Mexican culture, and its fighters were gods to every Mexican kid with a penchant for ass-kicking and theatrics.
"We would look at those guys as superheroes," Torres says. "They would fight mummies and bad guys. They were our Batman. You feel that nostalgia when you see the mask."
Last year's event was huge, but Torres has somehow managed to make it bigger and wilder. More than 100 artists from all over the world, including Lalo Alcaraz, Mario Torrero, Frank Wallz and Sho Love, will display their art at Centro Cultural de la Raza (2004 Park Blvd. in Balboa Park). There will be a screening of Carlos Avila's lucha documentary Tales of Masked Men, DJs getting the party jumping and raffles to benefit a local cancer patient, plus food, drink, arts and crafts vendors and a live set from San Diego's B-Side Players. Torres also added one very specific element, which came at the request of a few of last year's attendees.
"People came up to me and were like, 'Dude, this event was awesome. The only thing it was missing was wrestling.' So, I was like, 'OK, we can do that," says Torres, who delivered by scheduling five bouts involving fighters from the Oddity Wrestling Alliance in a ring built for the event.
The exhibition is truly unlike anything else. Bonus: The fun continues from noon to 6 p.m. Sunday, Oct. 20, with a special family day. facebook.com/heartoflucha

---
2 SCHOLARS OF BEER
Want to start your own brewery or perhaps just dominate dinner-table conversations about microbrews? Craft Beer + Bites serves as both a fete for SDSU's new certificate program in the business of craft beer and a fundraiser for the San Diego Brewers Guild. Chat up representatives from both from 3 to 7 p.m. Saturday, Oct. 19, or, go simply to enjoy tastes from brewers like Monkey Paw, Societe and Mission Brewery and bites from Red Oven Pizza, Wow Wow Waffle and others. Happening at SILO in Makers Quarter (753 15th St. in East Village), the new outdoor venue will also host games (bocce pall, ping pong, life-size Jenga), a local artisan showcase and pumpkin carving. Dogs are welcome, but humans must be at least 21. Tickets are $35 for eight pours, four bites and a dessert, or $20 for three pours and three bites (additional tastes can be purchased for $3 each). makersquarter.com
---
3 STRING THEORY
San Diego's proximity to Tijuana means having access to a broader cultural palette than non-border cities, including a rich musical tradition that extends from folk to classical sounds. Listeners and museum patrons will be able to witness that sonic intermingling firsthand at a special concert by the Tijuana String Quartet in Balboa Park. The Baja California chamber group will perform a vast array of music, from pop to classical, including tango standard "Por Una Cabeza" by Carlos Gardel and a gracefully dissonant sound with Shostakovich's "String Quartet No. 8." The quartet performs at 7 p.m. Saturday, Oct. 19, at the Timken Museum of Art in Balboa Park. Tickets are $40 and include a wine reception. timkenmuseum.org

Does your event deserve to be in our top three? Email our events editor, Alex Zaragoza. You can also bug her on Twitter.