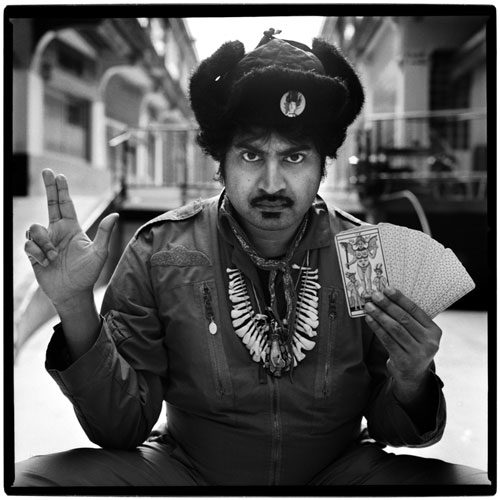 Notoriety is a funny thing. While the adage that "Any press is good press" still seems to hold true, it's always tricky business when drunken antics or wild getups steal thunder from a musician's genuine skills.
Such is the case with Arish Ahmad "King" Khan.
Easily referenced as "the diaper and helmet guy" or "that dude who put his bare ass in Lindsay Lohan's face," the Canadian bandleader's outrageous behavior and attire garners as much attention as the musical output of his various bands. Whether it's his duo with Mark Sultan (King Khan & BBQ Show) or his partnership with The Black Lips (Almighty Defenders), Khan relishes the role of mischievous frontman.
King Khan and the Shrines, a horn-heavy, nine-piece collective, is no exception. Khan recently reunited with the ensemble after a six-year hiatus. Their latest release, Idle No More, still features a trademark garage-punk and soul sound but adds a surprising layer to the mix: Named after an ongoing Aboriginal protest movement, the album finds the typically carefree musician stoic and self-reflective for the first time in his nearly 20 years as a performer.
"It's no secret," Khan told CityBeat from his longtime Berlin home. "The subject matter for the new album came from a lot of pain I've gone through in the last few years. But, ultimately, I want it to be uplifting and healing. It shouldn't be something you listen to and go into deep depression."
After the deaths of three close friends a few years ago (including fellow punk purveyor Jay Reatard), Khan went into a deep depression of his own. It culminated in a "huge meltdown" that required heavy medication, psychiatric care and a weeklong stay in a Buddhist monastery. The making of Idle No More has served as one of the final steps in the therapeutic process. Khan came out of it a changed man.
"Music is a way to heal my brain," he says. "That's always been my approach. But it's all in the process of enjoying life. That's the most important thing. You can have wild and crazy times but, at the heart of it, inspire people to do right. It's so important to have chaos but be able to do it with a spiritual aspect. I think it's the ultimate thing that people should strive for."
Fans of Khan's less introspective side needn't worry. The new record is anything but a somber affair. The molasses-slow "Darkness" and "Of Madness I Dream" put the party on hold for a few minutes, but the rest of the album keeps the tempo up and the horns on beat. Even the dedication to Reatard ("So Wild") is constructed as a gritty rave-up that the Memphis singer could have sung himself.
And while Khan may have a newfound penchant for loftier lyrics and the need to inspire, he hasn't lost any of his frenetic and bawdy energy. As the chorus to "I Got Made" can attest—I'll get paid / I'll get laid / I'll get made into a man one of these days— he isn't ready to completely change the formula just yet.
But that's the point. Whether it was the meltdown or his recent invitation to serve as music supervisor on a documentary about The Invaders—a Memphis branch of the National Committee to Combat Fascism—the 36-year-old has accepted that his art changes along with his life.
The documentary project "was one of the things that brought this all into perspective for me," Khan says. "I was deeply honored that someone so important to the civil-rights movement would feel that way. The music that inspires me has always gone hand-in-hand with revolution. And I think we live in a day where people are really rising up again. I'm extremely hopeful that the future will be a better place for everyone."
This sage outlook may seem incongruous with a man wearing a satin cape and donkey-teeth necklace. But King Khan's new world is a place where the landscape is strange and unpredictable, where hedonism and elevated consciousness successfully combine without sacrificing the rock 'n' roll aesthetic.
"Nothing I do is purist," he says. "But I try to keep it an alchemic process. We're not using industry tricks to try to get huge. It's all a spiritual thing."
It's doubtful that Khan will stop the onstage antics or costuming any time soon. They're part of his persona and what fans have come to expect from him. But by adding a subtle dimension of sophistication to the mix—no matter how it was acquired— Khan's body of work benefits.
"Pop music today reduces creativity in people," he says. "It's trying to make them automatons and promote mediocrity. What we do is something different. We want to inspire. The Shrines try to make it a ritual on stage and have the people involved.
Nowadays, especially, people need music with that kind of quality—music that transports them and makes them forget whatever suffering they're going through."

Write to editor@sdcitybeat.com.