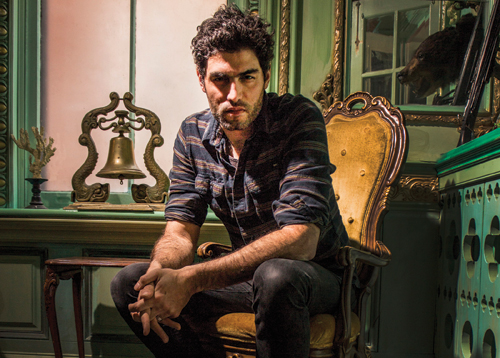 Photo by Adam Wallacavage
Daughn Gibson's music is haunted.
The Nazareth, Pa., singer-songwriter has an uncanny knack for crafting music inhabited by eerie sounds, unsettling atmosphere and lyrical portraits of troubled souls. Even the artwork that adorns Gibson's new album, Me Moan—depicting a naked person undergoing some sort of primitive freak-out in a spooky, abandoned church—has a nightmarish quality about it.
Gibson—who plays at The Casbah on Aug. 3 with William Tyler and Jesse LaMonaca—gave a simple explanation of his inclination toward chilling sounds and imagery in a June feature in The Guardian: "I like being scared." But as Gibson said in a recent phone interview with CityBeat, sometimes these terrifying musical ideas come out of him without premeditation.
"I think I'm naturally drawn to those kinds of sounds," Gibson says from his home in Pennsylvania. "And everything I'm doing is pretty much purely innate. I'm never trying to get a sound—I'm just kind of throwing things together and filing out what I don't like. And nine times out of 10, I get something that scares me."
Me Moan, released July 9 on Sub Pop, is certainly a chilling record, but one that defies easy categorization. It doesn't contain frights of the Throbbing Gristle or Suicide variety, but, rather, faint, albeit ominous, shadows that lurk beneath a hybrid of alternative-country twang and sample-based plunderphonic beats. If you'll excuse the music-journalist Rube Goldberg device about to be fired up, imagine Bruce Springsteen's Nebraska covered by Johnny Cash, later chopped and screwed and finally overdubbed with some killer guitar riffs, and it might sound something like Me Moan.
In contrast to the primarily sampler-crafted patchwork of classic country, dark ambient and trip-hop that made up All Hell, Gibson's debut album, Me Moan features more live instrumentation and crisper production. His deep, baritone vocals are just as prominent, but now paired with contributions from musicians like Brokeback guitarist Jim Elkington and Baroness guitarist John Baizley, who each lend dreamy textures and earnest twang to Gibson's spectral tunes. The end result is a more organic sound, which, he says, is merely a result of wanting the album to translate better live.
"I wanted everything to sound a little sweatier and get live guitar and louder instruments, live drums in there," Gibson says. "For me, working [with samplers], it's pretty easy to craft songs that can ultimately just sound like beats. I didn't want to make a rap mixtape. And I didn't want to just make minimal house music. I kind of like finding a way to subtract those elements that just make things generic beats and putting human life into them."
Indeed, Me Moan is a very human album; more specifically, it's a set of 11 unglamorous looks at flawed, broken or desperate people who are sympathetic yet often drawn to extreme measures. Gibson is just as likely to delve into a tender, heartbroken ballad as he is a serial-killer narrative. And in between those extremes, he sings of badass outlaws ("The Sound of Law"), a true story of small-town prostitution ("The Pisgee Nest") and graceful suicides ("Into the Sea").
Gibson makes clear that the characters in his songs are being viewed from a distance but also serve as reflections of the intensified economic hardships people have gone through in the U.S. during the past decade.
"As a human living in America, through the stuff that we go through, economically I guess, there's a lot of desperation that pops up that we don't hear about," Gibson says. "The blanket of jobs numbers or unemployment rates or Dow Jones covers up all these other stories that are really manifesting from recent events. That's not to say that they haven't always been there, because they certainly have. In that way, I can relate.
"But for these songs," he continues, "I try to take a distant look at very simple stories and just throw details in and color them out in a way that I think fits the song or the backdrop of music."
Yet, Gibson—whose real name is Josh Martin (his pseudonym is an homage to country singer Don Gibson and blues guitarist Stevie Ray Vaughn)—is haunted not just by supernatural phenomena or fucked-up real-life tales, but also by his own past working odd jobs. Prior to going solo, Gibson played drums in stoner-rock band Pearls & Brass. But before that, he drove an 18-wheeler, worked behind the counter at an adult bookstore, repaired commercial broadcast towers and took on various other unconventional paid gigs. And while he hasn't penned a song about mischief in a porno shop, per se, his observations linger in the atmosphere he creates as a songwriter.
"It's kind of the aggregate of experience that puts itself in the final result," Gibson says. "I don't consciously sit there writing a song and dwell on some experience I had working at some weird place. But I think I have a better appreciation for whatever story I want to tell because of the experiences I've had over the years.
"In a way, it's kind of a ghost that follows me around."
Email jefft@sdcitybeat.com or follow him at @1000TimesJeff