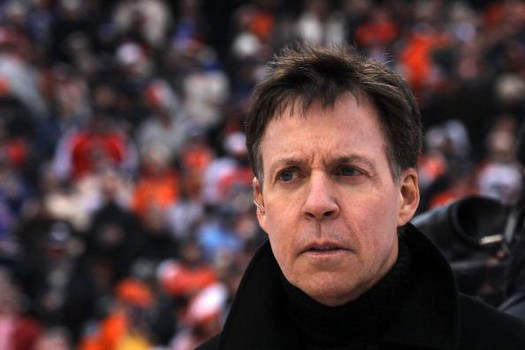 Photo courtesy of Getty Images
Esquire's Charles P. Pierce wrote in a Dec. 4 piece that the "current noise over the unremarkable points raised by Bob Costas the other night concerning this nation's fascination with guns is most remarkable in and of itself as a window into the rest of our national dialogue." Pierce was making the point that Costas, in his comments during a Dec. 2 football broadcast, wasn't saying anything terribly controversial, but the reaction from conservatives would suggest otherwise.
Indeed, as Costas later explained in an interview with MSNBC's Lawrence O'Donnell, he simply was looking for an angle into the Jovan Belcher murder-suicide story that hadn't yet been used. He chose to quote a part of a column written by Foxsports.com's Jason Whitlock, saying that if Belcher didn't possess a gun, he and his girlfriend would still be alive.
Costas' conversation with O'Donnell was far more interesting than his initial comments. He attempted to clarify that he wasn't calling overtly for tighter gun-control laws, although he acknowledged supporting sensible restrictions, or repeal of the Second Amendment; he was simply adding to the dialogue about "gun culture" in the U.S. and in the National Football League. In the MSNBC interview, Costas noted that former NFL coach Tony Dungy had recalled that he once asked his team of 80 players how many of them owned a gun and 65 of them answered in the affirmative.
Right-wing commentator Laura Ingraham, on Fox News, typified the hysterical response to Costas when she referenced her own book, Shut Up and Sing!, and told Costas to "shut up and commentate on sports." On Monday, Jon Stewart had Costas' back, telling Ingraham that he has a new book coming out, with Ingraham on the cover, that'll be called, "Shut Up and Shut Up."
Three cheers for Costas and Stewart.


What do you think? Write to editor@sdcitybeat.com.