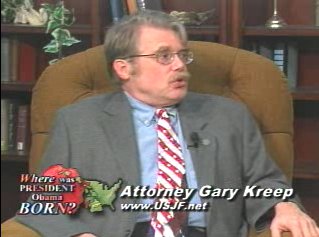 Dear San Diego County voters: Are you aware that you have elected a lunatic to the Superior Court bench? Did you really think he was the best man for the job? Or did you choose him because his last name tickled your fancy?

As of a Tuesday count of provisional ballots, lawyer Gary Kreep had a 1,569-vote lead over Deputy District Attorney Garland Peed, with 1,000 left to count. So, Kreep won. Staff writer Dave Maass has detailed Kreep's history on our news blog, Last Blog on Earth. The highlights:

Kreep has stated that he believes that Barack Obama was born in Kenya and is one of the main attorneys suing the president on behalf of the "Birther" movement. He's the volunteer general counsel to the Minuteman Civil Defense Corps. He was the attorney for Personhood Nevada, an anti-abortion group that attempted to circulate a petition to prevent "discrimination against the unborn." He was the lead attorney in a lawsuit to invalidate same-sex-marriage licenses and was part of the conservative legal team observing the Prop. 8 vote tally.

Voters of San Diego County, you are a national joke. Are you proud of yourselves?


What do you think? Write to editor@sdcitybeat.com