It's cliché, but whatever: Good art's always a reaction to something. Three San Diego art exhibitions—two current and one opening May 19—prove this.
W. Eugene Smith was a foreign correspondent for Life magazine before ending up in a run-down Manhattan loft. In 1957, feeling like his career was on the wrong track—a project he'd been working on in Pittsburgh was falling apart—Smith left his wife and four kids and moved into a building that was a nighttime hangout for jazz musicians like Charles Mingus and Thelonious Monk. By 1965, Smith had taken 40,000 photos inside and around the building, capturing its gritty allure and the musicians who spent time there. He recorded them, too, ending up with 4,000 hours of tape of folks like Roy Haynes, Sonny Rollins, Alice Coltrane and Don Cherry. One review of Smith's work used the word "obsessed" to describe his productivity. 
Opening May 19 at the 
Museum of Photographic Arts
 in Balboa Park, and on display through Oct. 7, 
The Jazz Loft Project
includes Smith's photographs and audio recordings. On Thursdays from May 31 through Sept. 27, MOPA will be open until 9 p.m. and on three of those Thursdays—June 7, July 5 and Aug. 2—from 6 to 9 p.m., you can catch live jazz in the museum's gallery. 
If Smith's inner demons are what drove him to fill more than 1,400 rolls of film, external forces drove the work in
Contemporary Art Wins a Beachhead: The La Jolla School of Arts 1960-1964,
on display through July 8 at the 
Oceanside Museum of Art
. The exhibition's name comes from an article by arts writer James Britton 
who, in describing The La Jolla School of Arts (part of what's now the Museum of Contemporary Art San Diego's La Jolla location), drew on the military term for coming ashore in enemy territory. Contemporary art, he wrote, had "won its beachhead in San Diego and set up camp in the smartly run La Jolla gallery by the ocean's edge." But the school lasted only four years.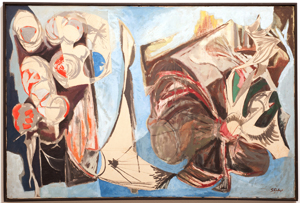 "San Diego seems like it was a decade behind other major urban centers in terms of more popular acceptance of trends in contemporary art," says Dave Hampton, the exhibition's curator and an expert in mid-century art (Hampton also curated San Diego's Craft Revolution, which recently closed at the Mingei International Museum). 
"If something was a big deal in New York in the late '40s, it might become a big deal in San Diego in the late '50s," he says. "There is this sort of behind-the-curve thing."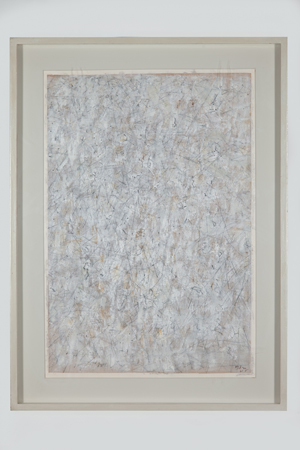 Hampton points to the early-'60s works featured in Iconic: Gifts from the Kondon-Giesberger Collection on view Museum of Contemporary Art's Downtown location. While the Beachhead pieces are bold and colorful and reflect San Diego artists' late foray into the abstract expressionism that had been popular in the 1950s, the pieces in Iconic—created by artists working in places like New York, San Francisco and Europe—are stark and monochromatic, representing a shift toward minimalism. Iconic, which runs through July 1, includes abstract works created up through the early '80s by artists like Robert Ryman, Richard Serra and Mary Corse. 
 "There's so much happening in that early-'60s period," Hampton says. "There's people who are still playing catch-up with the art trends of the '50s. There are a lot of people throwing off that cloak and getting into all these other kinds of things."