There won't be any crazy clues or hard-to-figure-out hints in this scavenger hunt. We've rounded up places in San Diego that exude 1960s style and charm; all you have to do is grab your friends, make sure you have a camera and take a photo of yourself at the listed locations. The first person to submit all of the photos will win four free tickets to our TikiBeat party at the Lafayette Hotel (2223 El Cajon Blvd. in North Park) from 6:30 to 10:30 p.m. Friday, May 11. Email your photos to editor@sdcitybeat.com to enter to win.


Parkway Bowl
1280 Fletcher Pkwy., El Cajon
While the fine sport of bowling is timeless, the building housing Parkway Bowl looks like it was ripped out of a Brady Bunch episode. It was built somewhere between 1959 and 1961 (the manager couldn't quite pinpoint it for us). Appreciate the extravagant archway as you photograph yourself in front of the glorious stone veneer.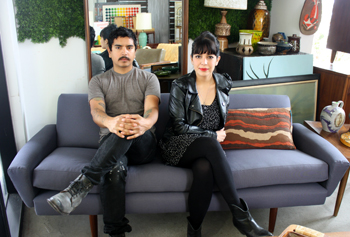 Photo by Kinsee Morlan
Nest Vintage
830 25th St., Golden Hill
This little vintage store knows how to put limited square footage to use. Ninety-five percent of its goods are straight out of the '60s and early '70s, and husband-and-wife owners Ramon Daniels and Armida Mucino have a knack for scoring unique furniture and knick-knacks that look flawless, as though they've sat in an airtight storage room for the last 50 years. Get a photo of yourself on your favorite chair or sofa.

Dinosaurs on Bonita Road
Between Allen School Road and Willow Road on the south side of the street in a grassy knoll in front of a shopping center
High-school student Jerry Lee Gauss created the Bonita Dinosaurs in 1959. He called them "Glarfs," or dwarf dinosaurs, and gifted them to his parents. The two dinos, Rumbi and Rangui, lived happily in the family yard for years. The quirky characters became a tourist attraction in the '60s, but they disappeared when the family moved. Gauss died in a car accident when he was just 19, so he never got a chance to make more dinosaur sculptures. The originals were rediscovered by a police officer on the early 1990s. Who spotted them in a mobile-home park where Gauss' mom lived. She agreed to have the sculptures moved to a more public site on Bonita Road, but poor Rangui didn't survive the trip. He was completely ruined during transport. By the 2000s, Rumbi's head started falling off, so artist Kelly Tracy came to the rescue, restoring it and eventually recreating Rangui. Get your photo snapped in the middle of these two smiley dinosaurs.

Blowout DVD
3148 Midway Drive, Suite 114, Midway
Yes, DVD stores still exist. This one has a fantastic collection of weird old movies from the '50s and '60s. Get a shot of the most '60s-looking DVD cover you can find.

Rudford's Restaurant
2900 El Cajon Blvd., North Park
There are lots of great greasy-spoon diners that look like they haven't changed a thing since Jack Kennedy was president, but Rudford's is special. The spot sports a large-scale photo of Kennedy driving right in front of Rudford's back in 1961; it's hanging on the outside of the building facing Kansas Street. Get a chocolate-malt milkshake while you're there and get your photo taken in front of JFK.

Saska's Steak & Seafood
3768 Mission Blvd., Mission Beach
Saska's just celebrated its 60th anniversary and hasn't really changed its décor since opening. If owner Tom Saska is in when you stop by, get a picture with him.  If he's not, head to the dining room and look for the 1960s photo of a high-tide wave breaking over the seawall in Mission Beach.

Sister Pee Wee's Soul Food
2971 Imperial Ave., Grant Hill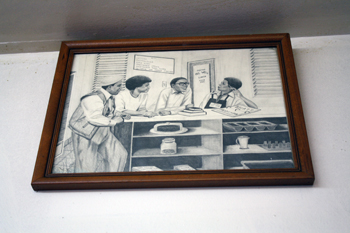 Sister Pee Wee is an institution. She's the sweetest, hardest-working gal you'll ever meet, so stop in to see her, try her macaroni and cheese or collard greens and have her take you on a quick tour of what she calls her "Memorial Corner," a section of the restaurant filled with photos of old friends, preachers and important community members. Take a photo of the drawing hanging above the restaurant's front door. It's a great 1960s scene hand-drawn by Sister Pee Wee's son.

Featheringill Mortuary
6322 El Cajon Blvd., College Area
This building is as cutesy 1960s kitsch as a mortuary could possibly get. Take a photo in front of the business, which was started in 1962 by Wallace and Marjorie Featheringill with the help of Wallace's father, Walter, a funeral-service man since settling in San Diego in 1912.
 

Write to editor@sdcitybeat.com.