Let's be honest: Bad reviews can be fun. Writers love writing 'em, many readers love reading 'em and some musicians even love getting 'em.
Every year, CityBeat puts out a call for local music, and our team of music nerds reviews every CD, LP, DVD, digital download and cassette tape that comes in. Not all of what we get is good. In fact, some of it is awful. And while plenty of readers get a kick out of our brutally honest appraisals, we've also been dismissed as bullies, egomaniacs and (at least in the case of Seth Combs) assholes.
We don't put together the Great Demo Review to pick on the music scene. We want to discover new sounds, highlight great artists and clue you in to music that might've otherwise been over looked. For all the stinkers we got this year, there were also plenty of gems—and we deemed our 10 favorites "EXTRASPECIALGOOD."
Still, this issue isn't just about saying what's good and what's bad and leaving it at that. Especially in the age of social media, criticism goes more ways than one. If these reviews spark conversations and debates about the music that's being made in our city, that means we're doing our job.
Whether you love our reviews, hate them or love to hate them, come tell us all about it at our Local Music Issue party at The Casbah on Thursday, March 8.
2 Bit Radio
Dirty Time
Cross "Jizz in My Pants" with The Faint, and you'll end up with something like 2 Bit Radio. As hilarious as that sounds, though, I have a sinking feeling that these guys are being totally serious when they sing groaners like "Move that ass, grab that ass" and "It's dirty time, mama" over their two-bit electro grooves. They might think they're players, but, in reality, they're about as sexy as a liquor-soaked Gaslamp creeper who won't stop groping ladies on the dance floor.

—Peter Holslin

321 Stereo
Lights & Late Nights EP
321 Stereo look like they were genetically engineered in an Axe Body Spray lab to suck ass and play Six Flags theme parks, and their music is just as bad. The band's own description of their music is apt: "Part '80s dance. Part Electro Pop. Part Alt Rock. All Party." Yeah, the party where you used the toilet seat as a pillow while your BF got rufied and raped.

—Seth Combs
7hundercun7
7hundercun7
When the name 7hundercun7 is the best thing about your band, it's time to start a different band. The drone-folk group's interminable two-song EP is a soul-crushing car wreck of Pro Tools wankery, but that's probably the intention. Or maybe assuming it's all a joke is just wishful thinking—the only thing more disturbing than 7hundercun7's cacophonous claptrap is the possibility that they're actually being sincere.

—Chris Maroulakos
9th Street Shakedown
Yellow Garage EP
These guys are decent musicians, but I'm not convinced they're anything more than a Rolling Stones cover band that hasn't become self-aware yet. I would love it if they played at my block party, but I don't know that my interest would last much longer after that.
—Sammi Skolmoski


Adams and Eves
Demos
This collection isn't so much a finished product as a dreamy patchwork quilt of ideas and sounds. Still, the impressions contained within do well to convey that fans of 2011's Dear Professor can expect more soft, sweet, accordion-and-glockenspiel-frosted indie quirkiness on this band's sophomore effort. The inspired seven-minute Modest Mouse-meets-Ennio Morricone opener was an extra-special treat.

—Sasha Orman
---
EXTRASPECIALGOOD

Bruin
Brad Shitt EP
Photo by Angie Ollman
Beat-driven pop duo Bruin tagged this new EP with the term "chillwave" on Bandcamp, but there's nothing on this two-song EP that indicates anything about Instagram filters or melancholy, half-remembered trips to the beach in the '80s. Their music is definitely chill, but their soulful samples, fat beats and stoned, hazy vocals evoke summer barbecues and lazy afternoons. At their core, "Brad Shitt" and "Oh My Hoodness" are great, sample-based pop tunes with equal parts humor and warm, crackly melodies. Dominic Fawcett is charmingly blunt on the title track, dropping verses like "We can laugh and fuck / and with a little luck / more of the latter." And despite its silly title, "Oh My Hoodness" is sublimely hypnotic, looping a brief strings phrase into a mesmerizing one-note hook. The band is reportedly releasing a full-length album later this year, and there's bound to be more laid-back good times where this came from.
—Jeff Terich
---

Alas de Mosca
Lucha y Libertad
This Latin-flavored, reggae-tinged, Gipsy Kings-style world-beat combo isn't half bad, but its two singers might want to work on their cheesy clichés and bumbling rhyme schemes. Take this line from "Break of Day": "Although there will be obstacles and roadblocks in your way / I'm sure you'll find your way." Rhyming "way" with "way"? Come on, you can do better than that! Still, they overcome their flaws with an endless stream of deeply funky Afro-Cuban percussion grooves.
—Peter Holslin


Ambijub
Demo
Synth strings, tribal drums, tubular bells and twinkling synths start and stop without rhythm or warning, like staircases and doorways ultimately leading nowhere. This disc is the Winchester Mystery House of ambient sounds. But while the house can be fun, this music is simply baffling.
—Sasha Orman




Amateur Pool Party
Live from Reno
OK, they got me. I fell for the live crowd noise they laid over the tracks. But after listening to nine ear-puncturing songs, I'm convinced this band has never played to a crowd larger than however many people you can fit in a garage / practice space / meth lab.
—Jim Ruland
Apoc & Brendan B
The Planet EP
Bringing back the playful edge of early hip-hop, The Planet EP is a hoot from beginning to end. While "The Life" expounds upon the days and nights of the MC lifestyle, the true gem here is the completely silly "100 Bars," which name drops 100 different bars nationwide—quite a few of which happen to be local haunts. Lyrics like "Then I head to Open Bar, beware of the open sore" are proof that actual on-site research was conducted in the making of this song.
—Dryw Keltz
April Ventura & The Magnolias
Fine

This alt-country group walks down that well-traveled road in between heartbroken southern twang and sing-along rock 'n' roll. The guitar work is well executed, but not terribly original. The real star here is lead singer April Ventura—at her best, her earnest, passionate vocals sound like Lucinda Williams. But the overtly pop-oriented sensibilities and clichéd lyrics ("Let your love shine all around / You'll be just fine") at times come off more like Faith Hill.
—Aaron Carnes

---
EXTRASPECIALGOOD
Day-Go Produce
Bottom Feeders the Mixtape
You'd be hard-pressed to find a local rap group more down-to-earth than Day-Go Produce. As they make clear on Bottom Feeders, J Treel, Tramlife and Rolando are just humble up-and-comers who enjoy the simple things in life—rocking Chuck Taylors with fat laces ("Smokin' evergreen / Chucks hit the scene / complement the whole team"), going to the beach ("You can catch me in the swells") and smoking tons of weed ("Don't trust the marijuana if it came from Tijuana"). They acknowledge that they're low on the hip-hop totem pole—indeed, they're the "bottom feeders" of the mixtape's title. But they've got solid beats, refreshing flows and a disarming honesty, all of which should serve them well as they climb their way up.

—Peter Holslin
---
Ass Clowns
Extraterrestrial
Human Reprogramming

Over-medicated, under-produced guitar wankery. Jesus Christ does this ever blow dead monkeys.
—Jim Ruland


Bangladesh
Bangladesh
This earnest, five-song rock offering reminds me a lot of early Three Mile Pilot. Plus, the drummer's moustache is full-on Magnum P.I. I can see this evolving in a lot of different ways—almost all of them good.

—Scott McDonald


Barbarian's double shot of echo-y, perfectly under-produced, harmony-driven rock 'n' roll makes me want to keep listening. Let's hope it isn't just beginner's luck.

—Scott McDonald


Beat Panther
Feed
Sharp production and fat-ass beats keep the party rockin' on nine of the 10 songs here. And it's hard to fault Justin Palicki and JFeather for closing with a minimalist cover of Phil Collins' "In the Air Tonight," even if they don't sock it to us after that infamous drum roll. More than 60 percent of the time, it works every time.

—Scott McDonald


Beta Lion
I Believe in Beta Lion
I believe in Beta Lion because the last track on this three-song sampler is the best song that Phoenix never wrote. "Love Aside" is that perfect blend of pop, dance and alternative that makes the pretty girls swoon and gives everyone a good excuse to hit the dance floor. The other two songs on here are decent indie-rock fare, but "Love Aside" is the hit.
—Dryw Keltz


Big Shot Reub and the Reloaders
Roundhouse Blues

In the dullest wankfest I've ever heard, guitarist Reuben Vigil and his two bandmates try their hands at swinging jazz, moody blues and good ol'-fashioned rock and end up sucking at all of it. After multiple dreary listens, the only thing that sticks with me is Vigil's goofy Muppet voice.

—Peter Holslin


This isn't the first metal / punk band to imitate Danzig and sing about zombies, and it won't be the last. But these guys could likely get some dudes head-banging if they played at The Ruby Room or Eleven, and that's what matters.

—Peter Holslin


Blood Dancer
Demo
I'm not sure if any members of Queensryche or Metal Church died right around the time the dudes in this trio were born, but if they did, any questions about the existence of reincarnation have been answered. Metal from the heyday of metal, if you're into that kind of thing. chbarcla@ucsd.edu

—Scott McDonald


Box Shift
Certified Color
I'm a sucker for electro-pop, and Box Shift's solid, infectious bed of synths and light, danceable beats comes just the way I like it. Yet, the songwriting and the melodies just don't do it for me. A good electro-pop song should beg you to sing along, but these songs are all basically forgettable. I do have to give them props for the super-reverb-y mix on the keys and guitars, though.

—Aaron Carnes


Broken Dreams x
Parker & The Numberman
Demo

Sometimes a hip-hop collaboration never succeeds beyond being a two-crews-for-the-price-of-one mash of styles, say Rappers 1-2-3 vs. Rappers X-Y-Z. This three-track project between Broken Dreams and Parker & The Numberman (shortened to "BDP&T") eschews one-upsmanship for a solid, jazzy demo that conforms to the gestalt theory: "The whole is greater than the sum of its parts."

—Dave Maass


Bruisecaster
A Canvas (Part 5)
Not sure how I feel about this video-as-demo thing. Kind of arty? Kind of douchey? A little of both? But if a band can put a CD in a record sleeve and call it a demo, why can't Bruisecaster shoot a rehearsal and call it a movie? But it's more than that: Directed by Shoko Hachiya, it's a live show and a whole bunch of other stuff, too. Twelve minutes in, there's a closeup of someone's ear hole, and I kept looking at it until it didn't look like an ear hole anymore. That's Bruisecaster.
—Jim Ruland

Davit Buck
Demo
Some albums make you want to claw your ears out with rusty steel implements. Davit Buck's demo skips right to the aural abuse with four tracks of circuit-bending, sample-fracturing, bass-slapping violence. Noise music, being noise, is hard to judge in terms of good and bad, but as near as I can tell, Buck nails it. My only beef is that if he's going to write a song called "Ghandi Took a Shit on Peace," he might have bothered to spell Gandhi's name correctly.

—Dave Maass


David Bullard
Luv Songs 4 U
Singer-songwriter Bullard gives some songs on this 17-track album a folksier turn with James Tayloresque vocals. On others, he lets his guitar do the talking with intricate, Spanish-style flourishes. Both would serve perfectly well as the soundtrack to an upscale candlelit dinner, making the "Valentine's Songs!" note scrawled on the CD sleeve a rather apt self-assessment.

—Sasha Orman


Jennie Buss
Enter the Buss: Rainbow Debut

Half of this album sounds like something that would be overheard in the parking lot at Lilith Fair, and the other half sounds like you're stuck in a coffeehouse during an awkwardly empty spoken-word open-mic night. "Gift of Madness" has a sort of Pixies vibe that I really wanted to like, but the vocals sound forced, and it just never comes together. I think you will find your sound, Jennie Buss, and then you will nail it. But for now, it's not quite working.

—Sammi Skolmoski


Cabuloan
Demo
Plenty of movies explore the idea of robots trying to act like humans. Cabuloan had better have dibs on scoring the next one, because this thing sounds like it was generated by machines doing their best to emulate how humans make music. This is hardly a bad thing, as Cabuloan's instrumental-heavy experiments are a surreal, ballsy and many-hued affair, with math-rock riffs moving like pinballs and synth-like sounds going mad. Actually, scratch the robots thing— this defiant mess would be great for a Frankenstein remake.

—Reyan Ali

---
EXTRASPECIALGOOD
A Canopy of Sundays
The Mashtis have always drawn comparisons to Sonic Youth and Pixies, but the songs on this EP— which turns out to be their last record, as the band has split up—reveal a decidedly more modern sound than what they've given us in the past. In the opening measures of the first track, "Amen," the driving guitar alongside the scrappy shouts of "hey, hey" bear a strong resemblance to the play-fighting revelry of Imperial Teen or The New pornographers. And the solid guy / girl vocals and consummately balanced, garage-y instrumentation has only gotten sturdier and more confident. That's not to say this band has ever sounded weak. They've just made it abundantly clear this time around that The Mashtis is a name we should all remember.

—Justin Roberts
---
Chaz
Demo
The dream of the 1990s is alive with Chaz, and it is awesome. Frantic, fuzzed-out guitars and sweetly awkward, Weezer-style harmonies frame clever lyrics that follow the highs and lows of a slacker lifestyle—from drinking with your shift manager to the struggles of getting out of bed with bills to pay. Throw The Adventures of Pete & Pete in the VCR on mute, pour yourself a bowl of cereal, play this extra loud and pretend that 120 Minutes never left.

—Sasha Orman


Cloud Ceiling
Automatic Thoughts
When I first saw the name Cloud Ceiling, I thought I was in for another somber singer-songwriter acoustic outing. I was correct. Very stripped down, very sad. If your favorite Big Star album is Sister Lovers and you worship at the altar of Nick Drake, this is right up your alley.

—Dryw Keltz


Colony
Demo
Layers of fractured, shimmering guitars, math-y drums and soft vocals wash over each other in waves, evoking very early Cursive or Explosions in the Sky. The disparate elements never fight each other for attention, even at their most angular. Instead, they build into intense, finely crafted post-rock crescendos.

—Sasha Orman


Courtyard Roots
Walk the City Sampler
I gotta hand it to Courtyard Roots: After getting a bad review in last year's Great Demo Review, the rap-reggae-rock jam band was game enough for another round. Unfortunately, these tracks aren't much of an improvement on last year's submission. The heavy-metal guitars have nowhere to go, the grooves don't lock together and their MC still can't rap for shit (although, to his credit, he has improved slightly). Maybe next year, guys.

—Peter Holslin


Couch Lock
Glued to the Goo
"Meandering" doesn't always have to mean "aimless," but in the hands of Couch Look, the idea of taking your sweet time to get things done drifts between good and bad. Over the course of the instrumental record's run time (60-some minutes, which is way too long), the group shifts from genial, mundane psych-jam rock to something with the bleary-eyed gravitas of Explosions in the Sky-style post-rock. They benefit when they ditch campy wobble-funk to explore weighty highs and lows.

—Reyan Ali


The Cutaways
Dirty Hose EP
The retro-tinged pop is OK, but those vocals badly need work. Get voice lessons or use Auto- Tune, but, please, for the love of God, don't torture us any longer with your wavering melodies and train-wreck harmonies.

—Peter Holslin


The Cypress Project
The Cypress Project Demo
Stop saying that your music is "as experimental as your name implies." First of all, "The Cypress Project" does not imply anything interesting and would be better suited for an environmental-activist group. Secondly, and more importantly, the only experiment going on here is how trite lyrics can be. There's nothing about derivative, rich-white-kid blues that pushes boundaries. To the girl in the band: Listen to Patti Smith. She will teach you how to use that impressive vibrato of yours in a worthwhile way.

—Sammi Skolmoski


Dada in Denial
Humanoid Void
Toss a dream catcher, a copy of The Steampunk Bible and the complete Incubus discography into a vat of LSD, and this is what you get— dreary, low-rent, highly bizarre alt-rock that would work great as the soundtrack to a community theater production of Labyrinth.

—Peter Holslin


Josh Damigo
Demo
Two-time San Diego Music Award winner Josh Damigo should be a familiar name to readers. After having spent some time in the Los Angeles wilderness, the singer-songwriter decided to air his grievances in a song titled "L.A. Is Not My Home," in which he oozes his VH1-style alt-country earnestness from every orifice. Damigo has learned a few of the right lessons from the Ryan Adams playbook, but when he sings about girls, the results can be embarrassing. There's cheese a-plenty, but if it gets Damigo laid, more power to him.

–Jeff Terich


Danny and the Tramp
The American Dream EP
Danny and the Tramp is a pop-punk band that leans more toward pop. Though the band's sound isn't extremely original, it's enjoyable if you're a fan of blink-182 or Newfound Glory. Harking back to the late-'90s and early-'00s, the album is semi-monotonous yet oddly appealing to the middle-schooler inside us all.

—Kaitlin Perry


Day-Go Produce
1st Batch EP
A demo in the real sense of the word in that the production is a little rough, this six-track EP is still a rewarding mix of R&B and hip-hop. The flows are kinda weak and the lyrics clichéd, but there's definitely room for improvement.

—Seth Combs


Dead Animal Mod
Zeal EP
Rife with distortion and featuring a damn talented lead guitar, Dead Animal Mod remind me of a band you'd see playing in the basement at the 4th & Ivy house in Bankers Hill. Remember those days? The shows were always loud as fuck, and somehow the neighbors would never complain. And as long as you were able to wade your way through the empty cans of PBR and avoid getting vomited on by the barely, and the not-so, legals in the audience, you'd usually end up having a fun time. That is, of course, until morning arrived.

—Justin Roberts


Deno Marquee
The Wild & Free EP
If being wild and free means listening to a cornball, reggae-thieving singer-songwriter obsess over some girl, then I'd rather have solitary for life.

—Peter Holslin
Dinosaur Ghost
Demo of the Dinosaur Ghost
"Playing with its Food" and "Ballad of the Sea Bison" are two instantly forgettable surf-rock ditties, but they're followed by two amusing, much more digable tracks—a cover of Salt-N-Pepa's "Push It" and "Kilda Bird," a psych-rock jam with Dr. Seussian lyrics.

—Peter Holslin
The Distinguishing Marks
Magic Fire Music
Oh, no. No, no, no. The voice of what sounds like a whispering pedophile over fuzzy synth gibberish.

—Sammi Skolmoski


Dream Buddies
"Celebrate"
This is what garage-rock is all about: The singer isn't always on pitch, and the guitarist and drummer are a bit sloppy, but they still manage to deliver a refreshing pop hook that has me listening to this track more than once. Follow your dreams and you will go far, dudes.
—Peter Holslin


Dudes
"C.O.S.M.I.C."
An electro-pop overload of carnival-esque synths, cracking beats and overlapping samples, "C.O.S.M.I.C." is like candy-flipping on a Gravitron. You might need a barf bag, but you'll still have a blast.

—Peter Holslin


East of Sweden
Demo
Two parts Foo Fighters, one part Green Day, a dash of The Strokes and a generous handful of Linkin Park is about what it took to cook up East of Sweden's demo. These guys obviously aren't aiming for a niche market; rather, their sound demonstrates a craving for front-and-center placement on a mainstream rock station. Luckily for them, they're actually pretty talented. As long as they avoid being pressured by publicists into getting flat-ironed hair, spray tans and $400 jeans, they might just make a name for themselves.

—Justin Roberts
Jesse Daniel Edwards
Fire in the Rain
With his heartfelt lyrics and powerful voice, Jesse Daniel Edwards' songs are mellow yet emotionally provocative. I couldn't help but picture scenes from films about love and heartbreak while listening to standout tracks like "You Get What You Give." Definitely worth downloading when the full-length album is released in March.

—Kaitlin Perry
Emerald City
What Is
Let's just put aside the fact that there's a song on this three-song cycle of shit called "Ride the Snake" and that the song isn't some kind of epic Tenacious D homage. Having done that, the only positive thing I can say about Emerald City is that the singer sounds hot. That's it. Really.

—Seth Combs

---
EXTRASPECIALGOOD

Mystery Cave
Red Tide EP
The world-famous Los Angeles "beat scene" might boast an army of enviable talent, but San Diego has some amazing beat-makers of its own, and one of them is Mystery Cave. On this limited-edition cassette tape, mastermind John Christopher Harris II warps his samples beyond recognition to conjure a sound world with surprises at every turn. There are melodious synths and glimmering drone tones, orchestras playing in reverse and beats assembled out of clicks, pops and sucking sounds. Even the tape itself serves as a kind of instrument, embracing the music in a bosom of warm fuzz. Of course, Red Tide can be a challenging listen—it's pretty weird stuff, and good luck finding a way to actually play it (tape decks aren't exactly common). But if you accept it on its own terms, this wonderful little tape will reveal more of itself with each listen.
—Peter Holslin
---
Extinct Animals
Cause and Effect
There's a lot less death-screaming than I'd expect from an album that comes with a pullout sheet connecting rivers and waste to violence and hate. But vocals aside, this is straight political hardcore, with all of the intricate guitars, preachy slogans (sample song titles: "World Crisis," "Peace Bomb") and DIY production qualities you know and love.

—Sasha Orman
Ezekiel Jay
Activity
This is a somewhat prefab country, blues, roots-rock hybrid. There's even a dash of Hootie & The Blowfish in there. (Even a dash of Hootie is too much!) It's well-produced, and the players sound professional: It's exactly the kind of demo I imagine major labels got a lot of in the '90s before promptly tossing them in the trash.

—Aaron Carnes
The FABulous Rudies
Singles
Annoying pop-rock-ska-punk that's stuck in the late '90s. If you took the awesome opening five seconds of "Keep on Movin'" and looped it for five minutes, you'd get a pretty rockin' song. The rest, however, is garbage.

—Peter Holslin
Far From Ya Average
Introducing…The LP
Featuring an array of unknown MCs, this hip-hop debut has just about everything—a seductive slow-jam ("Feeling You"), a politically conscious morality tune ("Dark Alley"), chest-thumping brag-raps ("Third Degree," "Stuck Up Playa")—even a cheesy ode to the city ("The Sound of San Diego"). Not every track is a winner, and some of these MCs desperately need some personality, but the imaginative beats help make up for the flaws.
—Peter Holslin


Faux Plato's
Sunshine Over Flowers
Let's put aside the punctuation-challenged name and the fact that the band describes itself as "ambassadors of cognitive introspection." They sound like a space-age Pavement minus the talent, or maybe Slightly Stoopid-ish jamming, only 1,000 times stoopider. Please don't make me listen to these five songs again.

—Seth Combs


Joe Flatt
"Slow Dance"
Joe Flatt sounds like every other singer-songwriter that regularly plays the Gaslamp bar circuit at any given time. Serviceable guitar work but slightly tone-deaf vocals and an emo aesthetic make it easy to understand why he doesn't have a backing band.
—T. Loper


Gasoline Addicts
Supercharged
I can practically smell the stench of engine fuel while listening to this greasy slab of high-octane rock 'n' roll. But, guys, where's the roaring guitar solos? Where's the sweet-ass production quality? Where are the fiery collisions, screamed vocals and smashed instruments? The longer this 48-minute set drags on, the more this hot-rod looks like a jalopy.
—Peter Holslin


Generik
MA.GN.I.FR.I.ED
A fairly solid dose of indie hip-hop with some tight beats, decent lyrics and interesting sampling choices. There's just nothing particularly groundbreaking on it, and the attempts at conscious-rap and heartfelt love jams are sooooo 1997.
—Seth Combs


Get Off the Map
What the Judge Meant Was What the Judgement Was

The homemade CD cover (a torn shred of paper with a cartoon heart and "I love you with all my neurosis" written on it) is a nice intro to the handcrafted strangeness that ensues on this disc. Each of the seven tracks are collages of various sounds and noises. There's mellow indie-rock, answering-machine messages, people singing "Happy Birthday," Casio beats, droning synth parts and random white noise. I have no idea what any of it means or why they chose the wordy album title, but I feel like they mean all of it.

—Aaron Carnes


Ghetto Blaster
Ghetto Blaster
Some boss bass lines, but I'm not a fan of the wordy, carnival barker vocals. Feels like being lectured by Willy Wonka.

—Jim Ruland


Glorious Bridge
Risky Routes
Any parents who make an album with their kids are cool in my book. Six-year-old Rory and 2-year-old Kailen aren't exactly rock stars, but it sure is adorable when they recite the alphabet and yell stuff like "It's breakfast time!" over what I can only assume are mom and dad's guitar and sample accompaniment. (And naturally, this album deserves bonus points for "Drunken Friend," a song based around a line written by CityBeat columnist Aaryn Belfer.) Kidz Bop, eat your heart out.

—Peter Holslin


Gone Baby Gone
Gone Baby Gone / And the Beat Goes On

Gone Baby Gone are raw, minimalist art-rockers in the vein of early Yeah Yeah Yeahs. They don't sound like a rip-off band, but they're not as good as Karen O and Co. The singer is much tamer, the music isn't quite as arty and I could do without the guitarist's occasional drifts into 1950s-cliché territory.

—Aaron Carnes


Thomas Graff
Samples from Included Intuition 
Ugh! Your press kit is all that's wrong with music and humanity. From the first page (in a non-ironic way): "Twenty-five years of pure talent, six feet of eye-candy, a well traveled mind, and a heart of gold." When is all this phony, pseudo-sensitive singer-songwriter garbage going to be taken out to the Dumpster? I'd rather listen to Chris Gaines, because at least he admitted to being phony. Sure, Thomas, you've got a nice voice. Go on American Idol; you're the perfect type. Nothing but buzz words, trite metaphors and a fedora.
—Sammi Skolmoski

Grind and Bare It
Demo
So close to being an "EXTRASPECIALGOOD," this two-track demo is creepy as all hell, but I just can't turn away. "More Possibilities" pulls me in with gloomy electronics and an intricate hip-hop beat, but it's the cryptic vocal samples and twisted vibes of "To Paradise" that leave me breathless and clawing for air—you know, in a good way.
—Peter Holslin


Keith Greenwood
Demo
Even if some cataclysmic event manages to wipe out the majority of Earth's population, there will still be two living things left: cockroaches and Steve Vai-worshipping dudes who want to plague us with their awful, seven-minute instrumental guitar rock songs. Wow, man, you can move your fingers really fast and look affected while you do it. I feel badly for the cockroaches.
—Seth Combs


H-eyer Level Poets (H.E.L.P.)
Reboot the System
It's all middle-of-the-road. The rappers are decent, but they're not interesting writers (a guest rapper, Tory-T from The Concrete Project, actually has the album's best verse). The beats are serviceable but lean toward being over-produced. Some ideas are obvious (the weed song is reggae-tinged? That's crazy!). Some just aren't executed well ("Hypnotic"). Their worst idea, though, is the album's underlying concept: that they are space-y weirdos with "alien" flows. The concept amounts to little more than some extra electronic sounds and a few references to stuff you'd see at Comic-Con. They should hear weirder music.

—Quan Vu


In the vein of Brian Jonestown Massacre, Hail Hail successfully navigate the geography between the drone-y sludge of psychedelic rock and the off-kilter jangle of garage folk. A band to watch if they can put together a dynamic live show.

—Scott McDonald


Hargo
Out of Mankind
Hargo Khalsa's story makes him marketable as a musical novelty (he's a big-bearded American Sikh who had a song in the John Lennon doc Strawberry Fields), but his music is schmaltzy pop-by-numbers fare that would only appeal to weekend environmentalists and chick-flick aficionados.

—Seth Combs


Haywyah
Real Talk, Vol. 2
The MCs on this street-rap mixtape have lots of character. "So Sick Of…," about scrounging up change for cigarette money, is as hilarious as it is funky. And I can't help but appreciate "'Til We Meet in Heaven," a heartfelt ode to a fallen momma replete with flowery acoustic guitar.

—Peter Holslin


The Heart Beat Trail
Dusty Totems
Back in 2010, we reviewed a demo by this band when they were known as Nautical Disaster. While the new name might not be much of an improvement, this demo absolutely is. Before, the group was producing tracks that could pass as Lucy's Fur Coat b-sides. But on Dusty Totems, they've nailed their unique groove. It's slow, dark and bluesy—the right jukebox selection for a desperate game of billiards with the devil. But the biggest improvement is in Berkeley Austin's hoarse and unpredictable vocals.

—Dave Maass


Heretic
Blue Fires Away
This EP is a late-'90s time warp. Each song so fully evokes a different artist from that era that the track listing should read like this: Stone Temple Pilots, Hootie & The Blowfish, Korn, Alice in Chains, Soundgarden, System of a Down, Staind. So, 91X will probably play them.

—Sammi Skolmoski


Homeless Sexuals
Snake Nipples
Everything about Homeless Sexuals' Snake Nipples seems like a highly orchestrated effort to be as obnoxious as possible—from their name to the crude snake illustration on the album cover to song titles like "Anne Frank Sinatra" and "Walking Jesus Like a Dog." And yet, there's a surprisingly minimal amount of bullshit here— just some high-energy, Stooges-style rock 'n' roll sleaze featuring a singer who's a dead ringer for Nation of Ulysses' Ian Svenonius. Their ass-kicking tunes may not be work- or mother-appropriate, but they definitely rock.

—Jeff Terich


Hugh Gaskins & The G-String Daddies
Working at the Booty Trap

With a name like that, I was expecting some raunchy rock 'n' roll, but this is actually a tame rockabilly record that might've been edgy 50 years ago. The instruments are too clean, and everything is really over-produced. It takes all the muscle out of it.

—Aaron Carnes


The Hulkamaniacs
Hieroglyphically Speaking
The five songs on this EP are annoyingly all over the place stylistically, but it seems like these guys have more going on than their ability to come up with clever song titles ("Ted Dancin'," "In the Cervix of the Queen"). It's rough, but there's some gold in the acoustic ditties that close out the EP. Now, about that name.

—Seth Combs

---
EXTRASPECIALGOOD

Erleen Nada
Demo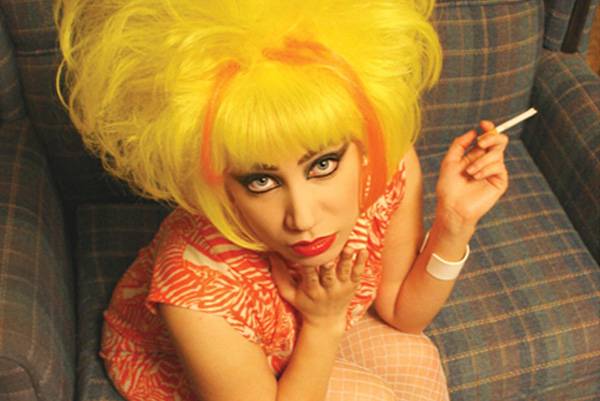 Just when I thought electronic music had become the enemy, Erleen Nada handed me a glittery treaty of irresistible pop gold. A sassy synth-master, Nada's avant-garde space tunes carry a sense of colossal power and urgency. Cooing dark and hilarious nonsense over warped, beautifully coarse synth jaunts, she seems to tell the listener, "Freak out, or perish." "Psychedelic Space Ship" is this demo's oddly addictive standout track, with a pulsing beat and twangy guitars that—when isolated from the vocals—sound like the best of Queen. Nada might have much more psychedelic tastes than the average electro-songstress (think Santigold or Peaches), but she also sounds much more authentic. 
—Sammi Skolmoski
---
iD the Poet
instrumentals Vol. 1:
THANATOS Using the plural "instrumentals" in the title leads you to expect some sort of Madlib-esque assortment of loose beats made for rapping over. Instead, this is a cohesive instrumental project that stands on its own, a meditation on death and dying (the demon "Thanatos" represents death in Greek mythology) that evolves from chaotic fury into peaceful acceptance. It's highly informed by the Low End Theory beat scene. The beats are angular, warped and eclectic, incorporating everything from the RZA and dubstep to reggae and blues piano.

—Quan Vu


iD the Poet & Dusty Nix
BULLY FREE
This type of hip-hop will probably go over well with the indie-rock crowd. While it's not exactly guitar-driven, guitars feature more prominently than usual along with other live instruments. There's also a stronger emphasis on melody. All hooks are sung and both rappers frequently use sing-song flows in their verses (Dusty Nix could be a voice twin for sing-songy rapper Pigeon John). The lyrics explore the same themes as iD's previous work, namely the industrialization of society. Think of an Office Space-meets-The Matrix, "we are more than cogs" spirit.

—Quan Vu


John Wayne Gacy Daycare
John Wayne Gacy
Daycare Hands down the most disturbing album art of the year—imagine a vomiting teddy bear bleeding from its anus. Like Stormtroopers of Death, only slower, weirder and meaner. In other words, not like S.O.D. at all.

—Jim Ruland


Karma
Don't Be Afraid of the Light

This promising rap album is full of surprises, from the synth-punk vibe of opener "Bend the Mind" to the Chimpunkified diva samples of "A Limb" to the dystopian class warfare theme of "Journey." Oceanside rapper Karma can get a little too preachy at times, but he has talent and plenty of interesting ideas.
—Peter Holslin


Jonathan Karrant
On and On
Hmmm—10 straight-ahead vocal covers of artists ranging from The Beatles to Mose Allison. Karrant is pleasant enough and the arrangements are nice, but I worry about (even capable) jazz vocalists without any originals. Does anyone under 50 care?

—Scott McDonald


KIDS.
Summer Frights
Surprisingly good for a group of KIDS., this Poway five-piece fronted by Nature Fejarang doesn't take itself too seriously on this album but manages to pull it off anyway. With their punk-meets- '60s-girl-groups-meets-hipster sound, KIDS. could benefit from a proper mix and a subtler drummer, but they have the right idea.
—T. Loper


The New Kinetics
Contact
The New Kinetics kick your teeth in for 44 minutes straight on Contact. This is unpretentious, straightforward rock 'n' roll, geared to get the crowd moving and the drinks flowing. But about halfway in, you'll be begging for a break from these grueling jams. You don't get one, which is both the best and worst thing about the album.

—Andrew Scoggins


Kodiak
3 Song Demo
OK, so they have a pretty badass name and even more badass song titles like "Gnarmegeddon" and "Tigerstriped Delorean." And while there's nothing wholly original on this demo that couldn't be heard on any Motorhead album, Kodiak's music still kicks a whole lot of ass. If they're not headlining Eleven soon, I'll be very surprised.

—Seth Combs

Kynan
Garbage Beach
The first track, "Happy When I'm High," is the fluffy and dissonant standout on this five-song electro EP. A close second is "Sun Go Away," which calls to mind The xx. But after that, the set descends into the trendier trenches of computer-generated music, where synths are used for synths' sake and vocal effects rival those of T-Pain. I am so close to liking "Everyone Talks Too Much" but just can't commit. And, I have to say, "Living Dreams" sounds way too much like the song from that old Internet video "Aicha, Aicha," in which that acne-covered white kid sings and dances in his bedroom.

—Sammi Skolmoski


The Last Years
GET RAD!!!
Simply put, The Last Years is loud and fun. This album gives you the urge to mosh, or just do some slight head-banging. It's probably most suitable for drinking beer at warm-weather barbecues and skateboarding.

—Kaitlin Perry


Latex Grenade
Latex Grenade
First of all, I need to describe Latex Grenade's logo: a severed hand holding the Earth in the shape of a water balloon. Yep. Anyway, the music is more straightforward: Pennywise-style punk melodies roughed-up with some thrash-metal riffs. Plus, there's a song called "Tits on a Stick." San Diego has produced about 5 million bands just like Latex Grenade. Here's another one.

—Jeff Terich

---
EXTRASPECIALGOOD

Oldest Boy & Girl
Get What You Give
Oldest Boy & Girl's folk-pop is deceptively simple. On Get What You Give, brother-sister duo Jesse and Cristina Evans mostly strum acoustic guitars as they sing tales of love lost, love won and love unrequited. Every so often, though, they'll emphasize their desperation with a frantic guitar solo that seemingly comes out of nowhere. The warm, bluesy guitar and simple lyrics of "Nowhere Left to Go" shows how willing this duo is to leave everything behind for love: "I just want to be on the floor / and lay with you," Jesse sings. It all comes off as incredibly honest, especially considering that the duo got their start busking on the streets of Dublin for potatoes and cheap whiskey. After trekking around the globe, this humble band has finally settled in Carlsbad, and we're lucky to have them.
—Andrew Scoggins
---
James St. Laurent
DVD
Folk singer-songwriter James St. Laurent has a pretty bland voice, all of his songs sound the same and this hour-long video (featuring live performances by Laurent and some other unknowns) is about 45 minutes too long. Still, there's something endearing about his easygoing folk tunes—it's like he doesn't care if you think he's cool, which itself makes him kind of cool.
—Peter Holslin


Leigh Taylor's Watermark Tribe
The Tribe's Live Studio Tracks Volume 1
Inspirational, Christianity-themed pop fusion usually makes my ears bleed, but this band's saving grace is frontman Leigh Taylor, who lends a dollop of much-needed grit with his raspy voice.

—Peter Holslin


Lillian Lefranc and the Proper Villains
Demo

This generic rock 'n' roll / doowop / rockabilly outfit is unintentionally strange because they don't at all sound like they could have come out of the '50s. Rather, you can imagine them at home playing some smoky, empty bar in 2012 in a scary town with a population of 250. Also, their singer is consistently slightly out of tune.

—Aaron Carnes


The Lovebirds
3 Song Demo
With a name like The Lovebirds, I expected some middle-aged ex-hippies playing stale freedom-rock. Instead, they turned out to be a lesbian duo who sing dreamy love songs. With a guitar (and an occasional harmonica or keyboard) and lots of gorgeous vocals, the songs are all sugary-sweet and endearing, providing an almost surreal tranquility. Their lyrics would be corny ("I've got such a good love / That is why I have such a good life") if they didn't sound so sincere.

—Aaron Carnes


Lovesoul
Demo
Undernourished pop-rock and kinda-sorta funk figure strongly in Lovesoul's four-song demo, a sampler of this duo's forthcoming EP. Donny Taylor makes an adequate if unimpressive lead vocalist while Rebeca Lopez's voice is energetic and bright but reduced to backup duty—the duo should really give switching roles a shot. They manage a few memorable hooks (the nimble, fun "Lot Like U" is a high point), but their uninventive rhyme schemes ("desire / fire") almost derail the whole thing. And it doesn't help that one track is dedicated to the hokey notions of "rocking" and "grooving."
—Reyan Ali


M-double-a-l
Documentation Beats Conversion 
Cleveland native M-double-a-l throws a lot of curve balls at you on this hip-hop record—whether it's the unusual swinging beat ("STFU"), the weird vocal processor ("Prince Charming"), the big sporadic orchestral bursts ("Brink Truck"), the oddly placed high-energy backbeat ("Patience"), the overly distorted mix ("Jeans Off"), the surreal samples ("Revel8") or the abrasive electronics ("All Alone"). While M-double-a-l's lyrics and flow are fairly remedial, with a little work he could be on par with the experimental originality of the production.

—Aaron Carnes


M&M Blues
7even
On 7even, M&M Blues mix blues, psych, garage and ambient rock into a bizarre sound. They begin with a lulling drone, transition into raucous jangly rock and then go all out with blazing, feedback-heavy riffs. In the second part of the three-part suite "I Am a Dog," they even incorporate a long spoken-word passage recited in what sounds like Indonesian. After too many scrambled-circuits riffs, 7even grows grating, but its early eruptions are thrilling.

—Reyan Ali


Mack N Biz
The Tree House
Straightforward, well-produced, rich-white-kid party music. There are moments of cleverness in this hip-hop collection, but the gratuitous rhymes about weed are all we seem to have in common, and the overarching theme of "I'm a kid and I just like to have fun!" quickly gets tiresome. This duo is like Pacific Beach, personified. So, if you like P.B., enjoy. If you like music with substance, look elsewhere.

—Sammi Skolmoski


Martian Horses
All You Monarchs & Music for a Film

At their best, Martian Horses ride a cool wave of dreamy indie-pop, like a band on Barsuk Records. The secret weapon may be the his-and-her harmonies that have spelled success for any band from Fleetwood Mac to She & Him. As long as they keep the tempos up, the band stays entertaining. It's only when they hit the brakes too much that they begin to drift.

—Dryw Keltz


Matthew Walker Project
Primero EP
The impressive thing about the Matthew Walker Project is that two guys—Walker and his drummer / recording engineer, Alexander Dausch—are able to produce a contemporary blues album that sounds like they've got a full lineup. Other than that, though, this duo sounds like G. Love with slightly less special sauce or a second-class Citizen Cope.

—Dave Maass


The Mike Michaels Program
Demolicious Too
The first track on this three-song demo does a great job evoking a truly palpable mood—something like a dangerous, border-town bar a la From Dusk 'Til Dawn. And while the guitar work is strong throughout, the spotty lyrics on the next two songs can't evoke anything more than distraction.

—Scott McDonald


Misspent Warhead Premise
Come on and Take One
Simple, straightforward indiepop. These are the kind of songs that grow on you after a while. Hasn't happened for me yet.

—Jim Ruland


Mohammed Qiang
Moon Shoes for Your Fish Feet

There is some gold on this new project from John Paul Labno (Grand Ole Party, The Hot Moon) and girlfriend Sasha Evangelista. First, Evangelista has a sexy coo on tracks like "Paradiso" and "Our Lady of Space" that's all but unrivaled in town. Still, the tracks feel skeletal and need to be fleshed out with a full band. If that happens, you just might find a full feature on these guys in next year's issue.
—Seth Combs


Paul Moeller
Aurora
An admitted George Winston fan, Moeller is shooting to soothe the savage beast here. I'm sure these 12 instrumentals would make the new-age maestro proud. Grab the lavender candles and your little waterfall machine—let's get this party started.

—Scott McDonald


Not every song on this EP gels with equal success—it's hard for indecipherable spoken words to make an impact on a track already thick with wailing funk guitars. But when everything comes together just right—opening track "LttleBter," in particular gets strength from a minimalist approach and Megan Carlson's guest vocals—the resulting dark, atmospheric beats invite repeat listens.

—Sasha Orman


The Mosaic Quartet
Color Me In EP

The cover of this EP features the musicians high-fiving in outer space, which just goes to show how positive this band is. Their eclectic style drifts from super-earnest, upbeat Maroon 5-style dance jams to power piano ballads. Swelling synths and harmonies tie their big sound together.

—Sasha Orman



Mother Russia
Demo

The notes accompanying Mother Russia's demo point out that it was recorded in 1998, but not actually released until 2012. That;s a pretty long time to hold on to some songs, but they don't sound particularly dated. The band's raucous garage-punk is loud, sloppy and snotty, and it's touched up with just a little bit of New York Dolls' glammy swagger. For those in need of a messy punk record with drunkenness to spare, this gets the job done.

—Jeff Terich


Moosejaw
EP

This EP is exactly what you'd expect from an outfit named Moosejaw. Including screamo, nu-metal and even bits and pieces of Alice in Chains, this is a big metal stew thatíll go great with a shot of Jack and speakers that reach 11.

—Dryw Keltz


Moxie
Retrospective

How can you describe Moxie? Slick, anthemic, dark pop-punk. Hmmm. My description sounds more interesting than the band actually is. Imagine a cross between Hole and The Muffs, only without the talent. (Yeah I said it, Hole have talent.)

—Aaron Carnes


Mr. Nobody
Seemed Like a Bad Idea at the Time (And it Was)

Fast, fuzzy, blown-out punk rock. Even though the longest song clocks in at 84 seconds, this demo's got it all. Irreverent sense of humor? Check. Lo-fi / slapdick production? Check. There's even a couple of doo-woppy numbers circa late Ramones or early Queers. I don't know who you are, Mr. Nobody, but you shred.

—Jim Ruland


Multiplex
"The Glitz"

A neo new-wave project of unknown seriousness, Multiplex skillfully incorporates vintage synths and drum machines with a vocal delivery that can only be described as Kevin Spacey on ecstasy. "The Glitz," with its ironically artsy vocals, feels like something by The Nation of Ulysses' Ian Svenonius / David Candy. That could be good or bad, depending on whether the singer's being ironic or sincere.

—T. Loper


Mutantspaceboy
From Zero to One

Well-executed instrumental prog tales, spun slowly and enticingly until they peak and erupt into solid psych-grooves that will keep you topless-hippie-dancing for the entirety of the EP.

—Sammi Skolmoski


Napoleon Blownapart
Black Face, White Heart

The cover of this CD is a drawing of the eponymous French leader in blackface. There's a song called 'Smurf Cum.' Someone's clearly aiming for the shock-rap angle, possibly a result of Odd Future's popularity. Unfortunately, the comedy isn't done well, the beats sound like Casio presets and even a grainy filter can't hide the rapper's deficiencies. The only value here is trying to figure out the message being sent to CityBeat writer Seth Combs with the song 'Meth Combz' (Nudge nudge. Get it? Clever, right?).

—Quan Vu


Nothingful
Actual Plural Songs

Nothingful mastermind Sasha Syeed claims to be musically untrained, but what he may lack in formal musical education, he makes up for with a natural talent for crafting memorable yet unconventional melodies. Each of his moody, stripped-down, lo-fi songs is an intimate tapestry of stark acoustic guitar plucks, buzzing acoustic bass and the occasional eruption of live drums. I can't make heads or tails of parts of this lengthy, 14-track release, but it's rewarding enough to make me want to retuto it again.

—Jeff Terich


Ogd_S(11) Translation Has Failed
This Middle Ground

The band asked all reviews to come in haiku, so here goes:

You're actually good
Stop trying to be clever
And just play music

—Scott McDonald


Rudy Palos
2012 Demo

A funky, indie-electro approach to hip-hop music. Palos just might be pioneering a "math-rap" genre with the time-bending beat on "Racing Stripes" Without vocals over it, the exuberant robot noises kind of lost me on "Blinding Headlights"but this is all-around a solid experiment in instrumental hip-hop.

—Sammi Skolmoski


The Paragraphs
Demo

The two-song thing is such a tease, but The Paragraphs make an impression in eight minutes. Not sure what to think about "Trashtalk" but "Wolf" is a nice piece of straight-up rawk that sounds like Gavin Rossdale fronting an early-era Kings of Leon.

—Scott McDonald


The Peripherals
As Themselves

Light, airy songs about love and traveling for love's sake, sweetly sung by softies. For fans of Iron & Wine.

—Sammi Skolmoski


The Peter Pupping Band
Café Pacifico

Peter Pupping mixes traditional bossa nova, samba and flamenco with smooth jazz. There's even an elevator-music-style guitar lead in the place of vocals. As far as easy-listening music goes, though, this is top notch. I'd be stoked if this is what I had to listen to at my dentist's office the next time I got a root canal. Somebody, please take Kenny G off the radio and replace him with Peter Pupping!

—Aaron Carnes


Picnic Spirit
"Jean Dear"

This single-song submission sounds like a crew of Bar Pink regulars who've convened for a late-night, post-boozing session to knock out their dream single. Sounding kind of like a B-side from a latter-day Breeders album, "Jean Dear" features tribal drums, simple repetition, lo-fi production and distant vocals. You can practically see the musicians slinging messenger bags and riding fixed-gear bikes.

—Dryw Keltz

---
EXTRASPECIALGOOD

Parker & The Numberman
The Ridley Project
With such high-quality music, it's hard to believe Parker & The Numberman haven't released a full-length album yet. Maybe they want to develop a mystique by sporadically dropping music, just enough to entice you into seeking more. Maybe they're too busy exploring new styles and ideas to settle on any of them for long. Both reasons sound feasible given The Ridley Project, an EP that finds them teaming with Mr. Ridley of rap group Anti Citizens. They all experiment with a very 1988-era, Run-DMC sort of style. Ridley's spare beats rely heavily on bass and drums sprinkled with samples used in quirky ways. The two rappers banter back and forth about how fly they are. It's clear they're just joking—Parker probably didn't write a song with Heavy D, Diddy and Cupid (yes, the dude with the arrows)—but their inventiveness and playfulness have a way of building up their myth.
—Quan Vu
---


Pilots
EP

Expansive, melodic, layered psych that grabs your wrist and drags you through other dimensions. The raspy, sprawling vocals are sometimes haunting, often explosive—definitely the perfect soundtrack to an exploratory space-out session.

—Sammi Skolmoski


The Plastic Revolution
PostmodeMedicine

I don't know if I've ever heard a band as ready for heavy rotation on 91X as The Plastic Revolution. The group walks such a fine line between Linkin Park / 311-style nu-metal and latter-day pop-punk that they seem to have developed a sub-genre all their own. Linkin Punk, perhaps? If your daily habit includes a heaping helping of alt-rock commercial radio, this might just be your new favorite band.

—Dryw Keltz


Adam Powell
Totally Stripped and Ill Equipped

The fact that Mr. Powell's info came on a well-tucked Sprouts receipt—and that he mentioned that these songs were "recorded in the nude for Kathie Benson"—had me liking it before a listen. Inevitable Beck comparisons aside, the four tracks here are as interesting and likeable as the man himself seems to be.

—Scott McDonald


Privet
Privet

Privet list Pinback and Radiohead among their many influences, and the similarities throughout this album are undeniable. On many songs, a perfunctory listen could easily mislead someone into thinking they had stumbled upon a B-side from one of Privet's aforementioned influences. Unfortunately, in this case, imitation as the sincerest form of flattery could also be viewed as Privet's biggest downfall. The band's four members are evidently talented musicians, but when it comes to writing in a style that's distinctly their own, they need some time to marinate.

—Justin Roberts


Rebar and Plums
Simple Glass Brackets for the Dark Dark Heat

The most interesting thing about this melodramatic folk EP is that every song is "untitled" except for the final track, "Skippy returns from College." It adds an air of mystery to what is yet another entry in the tired genre of breathy, acoustic singer-songwriter folk musings. It's original, but it also seems to wander around directionless. If the singer had a little more confidence, maybe there'd be something here.

—Aaron Carnes


The Red Starts
Demo

Fuzzed-out, garage-y rough cuts done by yet another group of folks from the Velvet Underground fan club. Impossible to determine true potential this early in the race, but no doubt it's there.

—Scott McDonald

Red Wizard
Demo

Countless Kyuss and Sabbath-worshipping stoner-metal bands have come and gone in this great country of ours, and Red Wizard is yet another one. However, much to Red Wizard's benefit, the age-old formula of bong-rattling low-end and crunchy, blues-based riffs hardly ever grows old. There's nothing particularly surprising or innovative about Red Wizard's brand of chemical-addled doom 'n' roll, but they're pretty damn good at it.

—Jeff Terich


Remain in Vain
Someone to Watch Over Me EP

Hardcore punks Remain in Vain put on a blessedly sloppy performance on this breakneck EP, but they clearly have some soul-searching to do. "Grind My Teeth" and the title track both hark back to the artsy hardcore of Gravity Records, but "Remember When" is a bro-friendly, Fat Wreck Chords-style skate-punk anthem. What, so you guys think you can divine gold from fire and ice? Either get your "Spock rock" haircuts or go back to the skate park.

—Peter Holslin


Ricky Small and The Talls
Ricky Small and The Talls

Mr. Small's website uses the following terms to describe his music: "Feel-good, inspirational sound" "pop-friendly folk" "heavy grooves" "funky jams" and "whirlwind of talent." Ordinarily, such characterizations would make me throw an album out without even one listen. Alas, I've been tasked with giving every second of Mr. Small's album my undivided attention. Mission accomplished. All I want to know now is whether John Mayer realizes he has a bastard younger step-brother running around San Diego who's been creating hideously unlistenable music even more gag-inducing than his own. (Tweet me, John!)

—Justin Roberts

Right Now Tomorrow
Demo

The note enclosed with Right Now Tomorrow's laid-back hip-hop demo says, "These are very rough mixes" Rough, indeed. The beats are super quiet with the vocals overpowering the mix. The beats are kind of cool, but obviously incomplete. The rapping is awkward at times, and the hooks just don't fit very well. It could be a nice little EP, but they'd need to produce the shit out of these tracks and rehearse those vocals like mad. Then, maybe.

—Aaron Carnes


Andy Robinson
Music Bucket

You've got to love any album with dulcimers on it! This earthy, organic, feel-good instrumental music sounds like it was a lot of fun to make. Clearly, Robinson did a lot of overdubbing: There's tons of percussion, a bunch of different acoustic guitars, keys, synths and horns (and lots and lots of dulcimers). Play this on your iPod while you go for a hike in the woods and contemplate your purpose in life.

—Aaron Carnes


Larry Robinson
Cadillac and Trailer

There's something to be said for dad rock when it's done well, and Larry Robinsonódespite his best efforts to convince me that he's a total goofballóactually has some good tunes. Album opener "Next to You" is one of them, a '70s-style tune a la Jackson Browne. The title track isn't, however, and sounds as if his aim was just to get one of his songs on Car Talk. Alright, so maybe Robinson is a goofball, but when he's not mired in bar-band cliches, he's got some chops.

—Jeff Terich

Rodello's Machine
Rodello's Machine

Rodello's Machine play nauseatingly happy-go-lucky "adult-alternative" that's completely empty inside. Think calm acoustic guitar, soothing male voices and lyrical gems like "The grass is green / the sky is blue" and "Let your light shine / without holding it in" Ugh.

—Andrew Scoggins

Room E
Farmer's Heart

For the most part, these cool, well-produced instrumental hip-hop beats aren't really "get up on the dance floor"-type hip-shakers. Mostly, they've got a trance-like quality that's more appropriate as trippy background music while you're hanging out in your apartment and getting high.

—Aaron Carnes


Rum for Your Life
Cassette Tape Demo

Wow, this came on a real demo cassette tape! That's awesome. You know what else is awesome? The three songs on the tape. So damn close to being an "EXTRASPECIALGOOD"selection, these guys play some kind of fantastically weird pastiche of Sonic Youth, Spiritualized and Godspeed You! Black Emperor. It kind of meanders after the opening track, but I'm definitely planning on checking these guys out live.

—Seth Combs


Tommy Ryan
EP Album

A wise man once cautioned never to trust a fellow with two first names, but I trust Tommy Ryan because he makes me feel as if the Friends era never ended. This five-song EP is all commercial sunshine pop that would've fit perfectly on the FM dial between 1997 and 2001. It's a throwback to a carefree time, for sure, and that's never a bad thing.

—Dryw Keltz


The Sand Devils
The Sand Devils

Surf music tends to live on mostly through the proliferation of sci-fi or Austin Powers-themed novelty bands. I even saw one group of surf-rockers whose entire shtick was pretending they were German submarine fighters from World War II. Kudos to The Sand Devils for breaking the mold and just playing some original surf songs, even though they're unremarkable and a little boring.

—Aaron Carnes


Seaholm Mackintosh
4-Song Sampler

Music created by couples can often feel precious, and this four-song sampler (culled from the forthcoming album Monarchs) occasionally drifts into such territory. The acoustic duoócomposed of record producer Sven-Erik Seaholm and violinist Brooke Mackintoshóemploys a hodgepodge of obscure instruments (glockenspiel, banjuke, shirt sleeves, their dog Max), varnishing it all with cozy guy-girl harmonies. But to write off the band based on their cutesy elements would be to miss out on some rustic narratives that draw from a rich tapestry of classic American songwriting.

—Chris Maroulakos
---

EXTRASPECIALGOOD


Roxy Jones
Lullabies and Warcries
Roxy Jones transport you back to a time when alternative music was truly alternative, not the slightly edgy pop that bands like Death Cab for Cutie and Vampire Weekend wallow in today. There is true weirdness all over this disc, intermingled with exploding guitar choruses, well-timed episodes of manic screaming and, of course, memorable hooks. Opener "Downtown Tokyo" sounds like it could have been a hit on 120 Minutes around the same time that "She Don't Use Jelly" broke through to the mainstream in the early '90s. The band's closest kin seems to be oddball alternative acts like The Flaming Lips, Tripping Daisy and The Butthole Surfers. Songs such as "Atom Bomb Singalong" will make you wonder whether a new album or a six-month stay at a mental institution are on the horizon. And that is certainly a good thing.
—Dryw Keltz
---


Shamu Soul
Kronos

Squeaky wheels, brown-note rumblings and hemorrhoidal moaning are the hallmarks of Kronos, the six-song release from experimental act Shamu Soul. The SeaWorld-inspired name is appropriate—the whole thing sounds like it was recorded inside the belly of a whale. It's slow-moving and formless stuff, but if you imagine your own horror movie to accompany the spooky sounds, this can be a frightfully fun time.

—Chris Maroulakos


Sick Balloons
Farewell to the Swagger Kids

Sounding like Mark Lanegan circa Screaming Trees fronting Crooked Rain-era Pavement, this is a pretty solid debut LP, filled with poppy post-punk anthems and slacker ballads. Listen to tracks like "1974"or "Worst Ideas"and try not to imagine Spike Jonze or Richard Linklater directing the music video. Good stuff.

—Seth Combs


The Sickstring Outlaws
Sampler 2012

Rootin', tootin', knee-slappin' country licks that ol' David Allen Coe would be proud to have influenced. These outlaws have done an impeccable job of reconciling the two opposing faces of classic country music—the solemn and the sillyóto deliver a lively set with killer harmonies, menacing fiddles, heartfelt honesty and odes to whiskey.

—Sammi Skolmoski


Simeon Flick
Sub Rosa Demos

Remember that scene in the movie Singles when Matt Dillon is sitting at the table with the guys from Pearl Jam reading a review for their fictional grunge band, Citizen Dick? Yeah, well, I could very well describe the grunge-worshipping halfwits in Simeon Flick the same way. Here's a link: youtu.be/EtuakvfWUzw.

—Seth Combs


Simon Bar Sinistar
4-Song Demo

If this band had fallen into the hands of the right Pitchfork reviewer, they may have proclaimed it to be some lo-fi, return-of-stoner-rock masterpiece. To me, it sounds like an overzealous Joe Satriani fan who just discovered GarageBand. Fans of that horrendous Lou Reed / Metallica album should check this out.

—Seth Combs


Skull City
Skull City

When an artist writes "Dare Ya 2 Like It"on the sleeve, it means the artist is really cocky or leading with his or her chin. I've listened to these instrumental electronic dance numbers a half-dozen times and I still can't figure out to which camp they belong.

—Jim Ruland


Sledding with Tigers
The Arrested Cats

Sledding with Tigers have a unique name and a unique sound, with band members describing their music as a hybrid of folk, punk and bluegrass. The description fits, and the lyrics are both relatable and powerfully angsty. I might recommend this for fans of Matt & Kim and/or The Elected, meaning the songs are fun to yell along to.

—Kaitlin Perry


The Smart Brothers
Live on the Golden Hour Radio Show WOKC 1929

Full of energetic, heartfelt, twanging love songs, this live album is nostalgic, fun and uplifting. This old-fashioned country duo pulls off some impressive harmonizing, as well. All in all, a truly happy experience.

—Kaitlin Perry


Snakesuit
3-Song Sampler

Snakesuit can't decide what they want to be. The band dabbles in trance-y glitch-pop on "Truly Amazing" Muse-aping arena-rock belting on "Celebration" and Album Leaf-evoking bedroom electronica on "The Hangover." They do a fair enough job with each foray, though singer Howard Goldstein's marble-mouthed Britpop impersonations are often tiresome or outright laughable. Affectations aside, there's some real talent at work here. If Snakesuit can commit to creating one thing, instead of stealing from everything, they might just become a band to watch.
—Chris Maroulakos

SO3
3-Song Demo

There are three things worse than this half-assed, all-crappy attempt at blues-rock. The Holocaust, human slavery and forced female circumcision. Yep, it beat out AIDS and sweatshops. Deal with it. www.facebook.com/so3music

—Seth Combs


Some Guy
The lovelorn Musings of…

This EP should be re-titled "The Insane Ramblings of Some Guy." The first line goes, "Mary Anne, I fucking hate you / You're such a fucking goddamn fucking little bitch"and the singer goes on to explain that he hates her because he loves her and loves her because he hates her. This is all happening over happy, Elvis Costello-style pop, mind you. I don't know if it's intentionally or unintentionally funny, but either way, it's delightfully bizarre in the "I bet this guy's actually weird in real life" kind of way.

—Aaron Carnes

---
EXTRASPECIALGOOD
Shiva Trash
Shiva Trash


Shiva Trash are catchy, contemporary and complicated. They do lots of time changes, and they're hard to pin down. "Bleach Bath" starts with a surf-rock platform and takes off from there. Did I say "takes off"? I meant rockets into the fucking stratosphere. "Gnarly Thirst" changes tempos so many times that it's like a medley of songs. It's got a bright, brisk beginning, throttles down in the middle and then goes full bore at the end. "Residual Backwash" is somehow both poppy and full of jangly reverb at the same time. It's an exotic, druggy clash of styles that culminates in a rock 'n' roll apotheosis of wasted nights and wasted days. The epic pop of Shiva Trash makes the majority of music being made today sound downright pedestrian. If there's a limit to where Shiva Trash can go, it's not evident here. More, please.
—Jim Ruland
---


South Psycho Cide
Pacman Anthem

For a Filipino-Mexican rap group whose name boasts of craziness, the moralistic rhymes of "Pleasure and the Pain"come off as disappointingly sane. But I'm fine with "Pacman Anthem" a bombastic tribute to boxing champion and politician Manny Pacquiao that bursts with Filipino pride.

—Peter Holslin


Space Town Savior
Starfields and Cityscapes

Space Town Savior's Facebook page describes their sound as "dance music that doesn't believe in the existence of MDMA." But even if MDMA did exist in this band's world, people still wouldn't be able to dance to their music. This isn't dance music; it's an amalgamation of sounds that conjure up memories of sore thumbs; dry, bloodshot eyes; and the echo of your mom's voice insisting that you stop playing that damned video game and clean up your room already!

—Justin Roberts


Special Delivery
"Rock & Roll Princess"

Essentially the male version of Avril Lavigne's "Sk8er Boi." "Rock & Roll Princess" combines the cool-guy posturing of Good Charlotte, the nasally vocals of blink-182 and the teachings of Songwriting for Dummies into one horribly obnoxious pop-punk ditty.

—Peter Holslin

Submarines & Astrophysics
Double Dip Recession Demo

Seriously, this is the kinda shit that happens when there's a recession. I can only assume that this is an out-of-work bohemian collecting unemployment and spending it on musical equipment he doesn't know how to use. "I Closed My Mouth & Made a Billion Dollars" sounds like a malfunctioning Fisher-Price keyboard taking a dump on Robert Moog's head.

—Seth Combs


Subterranean Horses
Demo

I once saw the Subterranean Horses play a show at Scolari's Office in 2004. Their singer was half-naked, drenched in beer and intent on making everyone in the audience totally uncomfortable. Needless to say, it was a pretty awesome show. Color me pleasantly surprised, then, that the band has resurfaced. Their five-song demo is just as menacing and hedonistic as their live show, with its jerky guitar riffs and start-stop rhythmic dynamics. They do Jesus Lizard-style churn right, which is entirely appropriate for a group whose leader has been known to drop trou.

—Jeff Terich


Supertasty
Demo

This seven-piece soul / funk combo just doesn't sound that soulful on this two-song demo. But they still lay down some solid grooves, and singer Peach has a lovely, sweet voice.

—Peter Holslin


The Suicide Chords
11:11 (The Prelude) EP

I thought nu-metal died six or seven years ago, but The Suicide Chords are here, and they're carrying the melodramatic groove-metal torch passed on by bands like Godsmack and Staind. If you were a fan of this over-hyped, over-played genre 10 years ago, maybe you'll be a fan of this band, but hopefully this isn't a sign of some nu-metal renaissance.

—Aaron Carnes


Sundrop Electric
Sundrop Electric

This promising rock five-piece isn't afraid of instrumentals, channeling Joy Division or meandering into the realm of shoegazy dream-pop. Their name may scream Winstons, but they're Casbah through and through.

—Scott McDonald
Sunrise at Duck Pond
Demo

It's hard to tell anything from just one three-minute song, but there are some interesting ideas happening here. The moody atmospherics and crafty sampling make me want to hear more. M41985@yahoo.com

—Scott McDonald


Super Groupie
Just Another Sign of the Apocalypse

Super Groupie, did you really think we wouldn't notice that the girl on your CD label is, in fact, Swedish singer Lykke Li? Because we did. But that's not the only confusing thing about Just Another Sign of the Apocalypse. Its mixture of lo-fi chillwave and profane club rap makes this one a head-scratcher. It's not a complete failure—at its best moments, it sounds like forward-thinking acts like Main Attrakionz. But they don't quite have the formula right just yet. Hey, at least it's not witch-house.

—Jeff Terich


Sweeteverafter
My Death

I imagine Sweeteverafter gets some gratification from playing these unnecessarily dramatic, self-examining Goth-rock songs, and I'm sure there's an audience out there for it. But I'd rather not listen to them work out whatever painful issues they're trying to work out. Self-examination is best served with some humor and a degree of distance (see: The Smiths, Magnetic Fields, David Bowie). It also helps if the music is pleasant to listen to.

—Aaron Carnes


Switchyard
The Secret Life of Spiders

Switchyard's Rachel Bellinsky sounds like a watered-down version of an artist who's playing the Milquetoast Stage at Lilith Fair. No aspect of her music sets it apart from the mediocre landscape in which it so plainly exists. She's a Paula Cole without the cowgirl passion, a Lisa Loeb without the cat-eye glasses, an atheist Joan Osborne, a Fiona Apple without the crazy. For some people (read: listeners of KYXY-FM), this safely composed, mind-numbing collection might be the perfect addition to their already lackluster day—just toss it back with another handful of benzodiazepines. www.myspace.com/switchyard

—Justin Roberts


Talk Like June
Untitled

Lead singer Suzanne Harper has some impressive pipes, her band can play and it was a pleasant surprise to realize that "Hallelujah" wasn't a Leonard Cohen cover. But let's not fool ourselves—this "Southerock" band is really just copying top-40 country, and that's unconscionable.

—T. Loper


Temblad
Mockery of the Fanatic

This is perfect music for repeatedly punching someone in the face, ritual sacrifice or preparing to jump out of a speeding plane into a volcano. The fact that the chaos contained in these four tracks is made by two dudes makes it that much more impressive.

—Scott McDonald


Tonto
2 Song Demo

There's not a whole lot to go on here, but the two synth-y pop gems on this demo sound like the beginnings of something cool. Get these guys some better keyboards and recording equipment and they could be opening for Jamuel Saxon in no time.

—Seth Combs


Trap Gold
The Chooser EP

The title tune showcases everything that's right about this four-track EP: It's a post-punk anthem with jangly surf-rock guitar, snarling vocals and a driving yet danceable beat. Much cheesier is "Hey Boy" in which the singer invokes Aretha Franklin by spelling out "R-E-S-P-E-C-T." This band still has huge potential, though.

—Andrew Scoggins


Two Eyes Meet Redux
Energy Block

With its twinkling synths, spectral guitars and programmed beats, experimental dance project Two Eyes Meet Redux would sound right at home on your old CD soundtrack to The Matrix. This new four-song EP (available as a free download on their Bandcamp page) has enough deep-set grooves and gurgling bass for club fans to get their grind on to, but non-electronic devotees will be as lost as moviegoers were during the Matrix sequels.

—Chris Maroulakos


Uniform Victor
UV

Thirty seconds into Uniform Victor's demo, the harmonized shouts kick in and you realize: Damn, this would've been a fun band to see live—in 1995. "Just a Little Bit" would've fit nicely on the Empire Records or Mallrats soundtrack, while "Sage" is a longer, heavier, jammier trip that almost (and unintentionally) works as an alt-rock tribute medley. The final track, "My Life" needs to be junked altogether for ripping off the iconic lead riff of The Stone Roses' "I Wanna Be Adored."

—Dave Maass


Warring States of Mind
You Shame Me?

Backed by sludgy grunge riffs, vocalist Kevin Knecht pulls his best Eddie Vedder impression on You Shame Me?, on occasion letting out squeaky, cringe-inducing falsetto yelps. The guitar work here is solid, but the songwriting comes off as predictable. In all, Warring States of Mind successfully compiles all the worst parts of '90s alt-rock onto one disc.

—Andrew Scoggins


---
EXTRASPECIALGOOD

Trouble in the Wind
No Work Dancing
I was kinda hoping that these guys sucked, as their name is perfect for a creative slam. No dice. The skilled quartet filters things like Talking Heads and The Walkmen through a tattered Calexico cheesecloth, turning the 11 tracks here into dusty and original gems. Hard to classify and solid throughout, "No Work Dancing" deftly blurs the line between trainhopping sing-a-longs and quirky accordion rock without ever coming off as pretentious or straining. Nicely varied yet cohesive, it's difficult to imagine this album benefiting from anything other than people taking the time to check it out. 
—Scott McDonald
---

Wicked Randall
4 Song Demo EP

All-American patriot tunes for the post-9/11 redneck Ratt fan. "Lost My Mind" is just him rhyming the word "rhyme" with itself for a minute-and-a-half, and I'm pretty sure the song "Panama City Blues" is a rape anthem.

—Sammi Skolmoski

Normandie Wilson
"Saturday Night Girl" 7-inch

On this two-song 7-inch, singer-songwriter Normandie Wilson plays the kind of Burt Bacharach-tinged '60s pop that you'd listen to in a mid-century-modecondo. The title track sets a vintage mood with a bossa nova beat, brassy trumpets and cool piano. Musically it's a fun listen, but Wilson falls short with her breathy-cool vocals. She does much better on B-side "Paper & Pencil," which features just her voice, piano and flute. It's her best Dusty Springfield impression, but it may be relegated to the airport lounge.

—Alex Zaragoza


Scott Wilson
Yoga Girl

It's hard to take seriously any artist who writes a song called "Yoga Girl" or lyrics like, "I hope you sit right next to me / I've seen you in a magazine / I hear you're in a movie." I could maybe put up with these terrible lyrics if the music were painfully earnest or maybe just avant-garde. Instead, Scott Wilson gives us the kind of funky, distortion-laden alt-rock groove that was popular, briefly, in the '90s and sucked back then, too.

—Aaron Carnes


Zillion Happy Volts
Tracks

Heavy as all hell, this three-piece harks back to the ear-shredding spirit of The Jesus Lizard and Scratch Acid. Vocalist Davit Buck sounds as if his throat is lined with sandpaper. Niiiiice. Even the crazy, completely improvised track "Bruise" totally works. This isn't for the faint of heart, but for those willing to take the plunge, it's heavily rewarding.

—Dryw Keltz


Zombie Surf Camp
Reefbiter

This one comes with a couple strikes against it: 1) Not a demo. 2) Not new. Dig the '60s surf vibe, but not so much when they slow it down and the vocals get super-douchey. Surf-rock doesn't mesh well with flyover rock. Strike three.

—Jim Ruland

Got comments? Email our music editor, peterh@sdcitybeat.com, or follow him on Twitter at @peterholslin.